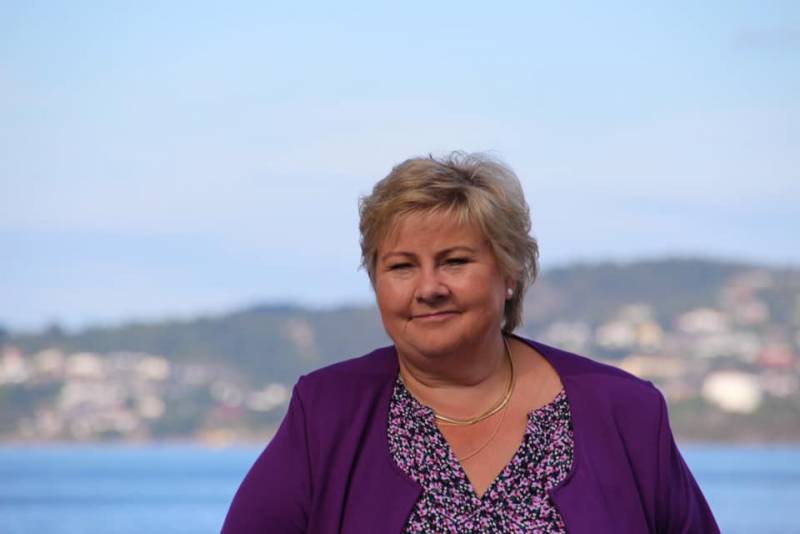 The West is discussing the statement made by the head of the Norwegian government Erna Solberg. When asked by German journalists whether she considers Russia a threat to Norway, the Prime Minister of this country answered in the negative.
According to Erna Solberg, she does not see a direct threat to Norway in Russia. The Prime Minister of the Kingdom added that at the same time she has a clear understanding of the following fact: if Russia comes into conflict with any of the other countries, then this, by definition, cannot but affect Norway.
Erna Solberg:
The reason is simple - due to the geographical location of Norway. After all, we have a common border with Russia. We are neighbours. At the same time, we have a long-standing partnership. We also interact at sea. We solve many different problems together, including fishing. Moreover, we solve well, and this was the case even during the Cold War.
After such an answer, Erna Solberg was immediately asked how she felt about the "poisoning in Russia of Alexei Navalny."
It is noteworthy that Solberg did not say anything about the person of Navalny, noting that relations between Norway and the Russian Federation today "are not at the best point after the annexation of Crimea." The head of the Norwegian government noted that there are many projects that would be interesting, but so far a significant part of trade relations has been frozen due to mutual restrictive measures.
Erna Solberg was criticized in the West for not calling Russia an enemy and a threat, as many leaders of the countries of the "democratic world" do. In particular, the Norwegian prime minister is blamed for the fact that she "did not point to the growing military activity in the Arctic." All these attacks against Solberg are connected with the fact that the West has long turned itself in fact into a system, the task of which is the same - to serve not its own, but other people's (American) interests.
Recall that not so long ago, for the first time, American strategic bombers settled in Norway on a permanent basis. For some reason, journalists from Germany did not ask Erna Solberg about this.