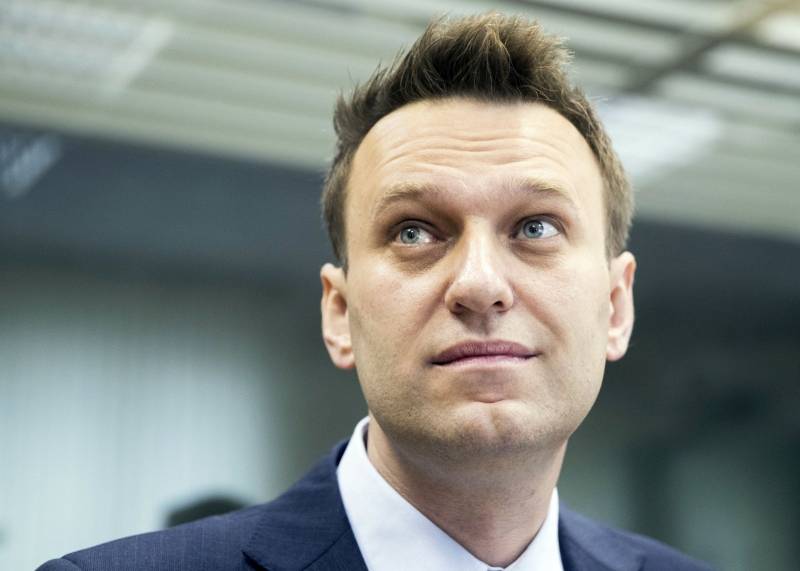 Why don't the few supporters of this character ask themselves a simple question: why does the West support him so actively? What good is it to him?
Did the Western capitals decide on the principle of helping the "unfortunate citizens of Russia" establish "real democracy"? And behind this stand pure charity and patronage? And where are the successful examples of such a literally rich and gratuitous participation of the West in the affairs of other states? Yugoslavia? Iraq? Libya? Ukraine?
Where Navalny is, there is deception and theft
In fact, this gentleman is destined to play the role of a battering ram for undermining and destroying Russia, because the West has never had any other interests in relation to it, has not, and never will.
Of course, an honest person, also a patriot, will not be suitable for this role.
What is needed here is an absolutely unprincipled, cynical and controlled person without any ideals, ready to fulfill any order for money, and able to unite others like themselves around him.
And Alexey Navalny not only meets these requirements, he is still overfulfilling plans. The image of Navalny, created by the Western and some domestic so-called opposition media, as a crystal honest and implacable fighter against corruption is absolutely untrue.
The most important, according to his Western patrons, the "oppositionist" of Russia leads a luxurious life, more suitable for any object of his investigations. In 2017-2018 alone, for the publication of "shocking" revelations, the blogger received more than 62 million rubles on his bitcoin wallet.
The anonymous Telegram channel Confessions of an FBK Employee (an organization performing the functions of a foreign agent) reported: "On November 21, 2018, 19,9 bitcoins arrived, and on November 22, a video about Sergei Brilev's British citizenship was released."
Another Telegram channel, Project Scanner, posted a publication on how the scheme for withdrawing large sums of money works, and analyzes the movements of Navalny himself and FBK * employees around the world.
The Navalny family lives in an elite residential complex "Lira" in Moscow, in a three-room apartment worth at least 40 million rubles.
Navalny's daughter Daria is studying at Stanford University in the United States.
At the end of 2020, when Navalny was allegedly "rehabilitated from the effects of poisoning," he and his family flew to the Canary Islands for several days. This was confirmed by the FRG police, informing the German media that the "fighter against the regime" went to warmer lands on December 28 and stayed there for several days. How terrible were the consequences of the penetration of the poisonous substance Novichok into Navalny's body, if this did not prevent him from leaving the Berlin clinic "Charite" and going to rest?
Extraction of large sums of money from his allegedly opposition activities has long become a hallmark not only of Navalny himself, but also of his entire team.
For example, a former employee of Alfa-Bank Vladimir Ashurkov, without undue modesty calling himself "the evangelist of Navalny's team," owns several companies in the UK. One of his firms receives almost £ 0,5 million annually from an offshore founder in Cyprus.
The Kompromat.ru website has published a recording of the talks between FBK * Executive Director Ashurkov and James Ford, Secretary for Political Affairs of the British Embassy in Moscow. In it Ashurkov told his interlocutor that "... if we had more money, we would certainly expand our team. A person who spends here ... I don't know ... $ 10-20 million a year for support will see a completely different picture ... ".
The notorious "Anti-Corruption Fund" * of Alexei Navalny has become in reality only a means of extracting illegal profits and ensuring the comfortable existence of their leadership.
FBK * was founded in 2011 as a non-profit organization. He must spend all the funds raised exclusively for statutory purposes.
The Foundation publishes reports annually. So, in 2018, the fund, according to published reports, received 58 million rubles. Source - donations made by about 16,3 thousand donors, the average amount was 720 rubles. The expenses in this case amounted to 65,3 million rubles.
At the same time, FBK * staff members established several commercial structures. In particular, these are Media-Live LLC, Leviathan-Media LLC, Strana Prilivov LLC in Russia, and SIA Dataset in Latvia.
In the financial report of FBK * for 2019, there is not a word about the fact that its employees have commercial enterprises, the purpose of which, unlike a non-profit fund, is to make a profit. At the same time, there are such firms both in Russia and abroad, RT found out in its recent investigation.
As follows from the document, FBK * received 2019 million rubles in 82,3. This budget, according to the report, was formed from donations, the average size of which was 712 rubles. In total, 115,6 thousand online transfers were made last year.
Video blog "Navalny.LIVE" on YouTube on a weekly stream can earn up to 100 thousand rubles and even more.
Navalny's submarine in the Kansas steppes
One of the most important items of income for FBK * and personally for Mr. Navalny is the sale of branded products - mugs, cases, T-shirts, phone cases and other products with initials or the image of the opposition "guru" himself.
All products have a considerable price. For example, a T-shirt, for which the red price on a market day is no more than 200-300 rubles, having received the blogger's symbols, immediately starts to cost ... already from 1700, 2666 and more rubles.


Formally, each purchase of such a product is made out with the help of a public offer (a public offer for the purchase and sale of a product, which buyers accept without reservations). "Navalny's headquarters shop" invites each buyer to conclude it with the commercial structure of LLC "Strana Prilivov".
According to the Federal Tax Service, the average number of employees of this company in 2019 is one person.
And here we move on to the most interesting. Anyone can easily, using the appropriate services, find out not only the IP-address of the server on which the site "Freedom Navalny" is located, but also its physical location.

And he is surprised to find out that the server with the IP address 104.21.44.64 is located ... right in the middle of the Chini Reservoir in Kansas, USA. The site "Navalny's Headquarters Store" with the IP address 172.67.196.112 was also added there.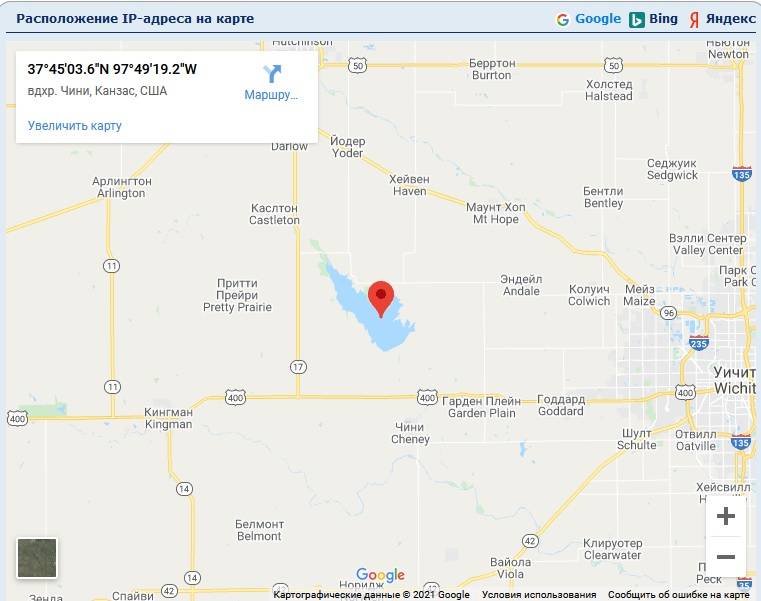 One can only guess how such a picture looks in reality. Such an interesting location of the servers was undoubtedly chosen to exclude hacker attacks by hostile forces on the server. And therefore, the technique is unlikely to be on the water surface. Moreover, no objects can be found on satellite images of the Chini reservoir.
Most likely, for greater safety in the depths of the reservoir, a submarine plows the abyss, where Mr. Navalny's servers are operating in complete safety.
But jokes aside, it's pretty clear that the location of the servers is just intentionally hidden. And this was done not without the help of Navalny's western patrons.
In the meantime, the blogger's naive adherents continue to supply the FBK * brigade and Navalny personally with the means to ensure their comfortable existence. This whole picture strongly resembles the famous scene from the famous novel by Ilya Ilf and Yevgeny Petrov "The Twelve Chairs", where the great strategist Ostap Bender was selling tickets to enter Pyatigorsk Proval.
- Citizens, buy tickets to enter Proval. Entrance fee is 10 kopecks, children - 5 kopecks ... Trade union members - 10 kopecks ..., - Bender shouted.
- Citizens, wear our merch, wear our new things with symbols and upload their photos with the hashtag #FreedomNavalny, - calls on Navalny.
Using the same eternal and ingenious methodology of Bender, he sells his product to naive citizens - a fake, imaginary "opposition" and "fight against corruption." And after all, citizens believe ...
* FBK is an organization performing the functions of a foreign agent