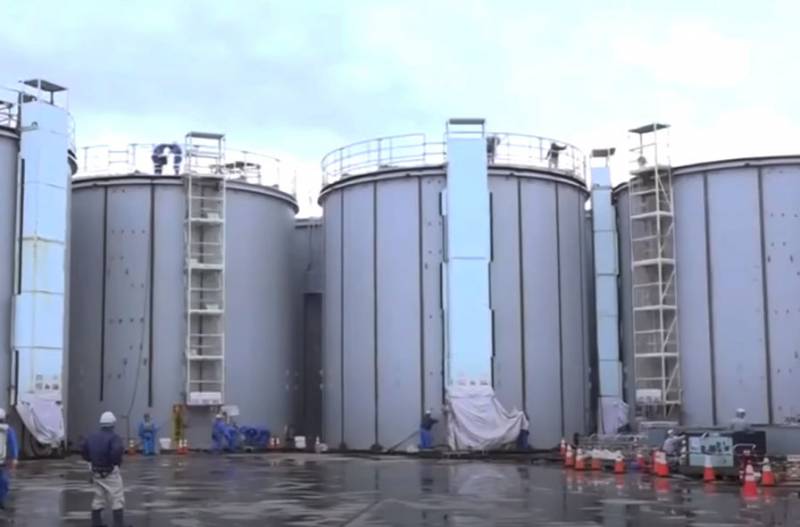 More than 10 years ago, one of the largest man-made disasters of the XNUMXst century took place - the accident at the Japanese nuclear power plant "Fukushima" caused by the tsunami. Then it turned out that the station was actually in no way protected from a natural disaster of this type.
The difficulty is that the problems with radiation emissions at Fukushima have not yet been resolved. The main one is related to the fact that the reservoirs, in which radioactive water accumulates, lose their protective functions every day, undergoing corrosion. At the same time, an important aspect is also that the Japanese authorities are largely hiding the real scale of the problem.
According to the latest information, announced by representatives of the Tokyo electric power company TERCo, a radiation leak was discovered at the site where radioactive waste is stored. At the same time, the emitted dose is tens of thousands of times higher than the norm.
The company reports the reasons for the leak. It is noted that the radiation leak at the Fukushima NPP is caused precisely by the corrosion of one of the tanks. At the same time, it is argued that the radiation level is increased precisely in the nuclear waste storage area, and "at other NPP facilities, the radiation background corresponds to the norm."
The statement about "normal radiation levels" caused skepticism among experts. The fact is that just a couple of weeks ago, a sharp increase in the radiation background was detected in various areas adjacent to the station. The minimum increase is 40 times the norm.
An additional problem is that radioactive waste, flowing out of containers, ends up in the ocean, which causes enormous damage to the ecosystem.
How this problem is solved is not reported at the moment.