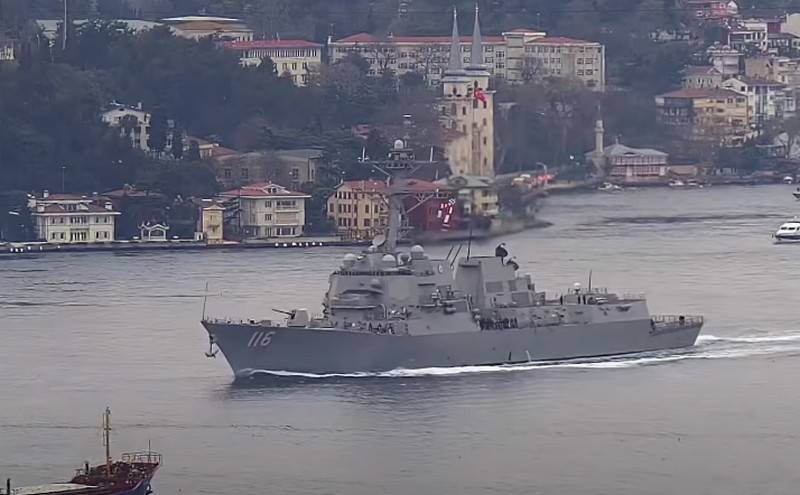 The destroyer USS Thomas Hudner (DDG-116) left the Black Sea on Tuesday morning, March 23, entering the Bosphorus. This is reported by the command of the 6th operational
fleet
US Navy.
During a four-day visit to the Black Sea, the destroyer took part in the Sea Shield 2021 naval exercises conducted by the Romanian Navy together with ships from the fleets of Bulgaria and Turkey. In addition, according to tradition, another task of the American warship was "to conduct operations to ensure safety at sea."
After the departure of the destroyer USS Thomas Hudner, another American warship continues to be in the Black Sea - the missile cruiser USS Monterey (CG-61), which entered the water area last Friday. His task in the command of the 6th Fleet called the provision of "the protection of freedom, economic prosperity and free and open navigation." However, the US Navy covers all its operations with slogans about ensuring "freedom and democracy", changing only the name of the region where they are visiting.
Meanwhile, the National Defense Control Center of the Russian Federation reported that the American cruiser is under continuous control of the forces and assets of the Black Sea Fleet.
The destroyer USS Thomas Hudner (DDG-116) and the cruiser USS Monterey (CG-61) are part of the escort group for the nuclear-powered aircraft carrier USS CVN-69 Eisenhower ("Dwight Eisenhower"). The aircraft carrier itself, along with the rest of the AUG ships, is currently in the Mediterranean Sea off the coast of Turkey.