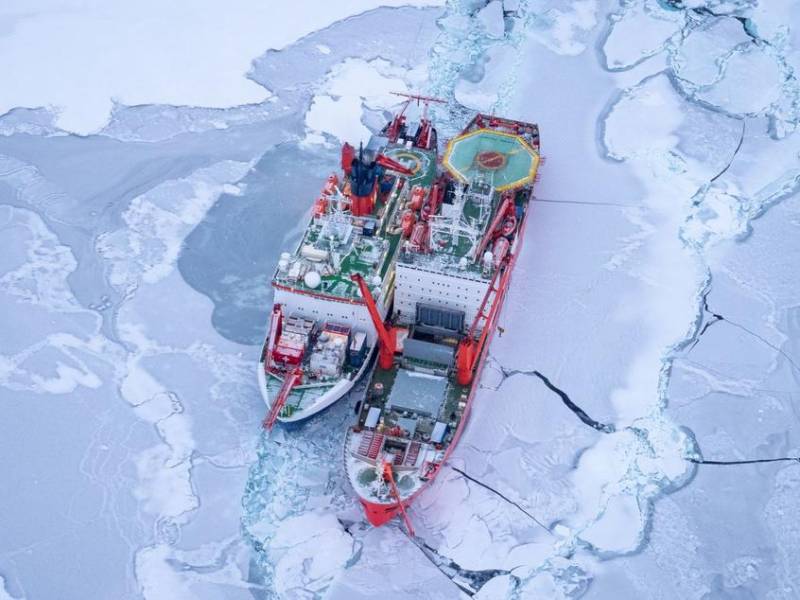 It took the Russian icebreaker Kapitan Dranitsyn five weeks to cross the Barents Sea and reach Polarstern. December 2019
It took the international scientific community 11 years and 150 million euros to prepare the German research icebreaker Polarstern for the trip to the Arctic. However, without the help of Russian courts, this mission would be doomed to failure.
No refueling guarantees
We are talking about the MOSAIC program, the idea of ​​which was born in 2009 in the depths of American and German research centers. As a result, a consortium of more than 20 countries was formed interested in studying climate change in the Arctic.
The German icebreaker Polarstern, commissioned in 1982, was chosen to carry out the mission. It is capable of passing through 1,5 meters of ice at a speed of 5 knots. The ship can accommodate 44 crew members and 55 scientists. It is equipped with 9 laboratories. In the period from 1999 to 2001, the icebreaker was repaired and equipped with the latest technology.
Polarstern began the trek on September 20, 2019, crossed the Siberian section of the Arctic Ocean and "got on the ice" after 3 weeks of travel, "thrown" at full speed onto a plate that seemed stable and solid. Wintering began.
They had no guarantees for refueling [fuel]
- remember at the Alfred Wegener Institute.
Russian help
During the drift, which lasted from October to June, the fuel consumption was 6-8 tons per day (instead of the usual 45-50 tons at sea), the maximum values ​​reached 11 tons per day. At the same time, it constantly had to be heated in tanks.
In mid-November, the temperature drops sharply, the sun finally disappears below the horizon. The Russian icebreaker Kapitan Dranitsyn comes to the rescue of the polar explorers, which twice fills the German ship with fuel, food, equipment and delivers workers. At the beginning of March 2020, Covid is becoming a global problem. With the suspension of international traffic, the project is in jeopardy.
Airports were closed [a runway was built on the slab], and shipping was prohibited. We fought to keep the mission alive. Russian ships continued to help us, they were operational and loyal colleagues
- Captain Polarstern appreciated the assistance of the Russian Federation in the Arctic.
As a result, the expedition was successfully completed and at the end of September the team returned home. As the captain of the ship, who visited Artik 10 years ago, noted, this time the ice floe was segmented from all sides by open water fairways. The drift was very fast: in winter, during storms, they traveled up to 7 km per day [together with the plate]. Compared to the last trip, "it was unusual."