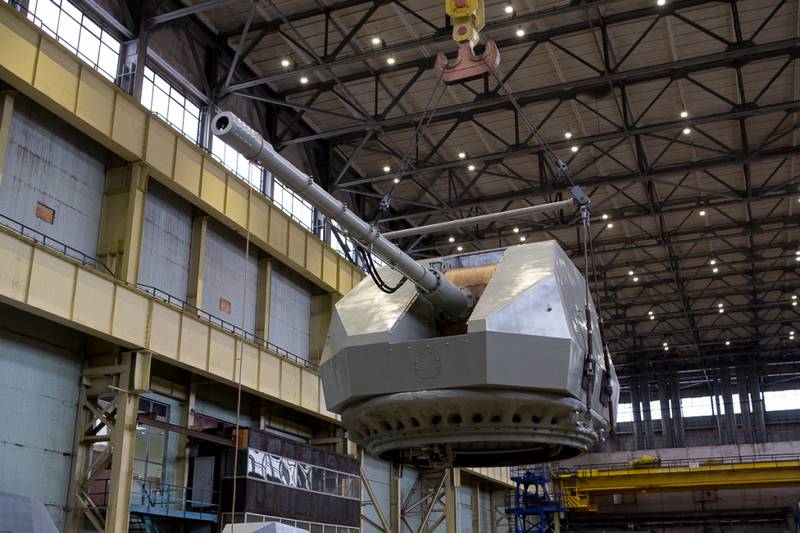 The qualification tests of the 192-mm A-130M shipborne artillery mount have been successfully completed, the artillery mount has entered the stage of serial production, which has already been launched. This is reported by "Korabel.ru" with reference to the press service of the St. Petersburg machine-building plant "Arsenal".
As stated in the material, development work on the new gun mount A-192M was completed in 2018, followed by the production of prototypes and comprehensive tests. At present, the enterprise has already launched the serial production of the units, having carried out all the preliminary preparations for this.
To date, three A-192M gun mounts have already been manufactured, contracts have been signed for the manufacture of three more. Several contracts are at the stage of approval, the number of units to be manufactured under them has not been reported.
The A-192M gun mount is designed for installation on ships with a displacement of over 2 thousand tons. It was the A-192M that was installed on the lead and first serial frigates of project 22350 "Admiral Gorshkov" and "Admiral Kasatonov". It is planned that this gun mount will be installed on all Project 22350 and 22350M frigates, as well as other ships of this and larger classes under construction.
The installation has a fully automated system for feeding shots, capable of delivering all 478 shells to the tower without human intervention. Due to the modular design, this system can be tailored to a specific type of ship. Depending on the size of the underdecks allocated for the gun mount, the number of projectiles can be either increased or decreased.