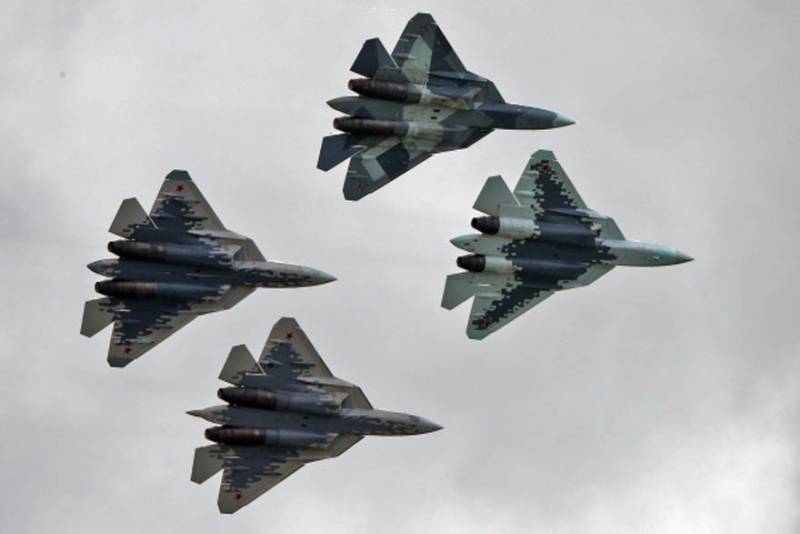 Abroad, they are studying a statement by a representative of the Turkish authorities that the country is considering the possibility of acquiring Su-35 and Su-57 fighters from Russia.
The Eurasian Times published an article in which it is said that the program itself to update the fleet of the Turkish Air Force is "in limbo." The fact is that the United States, imposing sanctions against Ankara for the purchase of the S-400 air defense system from Russia, banned the supply of fifth-generation F-35 fighters to the Turkish Air Force. Turkey then turned its attention to variants with the French Dassault Rafale and the British Eurofighter Typhoon.
From the article:
But President Macron is unlikely to approve of the sale of French fighters to Turkey, given the growing Franco-Turkish rivalry. As for the Typhoon fighters, US sanctions made such a sale virtually impossible by the UK. Moreover, the fifth generation TF-X fighter program is in limbo, an agreement on which Ankara and London signed in 5, forming an initial joint capital of $ 2017 million.
In such a situation, the likelihood that Turkey will acquire fighters from Russia is growing. Firstly, fighters surpass their Western counterparts in many respects, secondly, Russian-Turkish cooperation is gaining momentum, and thirdly, the West itself deprives Ankara of the opportunity to buy fighters from it.
Eurasian Times (ET):
It turns out that the Russian Su-35 and Su-57 fighters are becoming the best option for Turkey.
Additionally, the foreign press notes that the situation is being closely monitored in India. After all, India at one time withdrew from the joint development of a fifth generation fighter with the Russian Federation, and now it understands that it has practically no chances to get the F-35 from the United States. In addition, India also contracted the S-400 air defense system from Russia, and Washington is threatening its Indian partners with sanctions.