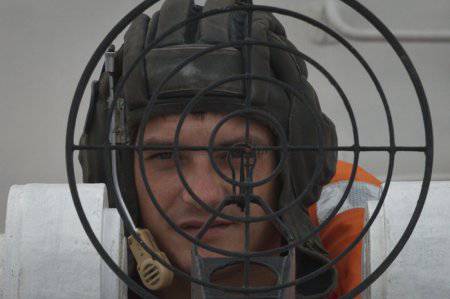 The Director of the Border Guard Service of the Federal Security Service of Russia, Vladimir Pronichev, informed the President of the Russian Federation, Vladimir Putin, on work on the arrangement of the state border in the North Caucasus direction, as well as on other issues of the Service's activities.
"The main efforts were focused on countering threats to the Russian Federation in the North Caucasus and Central Asian directions, for which a federal target program was implemented for 2003-2011 years with 99,5 percent efficiency," Pronichev said at a meeting with the head of state. "At the present time there is a very important period when we are focusing our efforts on the Far Eastern direction in the sphere of countering the threats of cross-border crime, especially in the field of biological resources," he said.
Putin inquired how the work on the arrangement of the borders in the North Caucasus direction was going. "At present, we are concentrating our main efforts on security on the distant approaches in the North Caucasus; this is primarily the South Ossetian direction and the Abkhaz direction," said the head of the Frontier Service. "In fact, we have completed the construction of state border protection in the South Ossetian direction, and now the engineering arrangement is being completed," he added.
"If we talk about the North Caucasus direction, then we are completing the construction of the administration in September, and we are also completing the engineering arrangement this year," Pronichev said. "Thus, a multi-defense system of border security will be created on the approaches, on the front line," he noted, adding that "taking into account the introduction of modern technical means, such as aircraft, night vision devices, thermal imagers, etc., the Frontier Service also doing a lot of pre-emption. "
Separately, Pronichev singled out the work being done in relation to checkpoints. "If we compare it with the Soviet period, 2,5 million people per year were passed through checkpoints, and last year 139 million arrived in and out of the Russian Federation, and we note an upward trend, therefore, of course, this direction for us is one of top priority, "he explained. "This is from the point of view of their arrangement, from the point of view of creating an institute of technology — a very modern, new one; Service.
Pronichev also spoke about the program of acquiring new ships for the Frontier Service. "New ships of the 21st century have already entered service, they are working very efficiently," he said. "Gradually, we assume 25 ships of this generation; all the means there," - said the head of the Service of the President. "These are modern high-speed boats with a displacement of the order of 40 tons, and 125 tons are, with speed indicators of 50 nodes, that is, they are quite effective," he added.