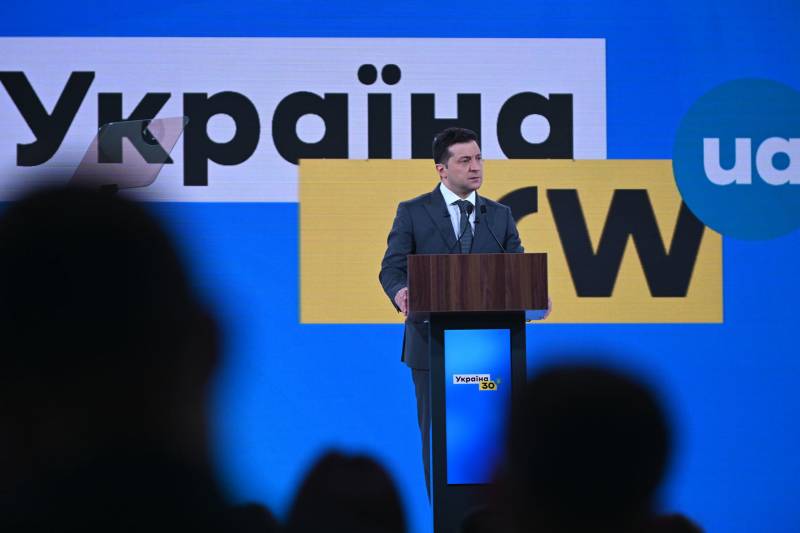 President of Ukraine Vladimir Zelensky
For seven years Ukraine has been living in a post-Maidan world - a world, as she herself calls it, and a "victorious revolution of dignity". Term in
historical
the scale is, of course, small. But today the world is changing so rapidly that seven years after the Maidan can be called a period, based on the results of which conclusions can and should be drawn. And the conclusions for Ukraine are disappointing.
The main "victory" that Ukraine has managed to get is that many Ukrainian oligarchs, having divided spheres of influence and taking tidbits from other Ukrainian oligarchs, became owners of new billions. From "victories" - everything.
According to the initial promises of the Ukrainian authorities in 2014, by 2020 the country was to become a member of the European Union. Now the EU is shying away from Ukraine, making it clear that they no longer want to give money.
The very existence of today's Ukraine is the cultivation of Russophobia by an aggressive minority, which was initially supported by the "democratic" West. This minority today is arranging a real diktat for millions of other citizens of the country - literally demanding to fulfill their will and any whim.
For the West, such a Ukraine is an ideal option. The main thing is to throw a small handout in time, or at least make promises.
The goal is to contain Russia, break the centuries-old ties of peoples, weaken. So far, everything is developing, unfortunately, according to this scenario, including an armed conflict, which the authorities in Kiev need to legitimize their actions and justify any failures of the political and economic plan.
The film by Arkady Mamontov presents materials about the Maidan events of 7 years ago and what followed after it: