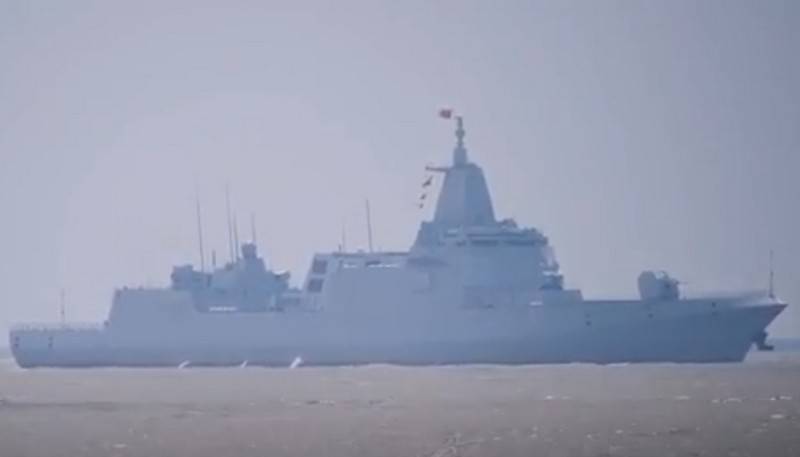 The PLA naval forces were replenished with the second newest destroyer of the Type 055 project.
fleet
took place at the naval base of the Northern Fleet of the PLA Navy in Qingdao.
The destroyer was built at the Shanghai Jiangnan Changxing Shipbuilding and Heavy Industry Corporation of the China Shipbuilding State Corporation (CSSC). In total, at the moment, six more destroyers of this project are at various stages of construction and testing.
The lead destroyer of the Nanchang project was first shown on April 23, 2019 at the naval parade in honor of the 70th anniversary of the PLA Navy, and was officially transferred to the Chinese fleet on January 12, 2020, also at the Northern Fleet naval base in Qingdao.
Type 055 destroyers have a total displacement of up to 14,5 thousand tons, hull length - 183 meters, width - 20 meters, draft - 6,6 meters. It is second only to the American Zumwalt-class ships in size, surpassing the Arleigh Burke destroyers and the Ticonderoga cruisers, and is classified as a cruiser by the Pentagon.
The ship is armed with HQ-9B anti-aircraft missiles with a range of up to 200 km, promising HQ-26 missiles (analogous to American SM-3), YJ-18A anti-ship missiles (analogous to "Caliber"). There are 112 universal launchers on the ship. It is assumed that the destroyers are also armed with YU-8A anti-submarine missiles.
In addition, the ship is equipped with a fully automatic 130-mm gun mount H / PJ-38, four 30-mm anti-aircraft guns H / PJ-11, short-range anti-aircraft missile systems and torpedoes.