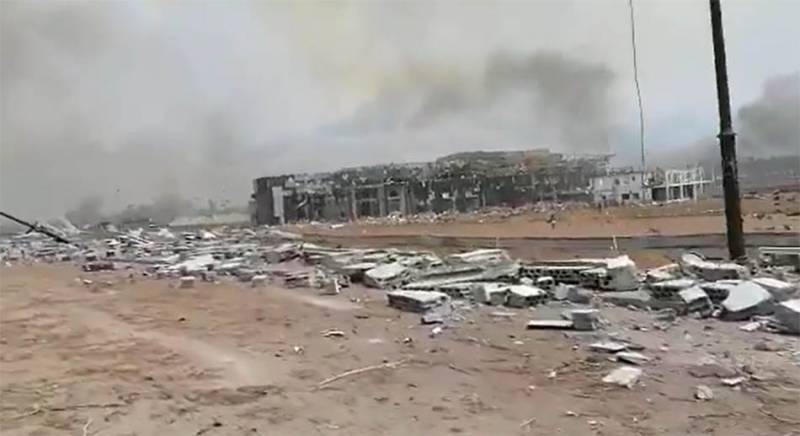 The network publishes footage from the scene of the explosion of a huge destructive force from the African city of Bata. This city with a population of about 300 thousand people is located in Equatorial Guinea - in the west of the mainland.
Reports indicate that an explosion occurred at a military base in the Nkuantomo area. Local residents and the media report that as a result of the explosion, not only the infrastructure of the military facility was completely destroyed, but also the recreation park, which was adjacent to the territory of the military base. But this is not all destruction.
The footage gives reason to say that the consequences of the explosion correspond to the consequences typical for at least several tons of TNT.
Destructions are recorded even two or more kilometers from the epicenter of the explosion. The roofs of houses were demolished, public transport stops were destroyed, fragments of various structures covered the roadway, private yards.
The mentioned area of ​​Nkuantomo lies in ruins. There is not enough special equipment, no rescuers and firefighters to cope with the consequences of a powerful explosion.
According to preliminary data, at least 20 people died. More than 600 people were injured.
The President of Equatorial Guinea addressed the nation. According to him, a powerful explosion occurred in Bath "due to the careless handling of explosives at the military base."
President Teodoro Obiang Nguema:
Almost every house in Bath is either destroyed or damaged.
Meanwhile, the country's Foreign Ministry appealed to the ambassadors of foreign states for help.
For reference: Equatorial Guinea is a country with active oil production. The country is also increasing the production of liquefied natural gas (LNG). The share of industry in the country exceeds 90% of all sectors of the economy. In terms of living standards, this country is among the leaders among African countries: the average salary in Equatorial Guinea in 2020 was about $ 300, which is decent money for the central part of Africa, where people live on less than a dollar a day.
Footage from the aftermath of an explosion in the city of Bata in Equatorial Guinea. Reports say that the explosion came from inside a military barracks pic.twitter.com/hkQM7vZ10L

- Intel Air & Sea (@air_intel) March 7, 2021