Who would have thought that the COVID-19 virus (hereinafter referred to as simply the Virus) could so divide some of the sociological and political science understandings in the world.
Indeed, it turned out that the Virus revealed some rather interesting aspects of human existence. Moreover, he did it harshly and categorically.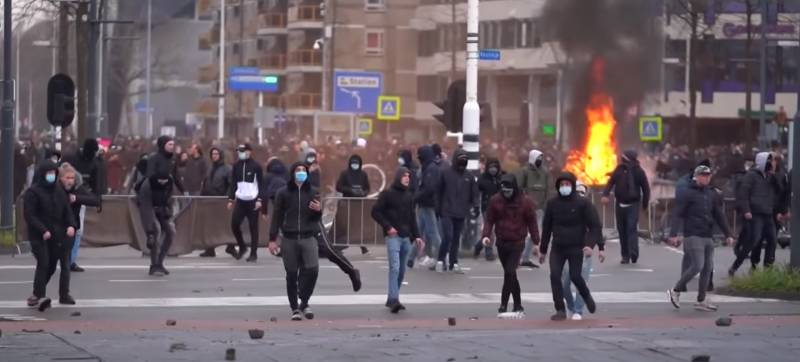 Why did sociology and political science get the most from the Virus? Everything is simple. The virus has forced states to take action, while affecting interesting citizens. So much for sociology. And since the citizens are the electorate, political science troubles immediately went into battle, because the rights and freedoms of the aforementioned citizens were affected.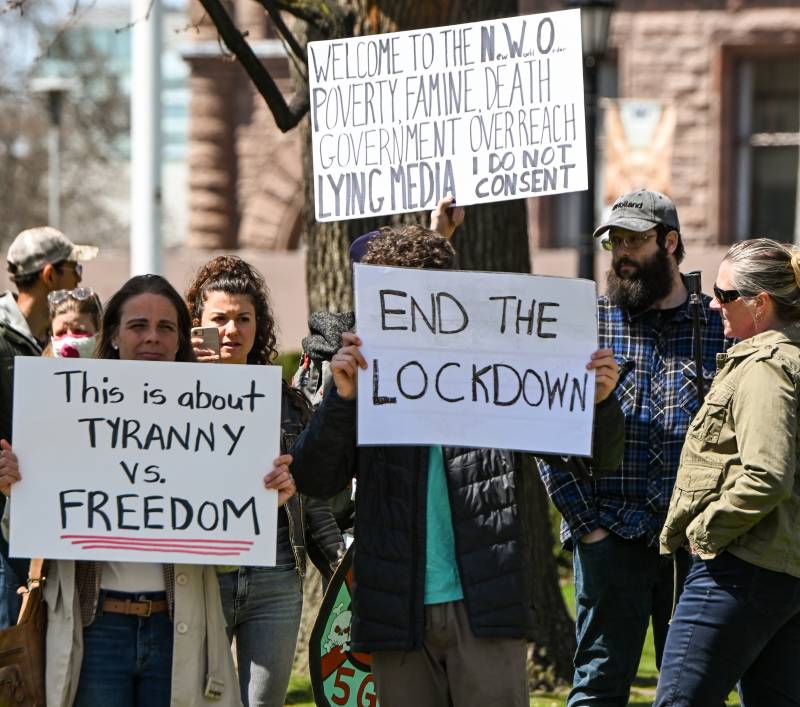 And here, for some reason, in different parts of the world and in different countries, everything turned out completely differently. And there is a very wide field for reflection on the topic of who is more correct and more civilized in the end.
We have the East (China, North Korea), which, whatever one may say, is totalitarianism. Japan, although a seemingly democratic country, is no easier there than in China. That is - just try to make a sound, they will instantly "score a nail." The Japanese have such an everyday term, who are interested, read it.
And in China it is even simpler - as the Party said, it will be so. That is, the Eastern principle is clear and understandable.
There is the West, where everyone just went crazy with freedoms and rights, that's why problems started in some countries because of this.
And then there are Russia and India, which hang out in the middle. We are not going to consider India, they have everything there, although everything is stuck, but there is karma and the wheel of rebirth, so let them reborn. We will look at Russia in the light of the Western and Eastern approaches.
Here you can argue a lot, but the fact is that we have our own path. It is strange, it does not look like either the East or the West (thank God and Russia), but it exists.
So let's talk about rights?
We still have rights. Few, but available. Rights, for example, political (to elect or be elected), economic (to work and get paid for it), and so on.
And then there are the so-called basic rights. The most interesting ones, by the way. You know, I don't even want to look at political ones, it is clear that we do not have them. Well, or you have to fight for them, whoever wants it to be like in that very West. So here, too, is a kind of democratic choice: if you want to fight for political rights - fight, no - go to the sofa, it's not bad there either. And by the next "fair" elections they will remember you. May be.
And here the Virus gave us so much information for thought ...
Yes, if in all fairness - not only to us. I threw it to the whole world.
How is the right to leave the house / apartment? And the right to walk down the street is from what region? The right to go to the store that you used to go to, and not the one that your uncle showed you to?
The store is kind of like in the field of economic rights, right? That's just when there is a relationship between the buyer and the seller. And when is a customer not allowed into a store? Or, as some countries have come up with, not to sell certain groups of goods?
Or wearing some questionable object on your face. And somewhere they came up with the idea that there should be two objects. Yes, we are talking specifically about the masks, which are supposed to protect.
It is already clear to everyone that masks are all a profanation. Either wear them, as expected, changing every two hours, or not wear them, because it is harmful. But, as with a door in a Russian car (the options are "open", "closed" and "unclosed"), we now have a third option. Wear it on the chin and as much as the mask can. That is complete decay.
And this is what happened at the behest of the Virus. The plate from the site koronavirustoday.ru is very interesting and funny.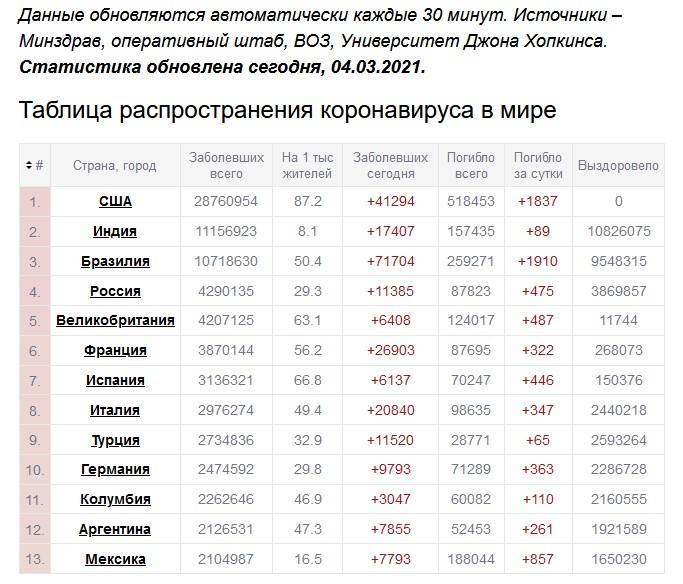 In China, no one uttered a word, totalitarianism is such a thing, but for some reason there is no PRC in the table. As there are no other countries with human rights, let's say. not very luxurious. But the world's slobs like India and Brazil are right there.
Russia too, but here the approach is again different.
How did we differ from East and West? Well, first of all, because everyone knows that the nonsense of our laws is compensated by their failure to comply. This happened in our case as well.
When our caring government ordered everyone to stay at home at their own expense, then, of course, they sat for a month. It was scary. A pandemic, after all, but then the coronavirus turned into a baranovirus, and it turned out that the grandmother said it in two to die from the coronavirus, but from lack of money ...
And everything went on as usual. Compensating for idiocy such as closed beauty salons, hairdressers, plumbing shops and other necessary places. Hairdressers began to take at home (he rode like that and drove friends), manicure-pedicure too, even my favorite bakery with lavash continued to work. At night and underground.
Although yes, to buy a mixer or pants - that was a problem. Thanks to our government.
However, we survived the collapse of the USSR and the nineties, and therefore such garbage as closed shops - well, who did you want to puzzle? Everything is done calmly, without noise and dust. Even in the midst of coronavirus hysteria, I bought a mixer for a birthday as a gift to a person. Despite the fact that all were closed. Ha…
That is why, in fact, in Russia all these underdogs in the fight against the Virus did not cause such indignation in the country as in the West. Although there were more substantial payments, and so on. However, they went there to protest, but we did not. Strange, but true. Freedom-loving Russians remained in so-called "self-isolation", without the slightest signs of discontent, and protests still continue in Europe and the United States. Why?
The answer must be sought in the measures taken by the governments of different countries.
What happened in Russia? Yes, in fact, nothing special. Well, this strange regime of "self-isolation". Everyone understood perfectly well that this is just not to declare the emergency mode, because then you have to pay. Actually, everyone understood everything. And those who are lucky and they just spat on this self-isolation, and those who are unlucky. Mostly restaurateurs and travel agencies.
Well, as we usually do, if the government decides to ruin something, they will do it, there is no doubt especially. Here's something useful to do - it's difficult, but to break ...
Of course, Muscovites had a harder time in terms of these electronic passes and fines. In the provinces, everything was much easier, one might say - more fun. The traffic jams disappeared instantly, the cities were empty for a whole month. And then everything returned to normal.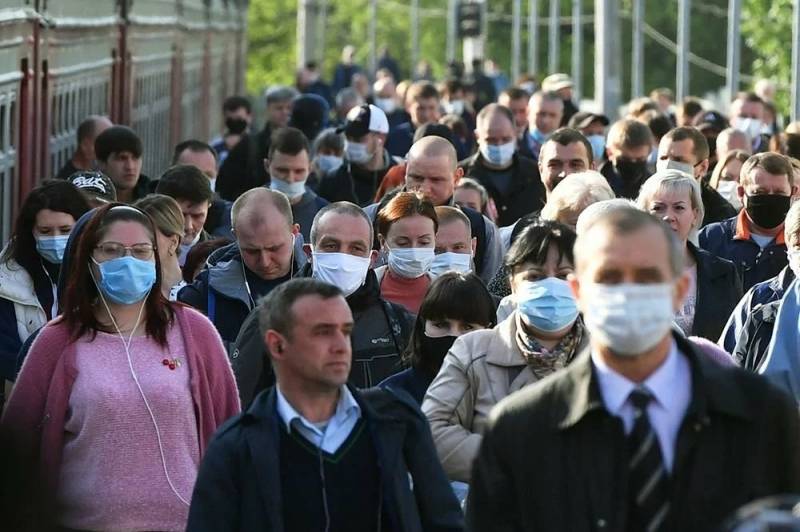 And, as usual, it was hard with the joy of our government, but we survived in spite of, not thanks to. I judge exclusively by myself. Because he staggered around the city as he wanted at that time and for the entire kovidobesny period, God forbid, that he could wear heels of masks. And - which is typical - nothing happened.
A personal opinion, which I do not impose on anyone, many of their "measures" taken by our government and local authorities, they are amazing. The impression was that there was a competition, who will come up with more original and crazier.
This includes the inability to purchase a crane box for the mixer, and dismantling of benches in parks and squares, and the closure of parks, and the irrigation of streets with holy water, and the prohibition to leave the house beyond a certain distance, and the pinnacle of everything is fines.
That is, having offered a regime of "voluntary self-isolation", the state immediately rushed to collect money from citizens for violating the "voluntary" regime of self-isolation.
In general - so-so in terms of legality. However, as always in Russia. And as it turned out later, how much money was stolen on the so-called "sanitization" of houses, which no one carried out, but invoices were regularly issued ...
What about Europe and the USA? Yes, actually, nothing that would be different. The same quarantines, the same strange curfews, the same restrictions and fines.
Of course, the curfew in the Netherlands was overkill. They also arranged it in a number of cities. You can sit in a cafe and, for example, drink beer. Without a mask, of course. But at 22 o'clock you have to get up, put on a mask and go home. Because the Virus is somewhat similar to Freddy Krueger. Comes out into the streets with the onset of darkness and mows down everyone who did not have time to hide "in the house".
And in the afternoon - please, the virus is not terrible.
Isn't it stupid? Stupidity. But in Russia, such stupidity causes nothing but laughter. Yes, this one, not very happy, because it is unpleasant to see nonsense performed by the authorities. But we are accustomed to such turns of affairs. But the Dutch / Dutch are not.
They do not have the same protection as we do. Developed over the course of decades against the stupidity and stupidity of those in power. Because in the West, in the worlds of democracy, they are not yet accustomed to this. They do not have a people for power, but power for the people.
And if the authorities start doing things that people don't like, then special effects begin.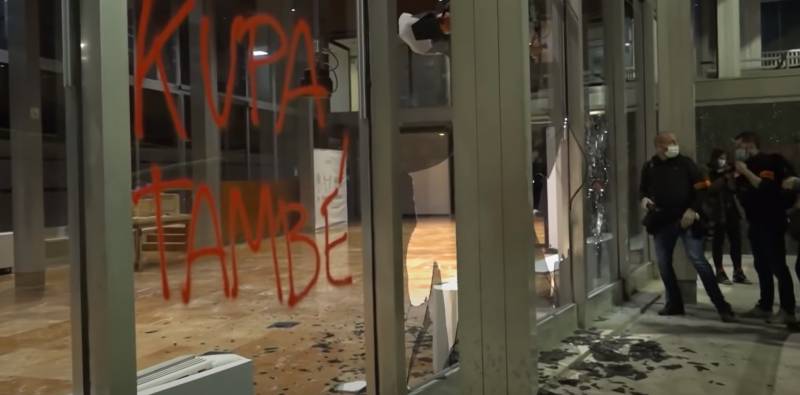 And how is the highest form of dissatisfaction with power expressed? That's right, rallies. Yes, we also tried it. In Vladikavkaz. The riot police warmed up, there were no more dissatisfied. Yes, and rallies and gatherings were banned. Since there was a threat of general infection.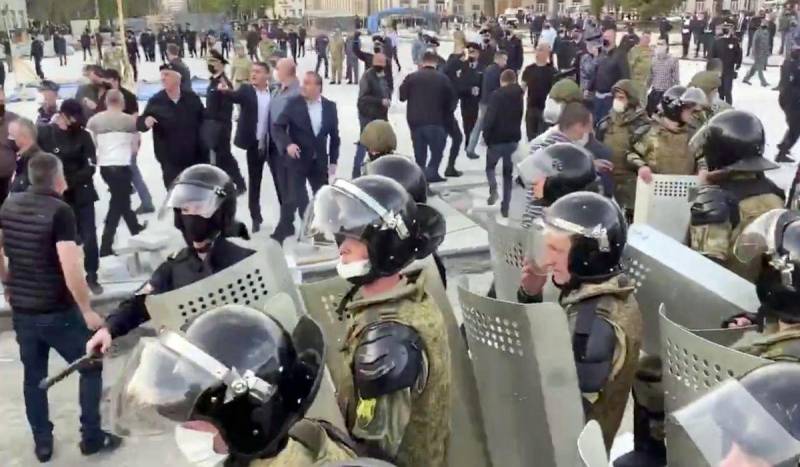 But in Europe and America, the authorities had to face a very difficult choice. On the one hand, it is necessary to ensure the measures announced by the government itself, on the other hand, to do something with those who strongly disagree.
By the way, nonsense in Europe was over the roof. And bans on leaving and leaving, and quarantines, and restrictions on the number of visitors in homes and institutions, and, of course, fines.
Well tell me, is the restriction on going out at night from 21 to 4.30 in the Netherlands smart? No, this is the stupidest stupidity. Freddy Krueger does not wander at night, and the Virus infects both day and night, for that matter.
But the closure of schools, universities and restaurants was generally accepted by many with hostility. Especially young people from closed universities. There is simply nothing to occupy ourselves with, so we went to rebel, fueled by various groups.
And right there, the police with special forces. Yes, gas. Yes, water cannons. But clubs, gas and water cannons are an attribute of any government, both authoritarian and democratic. And the democratic club hits no easier than the totalitarian one. She, the club, and in Africa, the club.
Actually, it was necessary not to burn the unfortunate kiosk for the collection of tests. To present our media as almost the center for combating the Virus was burned. Actually a kiosk. But this is the essence of modern media, nothing can be done about it already.
Many people today say that there is no democracy in Europe, everything is worse there than here.
In fact, there is democracy there. I would say that there is even an abundance of it there. And precisely because there is an abundance of democracy, lewdness began there.
A people who are accustomed to the fact that their rights and freedoms are in the first place for the state, and the government was created in order to arrange a pretty good life for its electorate (and who can argue that living in Spain, Germany and the Netherlands is bad?), such a people could not accept the unexpected turn when the authorities began to trample and restrict their freedoms.
Interesting alignment, isn't it?
Because fights, because water cannons and gas, because detention. Too many freedoms are also not good. For political rights and freedoms give rise to what? That's right, they generate the political activity of the electorate.
And that is precisely why the electorate, which does not quite understand where freedom ends and necessity begins, goes to rallies and Maidans. And naturally he gets it with water cannons and a water cannon.
And this is normal, especially given that such an electorate simply does not know how, in the image and likeness of Russians, to simply ignore the demands of the authorities.
It is also worth noting one very important thing here: let's be honest that the Russian authorities did nothing particularly in terms of struggle, but they did not strain the people too much. Yes, everyone was told to wear masks. But no one monitored their quality. It's just that there must be something dangling on the face. And no one said that the mask should not be worn ... well, let's say, a little longer than its expiration date.
Therefore, the Russians calmly walked around in rags on their faces, and the authorities were happy with everything. The rules of the game are respected. The order was given, everyone put on masks. Everyone is wearing masks. How much - but who cares?
Just think, masks at one moment have risen in price from 3-4 rubles to 100 and more. Homemade products were used. Well, it's impossible to crush such people with such trifles as a 30-fold increase in the price of a piece of rag, right?
But in developed democratic countries, alas, it is far from us. They still want to live according to THAT, pre-viral laws, not realizing that there is no turning back and there will never be. And you just need to understand, accept and adapt to the current situation.
But in Europe, well-fed and calm until recently, this is very, very difficult to understand. And misunderstanding gives rise to rebellion and protest, to which the state is simply obliged to respond.
Many of our media began to broadcast in the sense that there is no democracy in Europe, the people there are protesting, and they are being dispersed and stuff like that. But we are also being dispersed. Without any particular problem.
It's just that Europe has not yet understood that personal rights and freedoms will sooner or later give way to the interests of the state in critical situations. Yes, to die from the Virus is the legal right of every European raised on the ideals of freedom and democracy. Therefore, it is not surprising that they react so violently. In the Netherlands, a group of young people set fire to a mobile coronavirus testing center, and in Denmark, a scarecrow with the face of Prime Minister Mette Frederiksen was burned during a protest.
Everyone expresses their opinion as best they can.
Therefore, Europeans and Americans, suddenly knocked out of their comfort zone by the Virus, cannot normally understand the changes in the world around them and adapt to them.
Too much democracy in the past can make life much harder for the future. And so it can really happen. It is easier for authoritarian and totalitarian regimes to put things in order than in a society spoiled by democracy. This is already an indisputable fact, which once again confirms that democracy is also good in certain quantities.
In the meantime, there is too much democracy in Europe and the United States, cars and kiosks will burn, shops will be smashed, the police will use water cannons and tear gas.
The cost of democracy in the light of the coronavirus.