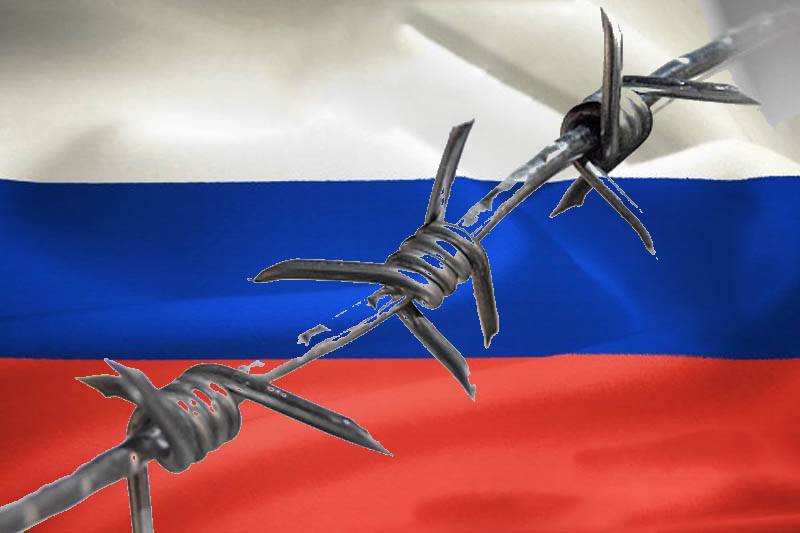 Allowable loss
Closer to autumn, it will be seven years since Russia has been living and working under Western sanctions.
Comprehensive, then sectoral, even later - personal (
Five-year sanctions - neither efficiency, nor quality
).
In Russia, they don't like to count their damage from sanctions, but foreign experts have calculated that losses in our country's GDP from them amounted to 4,2 percent according to one method, and all 8. If in dollars, then it is 95 and 180 billions respectively.
This means that we are talking specifically about losses for the year. And in either case, Russia has enough reserves to cover such "losses" for even several years. But until now, she has preferred to accumulate them.
Yes, this is achieved, as they write, and not only in the West, "at the expense of the impoverishment of its own population." But in general, we now have to look for real poverty. As, however, and hunger.
It is clear that the general public, living in Russia, which is not too rich without that, does not feel the impact of sanctions as strongly as, for example, quarantine measures. But for the oligarchic elite, which cannot boast of special patriotism in business, sanctions are really expensive.
And although due to the pandemic, or rather, thanks to it, almost all Russian billionaires managed to add in dollar weight, they still have to worry about foreign assets. The experiments carried out by Western competitors on Deripaska's aluminum empire seem to show that much is still ahead.
Heirs and inheritance
But because of the notorious "Deripaska case", the sanctions against the Rusal group of companies hurt European industry as well. Consequently, repetition is hardly worth fearing. More dear to yourself.
And in the West they know how to count and save money, and in some ways they are much better than us. And now, throwing mud at the disgraced "national leader" who left the White House, they do not advertise too much his achievements on the fronts of the trade and sanctions wars.
And they, these achievements, are still there. To begin with, Trump did not get Biden from broken plates, but some kind of inheritance. So, the real sector of the American economy received from trade wars and sanctions, if not an incentive, then a good dollar kick for sure.
As a result, what, without the Chinese support, looked more like a remnant of a former luxury than something really worthwhile, began to stir again. But a pandemic broke out, and there was a strong economic aggravation.
First of all, oil, when it was possible to knock Russia head against Saudi Arabia, and on the ruins of the OPEC + deal to pacify the restless neighbor - Mexico, which clearly interfered with the survival of shale companies.
Trump's disruption of the Iranian nuclear deal can also be considered not only for another salvation of Israel, but also for a direct consequence of the oil madness. There, in the big oil bazaar, few people need such an unpredictable player as Iran.
Now too much comes down to information support of the sanctioning company. The public must continue to be kept in good shape so that it does not forget, even in the midst of pandemic horrors, that their governments will not let Russia down just like that.
In response, Russia is not silent either, but it also does not "concentrate" much, as it was under our so beloved Emperor Alexander III (pictured). And it is not for nothing that JP Morgan decided to remind them that their clients are ready to invest in Russian bonds.
There is no need to speak at all about permanently positive assessments of Russian prospects, which are presented by the authoritative agency Bloomberg. Such "voices" cannot be bought. The times of Prime Minister Sergei Witte are long gone.
He, too, worshiped the third of the Alexandrov on the Russian throne, and this allowed him to buy up wholesale French and German reporters in order to place Russian securities, and then sell half of Sakhalin to the Japanese through American mediation.
Sectoral
Do you remember Barack Obama's statement that "
Russian economy is torn to shreds
". But for some reason we weren't scared. And when he promised it, and when then reported about it.
Not ripped yet. Although it was enough for a couple of ruble devaluations. However, the second of them happened not because of sanctions, but because of a pandemic and the same oil war. The fact that oil has returned to old prices, but the ruble has not returned to old rates, means only one thing. Someone needed it.
It is unlikely that you and I, dear readers, needed it, but at prices that are not allowed to grow. What do most people care about dollar and euro rates? Moreover, the foreign countries are also closed, it seems, seriously and for a long time. Many, who only raved about it, now cannot be lured over the hill and with the cheapest euro.
And let someone say that this is bad. After all, travel abroad in Soviet times was generally considered a luxury. Almost inaccessible to anyone. Worse than diamonds and Bohemian porcelain.
Personally ... and "in bulk"
The shift to personalizing sanctions happened when it became clear that both comprehensive and sectoral ones worked poorly. It is much worse than it turned out and it turns out now to bypass the retaliatory Russian food embargoes, and what else our officials have invented "in response".
And then, as if there was no pandemic in the yard, it happened - sort of like with the "newbie" and with Navalny. Someone, perhaps, was seriously afraid that the situation with the notorious violator of the suspended sentence would turn into something serious for Russia.
However, because of Navalny, the Russians will be responsible again personally, and even locally. That is, without going beyond the boundaries of law enforcement agencies. Those still under sanctions are unlikely to have overseas accounts and private jets.
In the best case, someone close to study somewhere or, God forbid, works. However, you have to react somehow - the West has to save face. And even the "Cossack" Borrel to send in a conversation with Lavrov (pictured).
But it turned out - only so that he got away home not salty, and even humiliated and insulted.
While preparing this commentary, I could not find on the Internet which of the Western politicians demonstrated knowledge of Russian sayings and compared the sanctions with firing a cannon at sparrows. And even though this was really practiced not in the West and not even in Russia, but in China, but the sparrows are so fat. We know.
But Russian gas is needed by Europe, and especially Germany, just like a nosebleed. It doesn't work with alternative energy. And on top of that, the Russian market is somehow more and more closed for goods from the West.
No, delicacies, cars and something else from technology, and even more so - products from assembly and other industries, in which the West has invested - this is no problem. But all the rest - thank you, at best, from China with its surroundings or from the "anti-Soviet" republic of Turechchina.