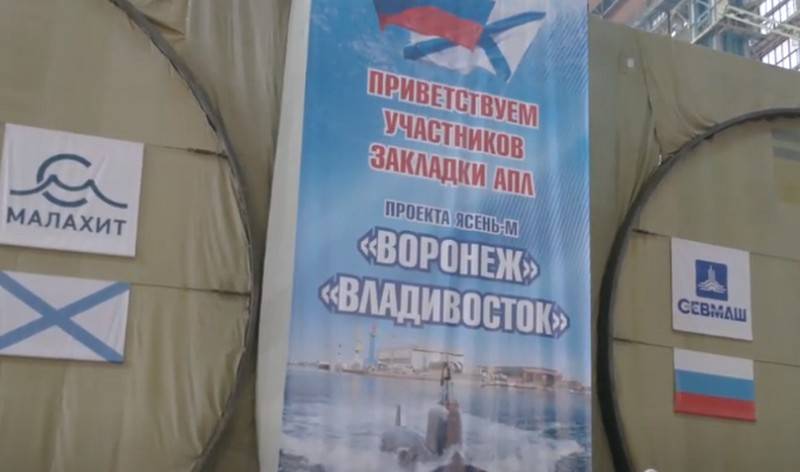 The seventh and eighth multipurpose nuclear submarines of the Yasen-M project Voronezh and Vladivostok are at the stage of forming their hulls. This was reported in the military-industrial complex.
At Sevmash, the formation of the corps of the Voronezh and Vladivostok nuclear submarines is in full swing (...) the transfer of submarines to the Russian Navy is planned for 2027 and 2028, respectively
- leads
TASS
source words.
The fact that two new submarines of the project 885M (Yasen-M), laid down on July 20, 2020, will be transferred to the Russian
fleet
in 2027 and 2028, said the head of the United Shipbuilding Corporation (USC) Alexei Rakhmanov.
The contract for the construction of two Project 885M Yasen-M nuclear submarines was signed in the summer of 2019 during the Army-2019 International Military-Technical Forum.
Currently, the Russian Navy has one Project 885 Severodvinsk nuclear-powered submarine, which entered the fleet in 2014. The lead submarine of the project 885M "Kazan" is to enter the fleet in the near future, the USC announced the completion of all tests. The date of raising the Andreevsky flag should be determined by the Ministry of Defense. The first serial nuclear submarine "Novosibirsk" is also planned to be handed over to the fleet by the end of the year.
In addition, there are four more submarines of project 885M at different stages of construction at Sevmash.
The Yasen-M submarines have a displacement of 13800 tons, a diving depth of 520 meters, a crew of 64, an autonomy of 100 days, an underwater speed of 31 knots. In service are mines, torpedoes 533 mm, cruise missiles "Caliber", "Onyx", "Zircon".