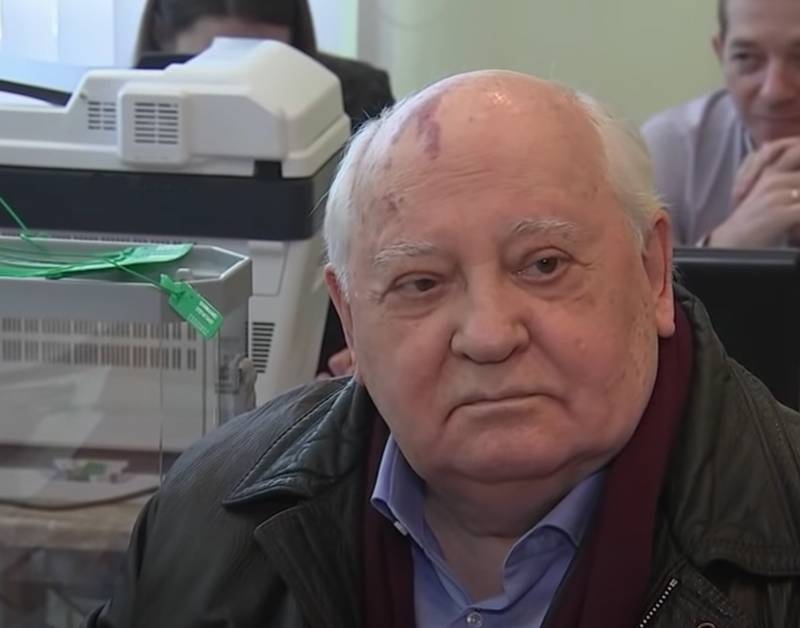 Today, March 2, 2021, former head of state Mikhail Gorbachev celebrates his 90th birthday. The first and last president of the USSR was congratulated by the current president. In his congratulatory telegram, Vladimir Putin referred Gorbachev to "a galaxy of bright and extraordinary personalities, outstanding statesmen of our time, who had a significant impact on the course of national and world
stories
».
In this context, it is difficult to understand that the current president, who, by the way, called himself a liberal, was investing in the concept of an "extraordinary personality" taking into account the fact that earlier Vladimir Putin called the collapse of the USSR the greatest geopolitical catastrophe of the XNUMXth century. If we discuss Gorbachev's personality in such a context, then the terms "bright and extraordinary personality" sound more than doubtful.
Meanwhile, an absentee confrontation erupted on the network between the admirers of the ex-general secretary, whose reign ended with the collapse of a huge power, and his opponents, who are surprised that Gorbachev has not yet repented for his deeds.
From the statements of the liberal representatives about Gorbachev and his anniversary.
Vladimir Ryzhkov:
90 years of Mikhail Gorbachev. He did away with Stalinism, GULAG, terror, cold war, violence. Abolished media censorship, first free elections. Good relations with the West and China. Leader of humanism and freedom. Happy Birthday!!
On this statement, Mr. Ryzhkov received a considerable number of comments, including the following:
Vadim Pogudin:
Khrushchev ended Stalinism, and then in the 60s the Gulag was closed. Vladimir, you d ...?
Pyotr Mazalov:
He destroyed the country, drained the gold reserves, technologies, reserves of enriched uranium, severed all production chains and destroyed the industry, started a civil war and genocide in which 500k of the population die out every year, allowed to build enemy military bases near the borders.
And this is a congratulation from another representative of the liberal "elites" - Grigory Yavlinsky:
Gorbachev gave Russia freedom. Freedom that we have not been able to use. And this is our responsibility. Thank you, Mikhail Sergeevich, for this freedom, for the chance, for the opportunity to see the perspective of a truly free Russia! Happy Birthday!
Representatives of the liberal media were also noted, for whom Gorbachev remains a real political idol.
Alexey Venediktov:
Blaming Gorbachev for the collapse of the USSR is like blaming Churchill for the collapse of the British Empire.
And from statesman Alexei Kudrin:
Today Mikhail Sergeevich Gorbachev is 90 years old. He turned the country towards greater openness and launched overdue transformations. It is difficult to judge him for their spontaneity and inconsistency, especially during the period of the preservation of the CPSU and the old elite. I congratulate him on his anniversary and wish him health!
It turns out that everything would be fine, but the whole point is in the CPSU and the old elite ... And Kudrin himself, like other representatives of the highest authorities of the Russian Federation, are not they from the same CPSU?
It should be noted that the overwhelming majority of ordinary Russians have a completely different opinion about the personality of Mikhail Gorbachev than the representatives of the liberal "elites" mentioned above, as evidenced by both polls and posts on social networks.