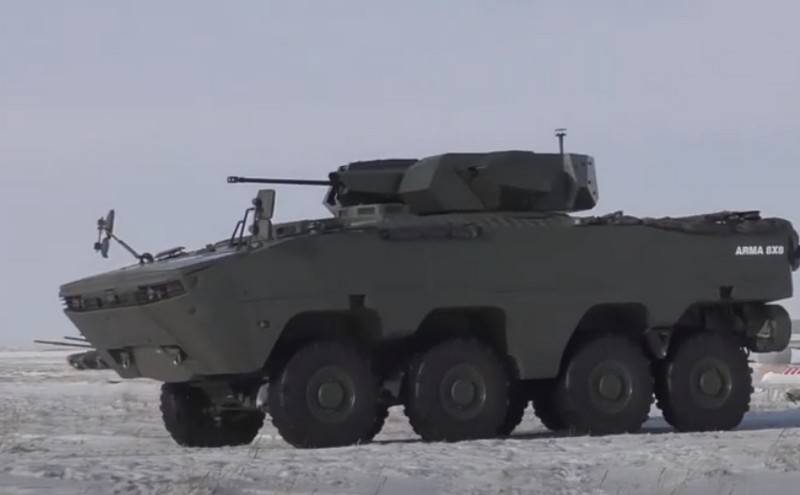 The Ministry of Defense of Kazakhstan continues testing the Turkish armored car ARMA-8x8, proposed by the Otokar company for arming the Kazakh army.
Tests of an armored wheeled vehicle (BKM) ARMA-8x8 with a NEFER combat module were carried out at the Spassk training ground of the Karaganda garrison. BKM weapons were tested, firing was carried out at different times of the day. It is noted that the NEFER combat module is equipped with a 30-mm 2A42 automatic cannon and a 7,62 mm coaxial machine gun. The module is specially designed for use in the Kazakh army.
BM allows firing in the dark, using an aiming system and a thermal imaging camera. This provides good visibility and effective engagement of targets.
- says the message of the Ministry of Defense of Kazakhstan.
For our part, we note that the Kazakh military began testing the Turkish Arma 8X8 combat vehicle of the Turkish Otokar company last year. Primary tests have shown full compliance of the BKM with the declared characteristics. In October last year, "Otokar" presented a BMV for experimental military operation with a combat module installed at the request of the customer.
According to the developer, the Arma 8x8 BKM has high mobility, maneuverability and a sufficient level of ballistic and mine protection that meets NATO standards. BKM has the ability to swim through water bodies at a speed of up to 8 km / h. The design allows the vehicle to be adapted for various tasks by installing various combat modules with weapons ranging from machine guns of 7,62 mm caliber to 105 mm guns.