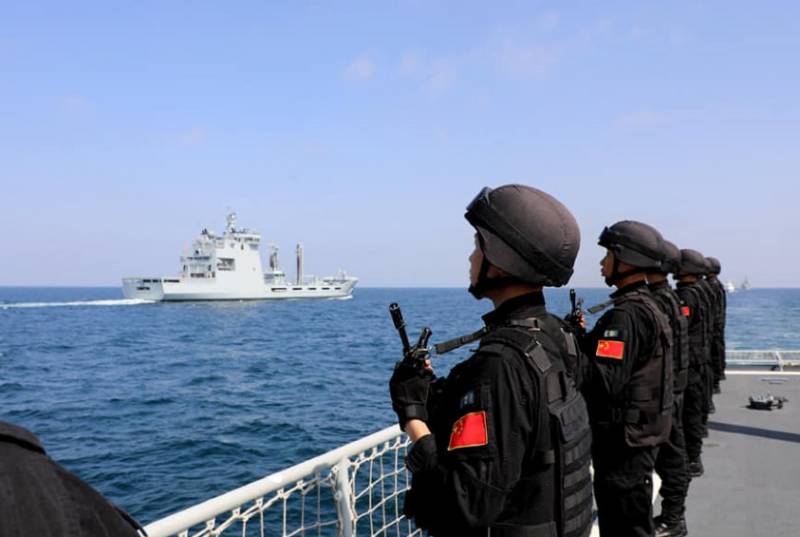 An expeditionary group of the Chinese People's Liberation Army, led by a Type 052D destroyer, recently crossed the equator, heading further out to sea. Such missions allow the PLA to better settle in the high seas, since the PRC intends to build a "blue water navy". Translated into an understandable language, the Chinese Navy is planning to become truly global - "plowing the vastness" of the World Ocean.
This was announced yesterday by the press service of the PLA Navy on its page in the social network Welbo.
As the warships passed the equator, a ceremony was held to cross its line.
The expeditionary group is
flotilla
consisting of a 052D Yinchuan destroyer armed with guided missiles, a 071 Wuzhishan amphibious assault ship, a 901 Chaganhu supply ship, a 054A guided missile frigate and an electronic surveillance ship. It is not known if other ships and submarines are included in this group. However, the presence of Chinese submarines in the group is quite possible.
The Chinese command did not disclose the destination of the PLA Naval Expeditionary Group. So far, the flotilla is heading south. During the voyage, sailors conduct daily exercises, improving their combat training. The exercises are also anti-submarine in nature.
Over the past few years, China has been increasingly deploying naval expeditionary teams on the high seas. These missions allow the PLA Navy to test its capabilities and hone skills in waters far from China's borders.