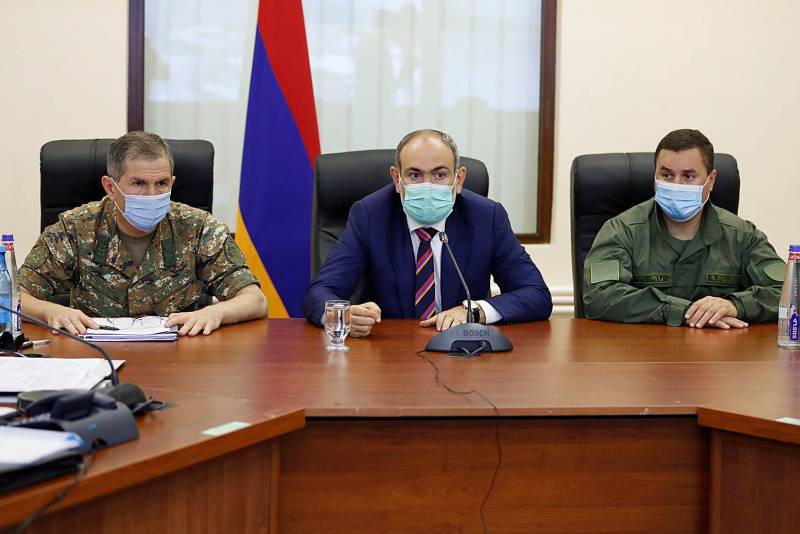 The Azerbaijani media is actively discussing the situation in neighboring Armenia. Recall that there is another political crisis in Yerevan, which is associated with the call by dozens of high-ranking military officials to Nikol Pashinyan to resign from the post of Prime Minister of Armenia.
The day before, two rallies were held in the Armenian capital: one in support of Pashinyan, the other demanding his immediate resignation.
The Azerbaijani edition of Aze came out with a material stating that Nikol Pashinyan allegedly gave an order to the special forces of the National Security Service (National Security Service of Armenia) to prepare for the assault on the building of the General Staff of the country's armed forces. In particular, it was stated that the SNB special forces had to start storming the building of the General Staff of the Armed Forces of Armenia, if the high-ranking servicemen of the General Staff would take further actions to remove Pashinyan from the prime minister's post. According to Azerbaijani media, the special forces were ordered to prepare for the arrest of several generals who signed an open letter demanding the resignation of the head of the Armenian government.
Against this background, Azerbaijani experts also speak out about Nikol Pashinyan's statement that Iskander missiles were used during the hostilities in Nagorno-Karabakh, the missiles of which allegedly turned out to be ineffective. It is worth recalling that in one of his recent interviews, the Armenian prime minister said about the "unexploded missiles" of this complex. In Azerbaijan, commenting on Pashinyan's statement, they are ironic:
It turns out that we have several unexploded missiles of the Russian Iskander complex. Thanks to Pashinyan, otherwise we wouldn't even know about it.
Another comment on Pashinyan's statement:
You are not yet used to the fact that he constantly lies. After all, he lied to the Armenians themselves that the Armenian forces were marching victoriously across Karabakh directly to Baku. He lied that the war was about to be won. Now he is looking for a way to whitewash himself, but again he lies.