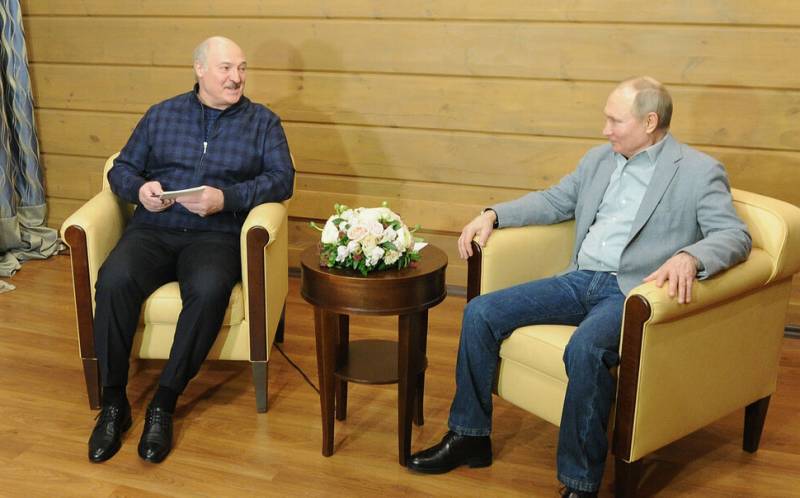 Sochi hosted the first stage of the meeting between the presidents of Russia and Belarus. These are the first face-to-face (personal) talks between Vladimir Putin and Alexander Lukashenko in 2021.
According to the press services of both leaders, a whole range of topical political and economic issues were discussed during the meeting.
Alexander Lukashenko said that before the meeting, about 3 dozen areas were outlined, which presuppose deepening cooperation and the implementation of the so-called "road maps".
The head of the Belarusian state expressed gratitude to the President of the Russian Federation for the economic support that Russia provides to Belarus.
Lukashenko:
I would like to inform you that all this is not in vain. Russian money is not wasted.
The President of the Republic of Belarus added that cooperation in the field of nuclear energy is being actively pursued. Lukashenko noted that the commissioning of the BelNPP will save 5 billion cubic meters of natural gas each.
Lukashenko:
But the demand for this fuel will not decrease for us, since we have plans to build a nitrogen plant in Grodno. This is a project worth 1,2-1,3 billion.
According to the head of the Republic of Belarus, Minsk is ready to study the implementation of this large project together with the Russian "Gazprom".
During the conversation, the two presidents touched upon the fight against coronavirus, including the production of the Russian vaccine at Belarusian facilities.
Vladimir Putin:
As for our joint work to combat coronavirus infection, it is indeed developing successfully. We delivered the first batch (of vaccines) last year. This year in February and March there will be the following deliveries. But the most important thing, in my opinion, is that your enterprise will have production.
The topic of the exchange process in the framework of educational programs was also touched upon. In particular, they talked about teaching Belarusian youth in Russian universities.
After negotiations, the leaders of the Russian Federation and Belarus went skiing.