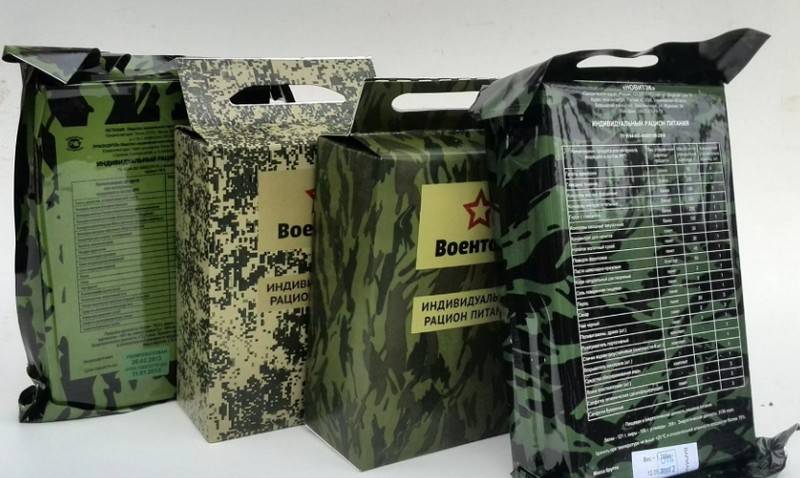 The Department of Defense has developed special army rations for the Airborne Forces, Special Forces and the Marine Corps, deliveries begin this year. This was announced by Colonel Sergei Nikhelman, head of the (food) department of resource support of the Ministry of Defense, in an interview with the newspaper Nezavisimoye Voennoye Obozreniye.
Answering the relevant question, Nikhelman explained that the new special army ration, developed in accordance with the requirements of the Airborne Forces, Marine Corps and Special Forces, became twice as compact, while improving in terms of nutritional value.
We have a large number of foods that contain carbohydrates. This ensures fast saturation and recovery of energy, which is very important in conditions of intense combat.
- he explained.
Also, the Ministry of Defense is developing special rations for military personnel in hot climatic conditions, including Syria. In such diets, the main emphasis is placed on compensating for the rapid loss of moisture and saturating the body with vitamins and mineral salts, which is necessary for the Russian military in these conditions.
It is noted that, unlike NATO rations, Russian army rations contain fewer chemicals and preservatives, so the shelf life of domestic food rations is only two years, as opposed to five years for Western rations.
Our ration is stored for a maximum of two years. At the same time, it is constantly consumed as military units conduct combat training activities, so that there is always a fresh supply in warehouses
- said Nikhelman.
He stressed that rations are currently being developed not for a specific type or kind of the Armed Forces, but based on the climatic conditions where certain units of the Russian army operate. Therefore, servicemen of the same type of troops located in the Arctic or Syria will receive completely different army rations, designed to be used in these conditions.