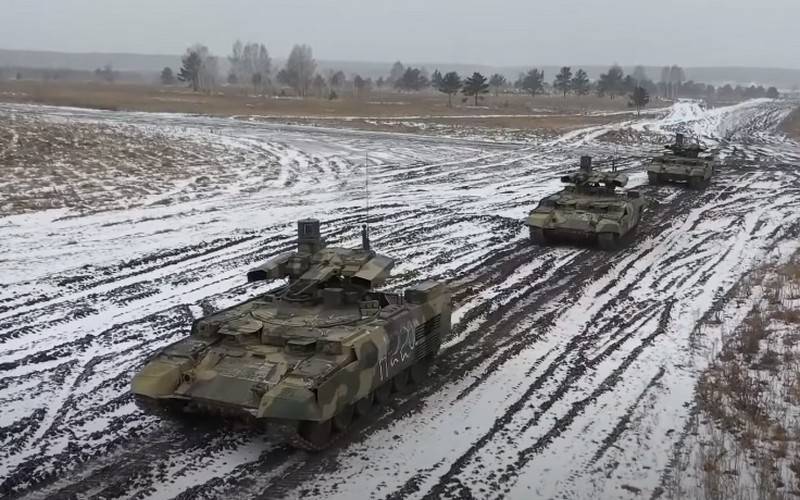 The final decision on the serial production of support combat vehicles
tanks
(BMPT) "Terminator 2" will be adopted following the test program. Reported by
"News"
with reference to the Ministry of Defense.
As the newspaper writes, testing BMPT takes almost a year. Based on the results of the tests, the Ministry of Defense will make the final decision on the introduction into service and the serial purchase of combat vehicles. Currently, the first stage of tests has been completed, associated with a general acquaintance with the BMPT, the study of the controls and weapon systems of the combat vehicle.
The second stage of tests will be devoted to the use of BMPTs in combat conditions. The test program will include a comprehensive run-in, including shooting in different weather and temperature in winter and summer. Terminators will be tested in conjunction with both tanks and infantry.
When these machines were developed, there was no complete understanding of how they would operate on the battlefield. Now the military will have to study this technique not only technically, but also tactically.
- said military expert Viktor Murakhovsky.
It is noted that until 2017 the fate of the Terminator BMPT was uncertain, but the tests carried out in Syria made it possible to make a decision on the production of a batch of these combat vehicles for trial operation. At the same time, other countries expressed interest in BMPT. In 2020, Algeria received a batch of BMPTs, which ordered about 300 Terminators.
All eight Terminator BMPTs, which arrived at the end of November 2020 in the 90th Panzer Division stationed in the Chelyabinsk Region, will take part in testing.