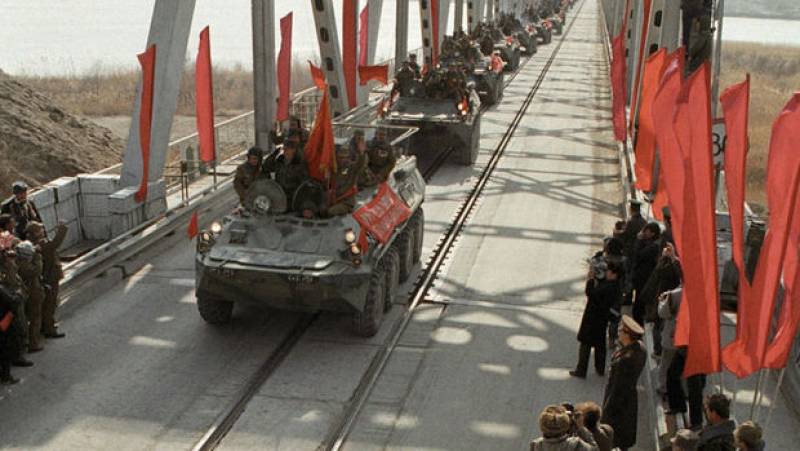 I am writing, one might say, about nothing. Happy New Year - so it is for everyone Happy New Year. Now try to ask on the street - "What holiday is February 15?" I'm afraid the most important answer will be: "Hangover after Valentine's Day. It's good that, even as in the early 90s, they don't spit in the face with the words: "I put on here, grandfathers ...." And that was ...
A small digression from the main topic. I found out about Valentine's Day in 1981, and then only because I was studying English. I would have studied French - and I would not know anything about February 14, except that I managed to be born that day.
For those who don't know, I'll explain - this is the day the GSVA is taken home. And General Gromov, with all due respect, walked across the bridge. And he said what had to be said. Mikhail Gorbachev received from the West those nishtyaks that allowed him to hold out on "legs" for a couple of years in order to calmly rest on the laurels of a Soviet pension, the Nobel Prize for the sale of CMEA and royalties from fast food advertising.
We left Afgan with a broken face. But a broken face is not a sign of failure. This is not MMA. We fought honestly, for the Motherland, and from the very first operation - the storming of Amin's palace and up to Magistral, we fought ..
What can we blame on February 15th? That you didn't finish the job? That they left everything and left, that it looked like not leaving, but fleeing? So it is not our fault - those who jumped from the Mi-8 "on heights", who went on "nalivnyak", who went to the "free exit". And the boys were sent to the Union, and there was a lot ...
We were shuravi. Yes, they shot at us, but going out to the market for cigarettes or meat to eat with us did not turn into some kind of special operation with the use of armored vehicles. We didn't seem to be at home, but we weren't afraid. Not near me, not in the mountains. Because
We fought for our homeland
... For the safety of the southern borders of our Motherland - and this was not an empty phrase at political studies. ...
This is a little, to put it mildly, what, for example, Puerto Ricans in the US Army are fighting for - for the "green card". Or for what the WASPs are fighting for - rent benefits and a college admission bonus.
For "today's" young liberals, who do not distinguish RPGs from the PKK, this war is our Soviet shame. For us who have gone through Kandahar, Khost, Salang, Jalalabad is a war in which we were NOT allowed to WIN thanks to the "peacekeeping initiatives" of Mikhail Sergeevich. I don't think that on their own initiative any of our people would have stayed there - only those whose brains were "turned" to war. They don't care with whom and when - just to fight. But there weren't many of them and they were kept mainly in Tashkent ..
And we didn't lose there - we won. AND
история
it proves.