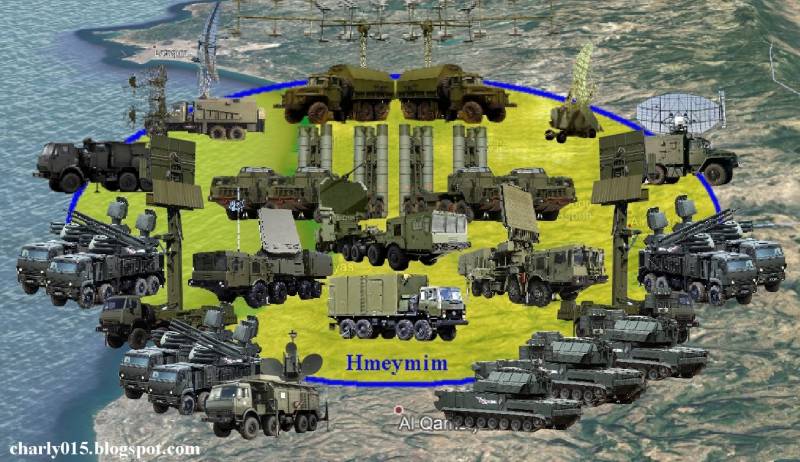 The air defense of the Khmeimim airbase in Syria, organized by the Russian military, shows its effectiveness, and the Pantsir-C1 anti-aircraft missile and cannon systems have proven their ability to fight drones. This is the conclusion reached by a Spanish military expert, author of the military blog Análisis Militares, publishing an infographic about the saturation of air defense systems at the Russian air base.
In his blog, the author writes that the Syrian rebels (militants - approx. VO), once again attempted to attack the Russian military airbase Khmeimim, but the base's air defenses successfully prevented the raid by shooting down all launched missiles.
According to him, the Russians have created a fairly effective air and missile defense system, saturated with various anti-aircraft systems and electronic warfare. Despite the large number of attacks made on the base with the help of missiles and drones, the built system throughout its existence did not allow a single hit, intercepting targets on the approach to the air base. Long-range interception is provided by the S-400 anti-aircraft systems, which have not yet been used due to the lack of targets for them.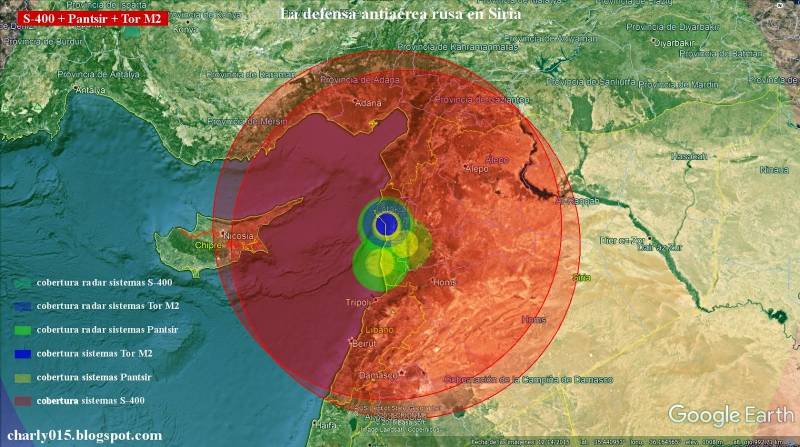 The main defense of the base in the near zone is entrusted to the Pantsir-S1 air defense missile system, which intercept not only drones, but MLRS shells, which are periodically fired from the territory of the Idlib province, which is under the control of the rebels.
In addition, Russia has placed the Tor-M2 air defense missile system on Khmeimim. At the same time, the author claims that the Torahs were deployed on Khmeimim for testing them in combat conditions, and not because of the allegedly low effectiveness of the Pantsirei.
If the Pantsir-S1 air defense missile system were incapable of intercepting targets, it would be replaced by the same Tor-M2, but the Russians do not. The Pantsir / Thor ratio at the airbase is 6 to 1. (...) The Russians are interested in deploying a serious defense, because the threat of an attack on the base is real
- the author writes.
While on combat duty at the Khmeimim airbase, Pantsir-C1 air defense missile systems shot down more than a hundred drones of various types launched by the Syrian rebels, which proves their effectiveness in organizing air defense in the short-range zone, sums up the Spaniard.