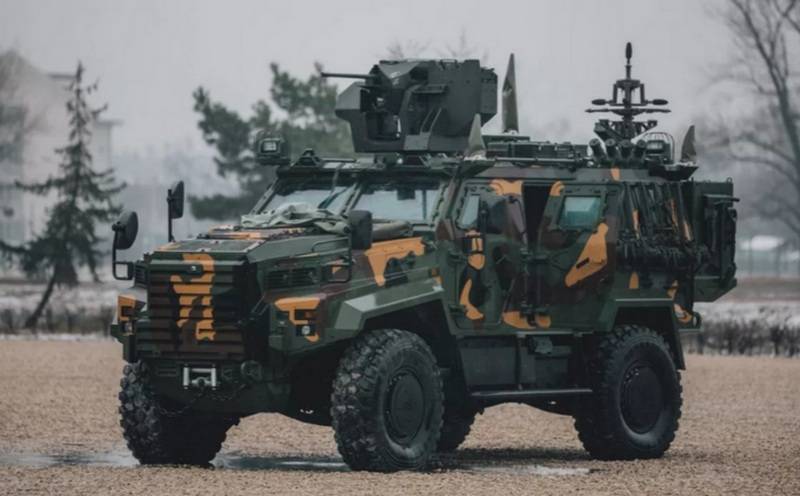 The Hungarian army is transferred to Turkish armored vehicles. The country's Ministry of Defense has received the first batch of Ejder Yalçın MRAP 4X4 armored cars. This was reported by the press service of the Hungarian military department.
The first ten Turkish armored vehicles Ejder Yalçın entered service with the 25th Infantry Brigade of the Hungarian Ground Forces in Tata under the designation Gidran in honor of the Hungarian racehorse breed. The vehicles in the standard Turkish military modification with Turkish Aselsan SARP remote-controlled machine-gun modules arrived in Hungary at the end of 2020, the delay in the transfer was caused by the installation of German communications equipment on them.
A framework agreement for the supply of Ejder Yalçın 4x4 armored vehicles with the Turkish company Nurol Makina was signed in 2019. It implies a "firm contract" for 40 armored cars manufactured in Turkey and 280 are planned to be assembled in Hungary.
The Ejder Yalçın armored vehicle weighs from 14 to 18 tons, depending on the modification, with a carrying capacity of about 4 tons. The maximum speed developed (on the highway) is 120 km / h. Engine power - 375 HP The volume of the tanks is enough to cover a distance of up to 700 km. The declared level of protection is STANAG 4569 Level 4a / 3b (protection against bullets of 14,5 mm caliber, undermining a mine under the bottom). Capacity - up to 11 people. It is produced in various modifications, including a communications vehicle, a fire support vehicle, a military police vehicle, ordinary vehicles with an increased level of protection, etc.