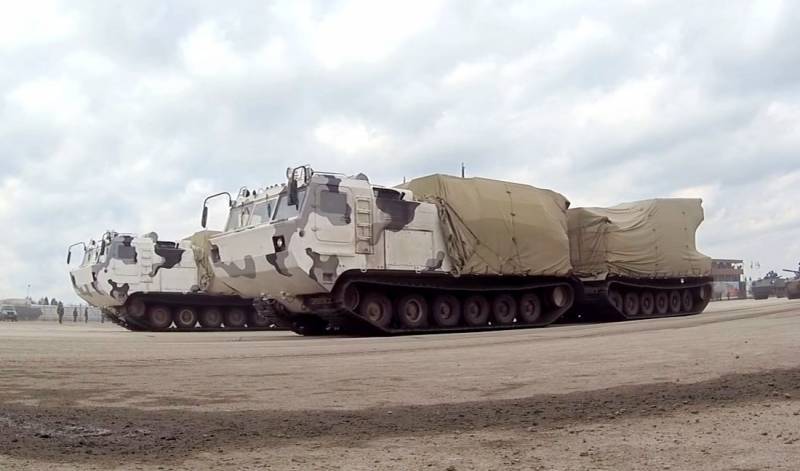 The Arctic units of the Russian army will soon receive a special version of the Tornado-G multiple launch rocket system (MLRS). This is stated in the General Staff of the RF Armed Forces.
According to the military, the Russian defense industry has created a version of the Tornado-G MLRS on the tracked chassis of the Vityaz series two-link all-terrain vehicles following the example of the already created "Arctic" air defense systems Tor-M2DT and Pantsir-SA. Both complexes are located on the chassis of a two-link tracked conveyor DT-30PM.
There are no details of the development, most likely the new MLRS will differ from the base version only in the chassis. Also, there is still no information on the timing of the arrival of the new MLRS in the troops. For the first time, information about the creation of MLRS for the Arctic appeared in 2018. Then it was not only about "Tornado-G", but also about "Tornado-S".
122-mm MLRS "Tornado-G" - an upgraded version of the installations "Grad". A feature is the increased firing efficiency, more powerful ammunition, the presence of automated guidance systems, aiming, topographic location and navigation. Adopted in the 2014 year. The nomenclature included cluster shells with a detachable warhead and self-aiming cumulative warheads.
Snow and swamp-going vehicle "Vityaz" is made according to the "double link" scheme and is distinguished by high cross-country ability and maneuverability. Weighing 28 tonnes, the ground pressure of the tracks is only about 0,3 kg / cm². The machine is equipped with an 800-horsepower diesel engine. The carrying capacity of the tractor is 30 tons.