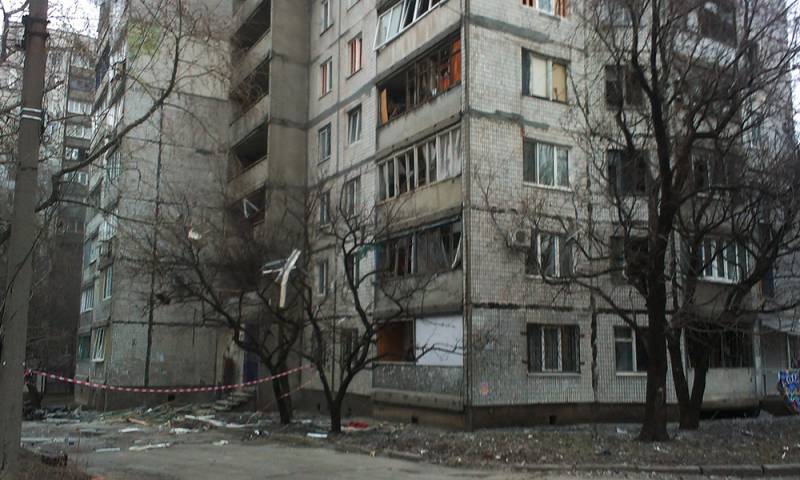 Conversations about nothing
Today, partly due to the attempts of the so-called "curators" to prolong the agony of the Minsk agreements, partly due to the indifference and dysfunctionality of local authorities, there is no ideology as such in the self-determined republics. Instead, there is a kind of surrogate involved in the vector of reunification with Russia (local talking heads sometimes do not hesitate to say that this reunification is possible by returning to Ukraine on the terms of the Minsk agreements, but this, of course, is nonsense), patriotism (again, ambiguous - in due to the above circumstances), the celebration of the Second World War and very neat flirting with Orthodoxy.
It is clear that such a situation has a demoralizing effect on the fighters of the People's Militia, officials and ordinary people, since they are all deprived of an answer to conceptual questions: "Why were all these victims? What is happening to the republics today? Where are we going". It is worth noting that in attempts to create something like an ideology for the LPNR, most Russian and local ideologists and speakers focus primarily on themselves and their environment, regrettably forgetting that their concepts are not understandable and are not in demand by the population worried about where more mundane matters than armchair thinkers. It is also worth noting that it would be absurd to try to create an ideology for the republics without having a strong deep connection with the people of Donbass, without being involved in the events of 2014-2015. and lacking a systematic understanding of the situation that has developed in the LPNR today.
Proceeding from the need to formally demonstrate adherence to the Minsk Agreements, it is not at all necessary to bring down new dogmas and meanings on the heads of ordinary people, like the Mosaic tablets (this would in any case be stupid and imprudent, and most importantly - ineffective). It is much more convenient to flood the media space with new meanings that answer the above conceptual questions.
Determine with Ukraine
The inhabitants of the LDNR do not need to explain that they are Russians and their place in Russia. Nevertheless, it would be logical to voice as often and louder as possible that reunification with the Russian Federation is inevitable, that 25 years in Ukraine is a nightmare, stupidity and a crime that will never happen again. It would also be logical to constantly remind the local population that the inhabitants of Donbass, who were not afraid to challenge and fight against Ukrainian nationalism, fascists of all stripes and mercenaries of the collective West, today are the salt of the Russian land and are at the forefront of the resurgent Russian identity; a pillar of the new Russian idea, etc. It is also necessary to voice the fact that even if the conditions of the Minsk agreements are fulfilled (which is possible only hypothetically), the mission of Donbass will be to reformat Ukraine, curing it of Nazism and nationalism , including cleaning it up to turn it into a union state, and then part of the Russian Federation.
It is important, finally, to decide on Ukraine, frankly recognizing it before the coup d'etat of 2014 as an annoying and harmful misunderstanding, and afterwards as an obvious and irreconcilable enemy, to fight and destroy it is the sacred and difficult mission of Donbass, for the sake of which it sheds blood, and which will glorify him for centuries. The demonization of Ukraine and its adherents, as well as a critical attitude towards the passive part of Ukrainians who support the regime, should not be based on bored postulates like Rostislav Ishchenko (they will freeze there, die, scatter, Ukraine will fall apart, etc.), but on irreconcilable hatred of fascism (as the central idea of ​​today's Ukraine) in any of its manifestations, whether it be skinhead stormtroopers or a passive silent majority.
It is Ukraine that should be made guilty of all today's difficulties, problems and failures. It is Kiev and the Ukrainians as a whole that will not only have to shoulder the blame for all crimes against Donbass (including not only war and crimes against humanity, but also the death of pensioners due to lack of pensions, low birth rates, etc.). The image of Ukraine and of every Ukrainian Svidomo must be defamed once and for all, and the republics themselves must consistently and swiftly erase everything that would remind of "Ukrainianness"; all the symbols of Ukraine (of course, without bringing the situation to psychosis). Today, a negative image of the West is being consistently formed in the republic - it is necessary to carry out similar work with regard to Ukraine.
Forgotten Heroes
The formation of two heroic images is also important - the image of a defender (in which it is necessary to merge together, finally, militiamen and soldiers of the People's Militia) and the image of a home front worker. Frankly speaking, today the republics have practically nothing to give to both, except for national honor. Of course, every effort must be made to ensure normal wages (and their timely payments), social security and various bonuses and benefits for both combatants and miners and workers in large industrial enterprises. At the same time, it is important to at least establish a dialogue as much as possible, to broadcast the message: "Despite all the efforts of the enemy, despite all the problems, you are saving the republics and their inhabitants with your labor (feat of arms)! Your feat will thunder in the centuries, and from us honor and respect, as well as everything possible that can be done to improve your well-being. Be patient, Orthodox, we know how hard it is for you, we remember, we will improve! .. "
It should be noted that the current situation is not only unacceptable, but also criminal - working people live, receiving only congratulations on their professional holiday (not a bonus, not keys to an apartment, not a ticket to Gagra - congratulations), and on the other 364 days of the year, terrible working conditions , stripped down social services and debts for their miserable wages. The soldiers do not see any celebration of the heroes (there are a dozen of them in official sources, including Givi, Motorola and Zakharchenko, as if only they fought and are still fighting to this day), nor civil memorial services, nor tributes. To honor the workers of the rear and the "workers of the war" is little that the republic can do to form motivation and a positive image in society, but in fact there is not even that. It is worth noting that NM contractors generally try not to mention them, as if their unfortunate 16 thousand were almost a shameful stigma.
It is clear that these are just some and fairly general topics that should be raised in the notorious doctrine and which need to be talked about while the official channels chew rubber. And yet we have to start somewhere, since the upper classes cannot ...