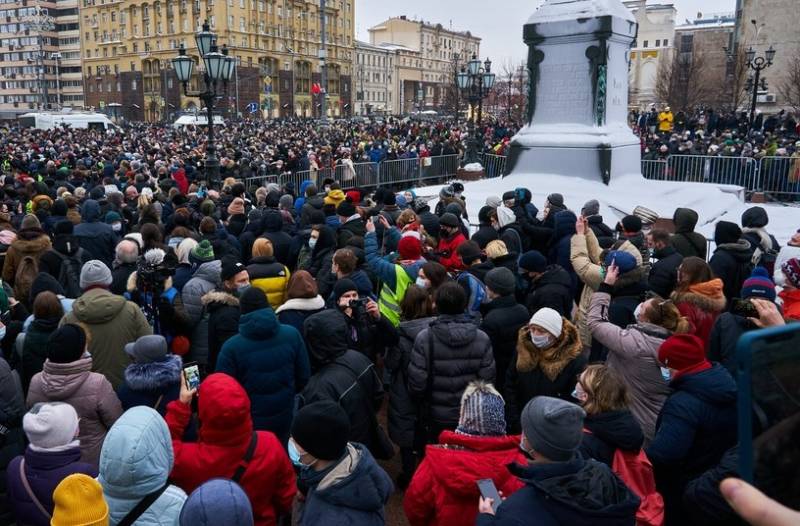 On January 31, the number of protesters in Moscow was significantly less than a week earlier. According to official data, about two thousand people took to the streets of the capital. And although the opposition does not agree with this figure, even it notes a decrease in activity compared to the last time.
St. Petersburg became the leader in the number of participants in unauthorized actions. Local residents attribute this to the dissatisfaction of Petersburgers with the current governor, which is observed even among those who are loyal to the current federal government.
All over the country, law enforcement officers detained about 3-4 thousand people. Some of them were soon released, others were charged with various offenses. Individuals may become involved in criminal charges for assaulting police officers. And there were such people: with truncheons, tear gas cans, "pneumatics" and "injuries".
It is noted that yesterday the police and Rosgvardia acted tough, but for the most part this concerned provocateurs and those who tried to provide forceful resistance. The bulk of the detentions took place calmly, but it was not always possible to avoid violence, and not always justified. Although this was more the exception than the rule.
There were also differences from the previous all-Russian protest action. For example, in some cities one could see round dances organized by the participants of the rally. And one of the protesters in Moscow decided to commit self-arson. Later it turned out to be a client of a neuropsychiatric dispensary.
In Rostov-on-Don, special equipment was taken to the streets, and the Cossacks came to the aid of law enforcement officers.
Although the protests were held under the slogans of support for Alexei Navalny, for many it was just an excuse to express their dissatisfaction with the current situation in the country. The opposition newspaper Meduza conducted a small poll among the protesters. Most of the respondents named social and political reasons for their participation in the actions. In particular, they mentioned low salaries, corruption and imperfect judicial system.
And in the course of other polls, it was found out that many of those who took to the streets the day before had no specific slogan at all. Minors (and there were at least a third of those at the protests) stated something from the series "For all good versus all bad."
The organizers of the protests managed to get the necessary picture of tough police actions in order to demand from the West the introduction of new sanctions against Russia. The authorities showed their decisiveness in the fight against violators of the order and identified especially inadequate and radical citizens.
In general, the parties parted, being pleased with themselves - at least outwardly.
There is a possibility that the "next episode" will take place on February 2. On this day, it will become known whether Alexei Navalny will receive a real term or, as usual, will add another house arrest with a new condition to his "piggy bank".