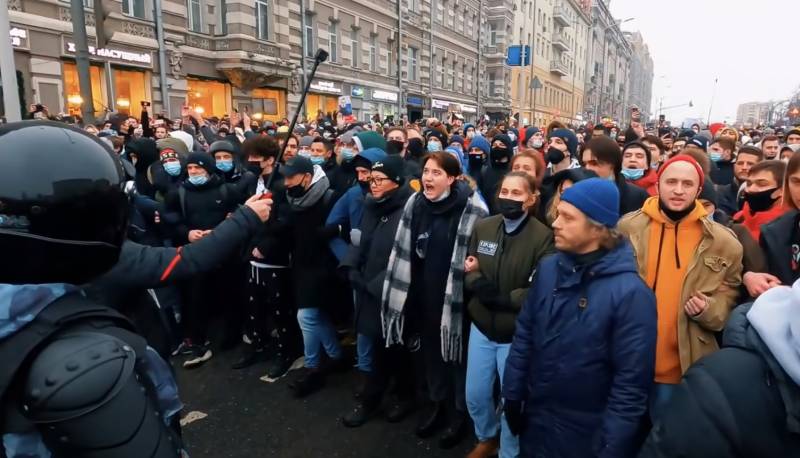 Indeed, there is nothing to catch in Africa. Except AIDS and other pleasures of our time. All this is almost as hopeless as festivities at rallies. Or there is a prospect, but more than dubious.
Indeed, today in our country the choice to go / not go to a rally against the authorities is not an easy decision. Especially after the events in the Far East and, as an example, in Belarus, when it became clear and understandable what could happen when the authorities do not care deeply about the opinion of citizens.
There seems to be an opposition (I'm not talking about the lured Duma members), which wants to change something. But what's the point, and is there any?
Only quotes from the freshest video from January 27 this year.
"Russia will be free! Down with the king! "
Well, let's say down with it. Passed. "Get the gang", "Oligarch on the gilyak", yes, we remember. We passed, thank God, not on our own skin. Fine. But here is a quote from not the last person in the state, from Volodin. "There will be another Putin after Putin."
Whom to believe more? Well, it seems to me that there is more truth in the words of the head of the Duma, more reason. And, unfortunately, Vyacheslav Viktorovich trusts more than Alexei Anatolyevich.
And if "Down with the Tsar" is meant to be replaced by Navalny ... But more on that at the end. For dessert.
"They think their children will rule you!"
As if in the media there is enough information about the activities of the children of the same Shoigu and Rogozin. But what is it if those in power really think so? And if you look at Belarus, the desire to argue disappears.
In general, nothing new and revelatory. Everyone already knows everything
"The king does not want to see you on the streets"
I watched this on January 23rd. And I was watched, probably, by hundreds of dissatisfied with the mess that the "protesters" organized in the center of my city.
Still, an unorganized meeting is inconvenient. This is a paralyzed movement, this is traffic jams, this is the police, which is torn between the crowd of "protesters" and the need to give everything a decent look.
I'm not the king that Navalny is talking about, but I don't want to see that on the streets either. This infringes on my rights in full and makes life difficult for me.
But it is not only Navalny who speaks, those who support him say. And here I no longer want to be silent. There are situations when the role of Pavlik Morozov is more decent than any other.
In general, if you look at those who so fiercely support the Dark Lord, fighting alone with the legion ... I would like to say, the Legion of Darkness, but what then turns out, they are from the same sandbox or what?
Okay, here's the actress Elena Koreneva. The one who said that Bulk is a knight of Light who fights against Darkness.
Dual citizenship, Russia and the United States, lived overseas, taught. But it didn't grow together, so I returned. And he lives well. Protects everyone in a row, "Pussy Riot", Oleg and Alexei Navalny, Khodorkovsky, Nadia Savchenko, Sentsov ...
Pavel Derevyanko. Forgiven for addiction to drugs (sins of youth), gold-burnt actor. I should be happy with everything, but ...
In general, I would like to ask, lads, whose will you be? Okay, Makarevich, puska Nadenka Tolokonnikova, "Castes" ... But Artemy Troitsky from Tallinn, Max Pokrovsky from the USA ...
In general, all media personalities who stood up for Navalny can be seen on the corresponding YouTube channel. Their list is small and only surprising. Indeed, the feelings and actions of those who are annoyed by the authorities in some way, who are not satisfied with the present state of affairs, are understandable, and the lower on the hierarchical ladder, the more understandable it is.
But excuse me, people of art, culture, pop, finally - what is missing?
We do not touch Makarevich, it is not known how any of us would howl if so much of his "hard-earned" was taken away from him.
But with the rest, the truth is not entirely clear. What is missing…
Actually, the author himself also belongs to those who do not like many of the processes taking place in our country. Moreover, there is much that I don't like at all.
And here it is necessary to clearly distinguish flies from minced meat. Dark Lord from Darkest and so on.
Take the average resident of a country of more than 40 years, who was born and raised in THAT country, which is now abundantly sown with mud by some and remembered with affection by others.
It doesn't matter how right the first and the second are, the main thing is that in the Soviet Union certain postulates were put into their heads, which many have not yet been able to overcome.
So, I was more than skeptical about Navalny until January 23 (articles confirming this can be very easily found on VO), but after January 23 everything became completely sad.
That is why Navalny did not succeed, and now it will not work. Firstly, because it is necessary, and secondly, because the middle age group will not follow him. No, it didn't go anyway, but it will never go, no matter how the situation in the country turns.
And the reason for that is January 23rd.
What can you compare the act of Navalny's associates in bringing schoolchildren to the streets?
Here I can only compare with one
historical
analogue. During World War II, there were three armies that did not disdain things like human shields of non-combatants. That is, old people, women and children.
And, as all our readers know, these were not representatives of the anti-fascist coalition. Quite the opposite. Italians, Germans, Japanese. They did it very well, to drive in front of them those who could not offer resistance.
Is the analogy drawn? Well, yes ... Look again at the reports from Belarus.
I am deeply grateful to the police and Rosgvardia, who behaved in Voronezh and Belgorod as correctly as possible and with an understanding of what was happening. But the fact that the center of Voronezh was closed for half a day was very unpleasant.
And of course, the protesters.
In general, the last thing to do is to hide behind children. Our children who don't think anything and blindly follow the "tick-tokers" and bloggers. It is clear that in the near future, children will grow up and become citizens and the electorate.
And they are unlikely to vote for Putin.
But Navalny, who, although he causes heartburn in the government, so that he had to allow the registration of parties directed against Navalny (the same "For Pravda" Prilepin), say that he is really a fighter for our bright future, his language does not turn. Too Lord Dark and his methods are not very bright.
Twice convicted of corruption and embezzlement, having several open criminal proceedings on similar charges, such a person can be safely called a repeat offender. And such a person can definitely be neither a saint, nor a real fighter against corruption. Well, this is already "bees against honey", no matter how you turn it.
But those who say that Navalny is a puppet of the Western special services, working for money, I believe more and more.
Coincidences, you know. The film is funny about the palace. Well, it's funny. And filmed not according to the FBK canons. I watched their films more than once. And after them I wanted to take up a machine gun or something. Beautiful, intelligently made, with an evidence base. But after the "Palace" I just wanted to laugh.
It is clear that everything is there for a reason. It's not for nothing that you can swim and walk, but you can't start copters. But these are trifles, to be honest. Zero proof, just swotting on the brains. Putin's Palace because ... Why? But because it must be so. And the point.
You know, I'll give Vladimir Vladimirovich a compliment. He is bad with many things, especially at work. But with taste - complete order. And in the fact that in such a tasteless and frankly redneck palace he would accept someone or live ...
Oh no, I don't believe it.
Well, and most importantly, before what the script written abroad clearly pales in (one "mud room", that is, the hallway, so translated) is before the script of rallies with schoolchildren.
Well, it was already, it was! And it was not so long ago. In 2013 it started. At the neighbors.
Or did Navalny write the script for the Maidan to Ukrainians? No, I couldn't.
It is clear that in Russia there are no more people willing to play the role of such an oppositionist, except from among his own. Therefore, somehow I can't believe in Petrov and Boshirov. And in the "Newbie" sour too. But the fact that their own could try to make a sacred sacrifice - yes easily! With such a salary ... Yes, with movie rentals ... Yes, with a policy in Charité ...
And we need such a clown opposition. Unprincipled, shameless, boundless. Against her background, the power looks a little better. Therefore, Navalny will never sit down. They will keep, because except for him, there is no one else to talk about how to properly organize a Bright Future.
Everyone needs Alexey Navalny. And to the Russian authorities and Western services. And that is precisely why it cannot serve as a beacon of Light that will lead us and our children somewhere into the Bright Future.
It is very difficult to believe the current government today. The work of the entire state pyramid evokes so much criticism and criticism that sometimes you stop believing that everything will be fine with us. However, this is absolutely not a reason to grasp at such a straw as our non-systemic opposition led by the Dark Lord N.
Do not go, children, to go for a walk to Africa ... And parents should think about how to once again warn them against the consequences of such actions. Especially on January 31st.
No matter how bad the representatives of our government are (and they are bad, this is a fact), the only thing Navalny deserves, who stretched out his hands into the brains of our children, is to die in complete obscurity, forgotten and despised by everyone. And those who provided him with such a strange alibi, and who turned the agitation of schoolchildren to the rallies, too.
This is our way, when no one is forgotten and nothing is forgotten?