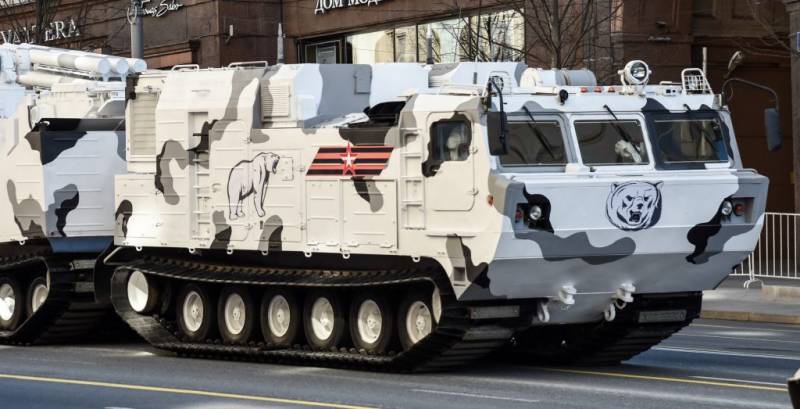 The Pantsir-SA articulated anti-aircraft missile and cannon system during a dress rehearsal for the parade on Red Square. As you can see, after a hundred years, articulated combat vehicles still appeared in the army. Photo: Vladimir Zamyatin
"You are no good for a tanker:
В tank you won't fit!
"Uncle Styopa" S. Mikhalkov
Tanks of the world.
Everyone understands the importance of information in the life of society. The more it is, the better in all respects. And the richer and more reasonable, and more rational our life becomes, the more we have at our disposal the most diverse information. And how to use it depends on many circumstances, including congenital ones.
For example, not so long ago an article appeared on VO about the first French tanks of the First World War. Well, what is especially new about them? However, if you search, you could find very interesting material about the French tank, which existed then, however, only in the project. But, nevertheless, even in this form, he played in
stories
technique a certain role.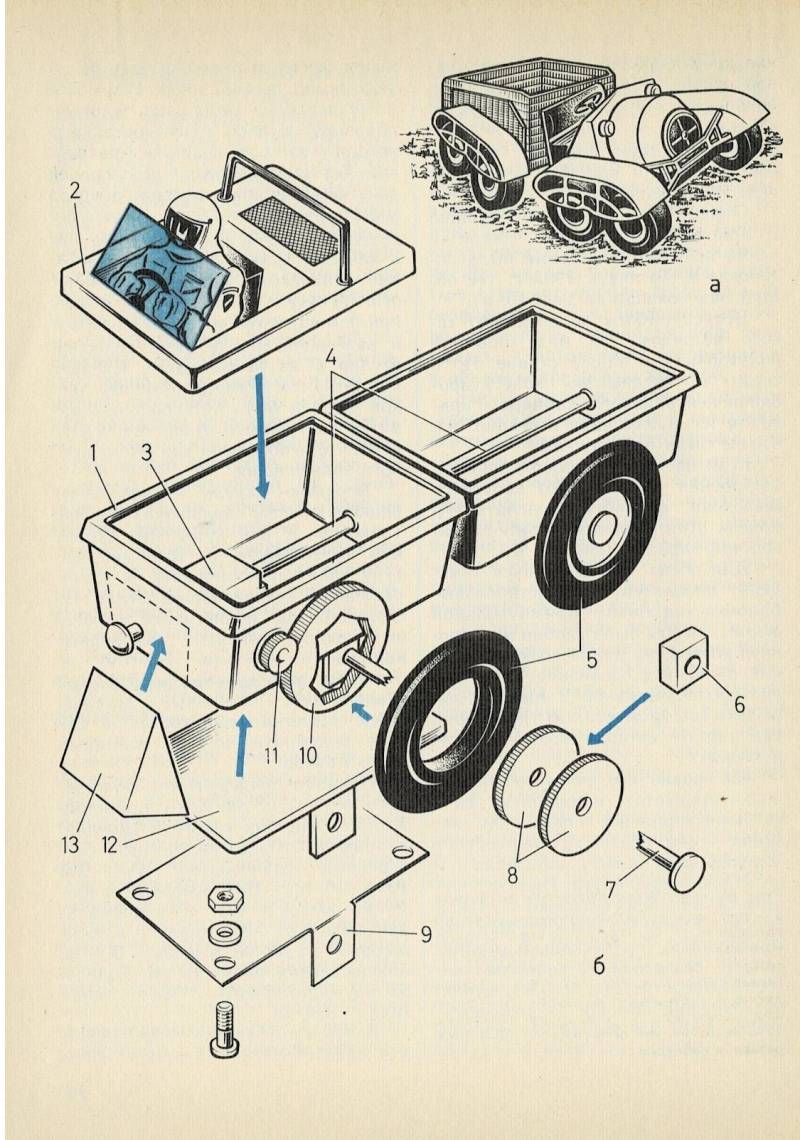 One of these most affordable home-made products on the principle "from everything at hand" is an articulated two-section all-terrain vehicle. The cases are made of plastic packages for cheese or sour cream (in those years they were just that). The axis of rotation of the bodies is a polystyrene knitting needle, the tires are wrist rubber bands, the gearbox is a homemade gear made of two gears from broken mechanical toys. The drive is an electric motor DP-10 worth 1 ruble. Interestingly, the military has been talking about articulated tanks for many years, but they still have not appeared in service. Although Pavezi tractors have been known since the 20s of the last century.
However, the story about him I will have to start with something completely different.
Namely, from children's technical creativity, which I promoted on Penza TV from 1980 to 1991 and on Kuibyshev TV from 1985 to 1988. Each program lasted exactly 30 minutes. And it told how to make various homemade products from simple and accessible materials.
The name of the cycle changed every year. And its informational orientation was somewhat transformed. The very first cycle was called Let's Make Toys. And it was designed for the youngest.
Then there were the cycles "Studio of young technicians", "How a man became a giant", "The stars are calling" and "To the guys who invent". And what are they about? In general, it is clear from their names.
Each transmission required a script. And he, in turn, was written as an article in one of our popular magazines: "Young Technician", "School and Production", "Family and School", "Model Designer".
Well, what to do if literally pennies were paid for each program - 40 rubles on Penza TV and 57 rubles - on Kuibyshev TV. Moreover, the amount of the fee depended on the population of the region. That is, on how many people could watch TV.
Well, after the publication of an article in the magazine, it automatically became also a chapter in another book. That, in general, helped to follow the rule of "not living on one salary" on a completely legal basis.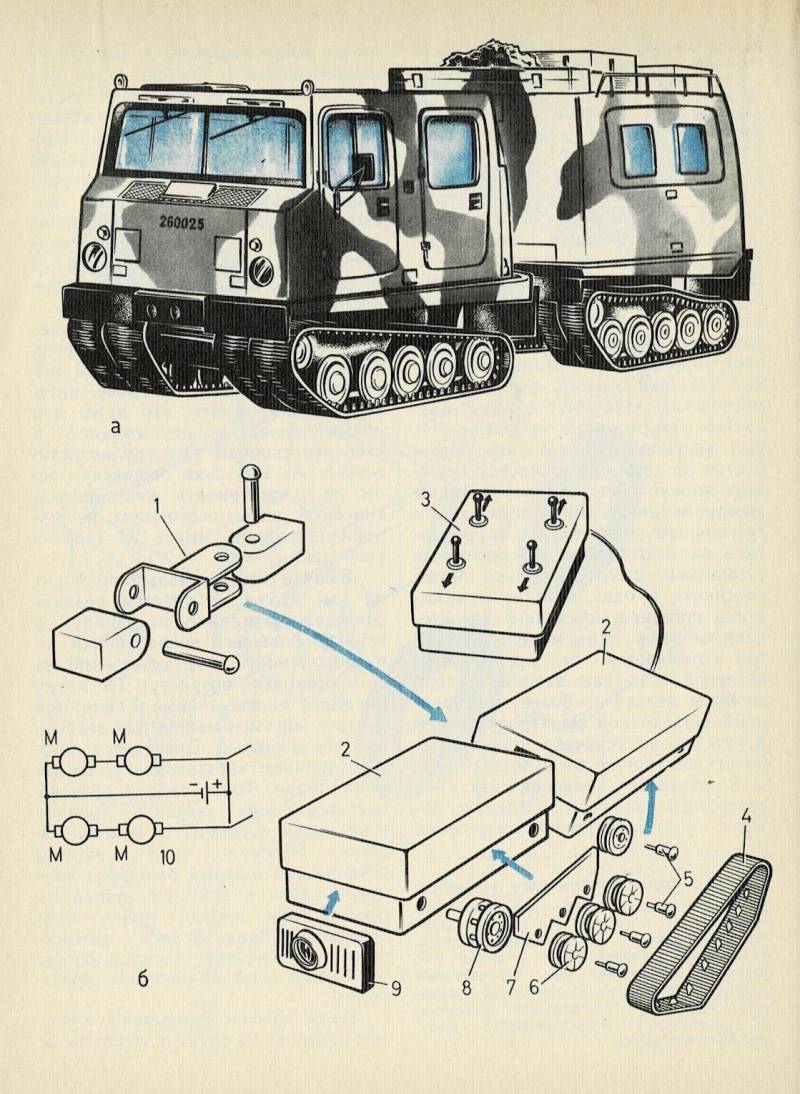 A variant of a tracked articulated all-terrain vehicle - these are such machines, however, we have already seen them even at military parades on Red Square - with housings made of polystyrene soap dishes. Wheels, tracks - everything could be taken from the prefabricated models of the Ogonyok tanks. Home-made, in fact, in this home-made product was only the body connection unit, which had four degrees of freedom, and the plates on which the support rollers of the chassis were to be attached. The control unit was ready, but the tanks for the manufacture of this model had to be bought not one, but two. But all this only stimulated the development of our industry. So on TV, this approach to children's design was only approved.
Each homemade product was assembled right on the air in front of TV viewers, since 80% of the programs then were broadcast without recording - they saved the film.
I had to do something in a semi-finished version, duplicate some parts two or three times to show the manufacturing process. And, of course, everything literally had to be calculated by the minute. Because if in the end the homemade product did not fly or float, it would be an unheard of shame and horror.
Moreover, a special editor followed you and then rated you. And these assessments turned into points in the socialist competition of the editorial boards. And letting down their colleagues in the shop was just ... immoral. Even with a large number of "triplets", the contract with the author and the presenter (and it was usually concluded for one year) was immediately terminated.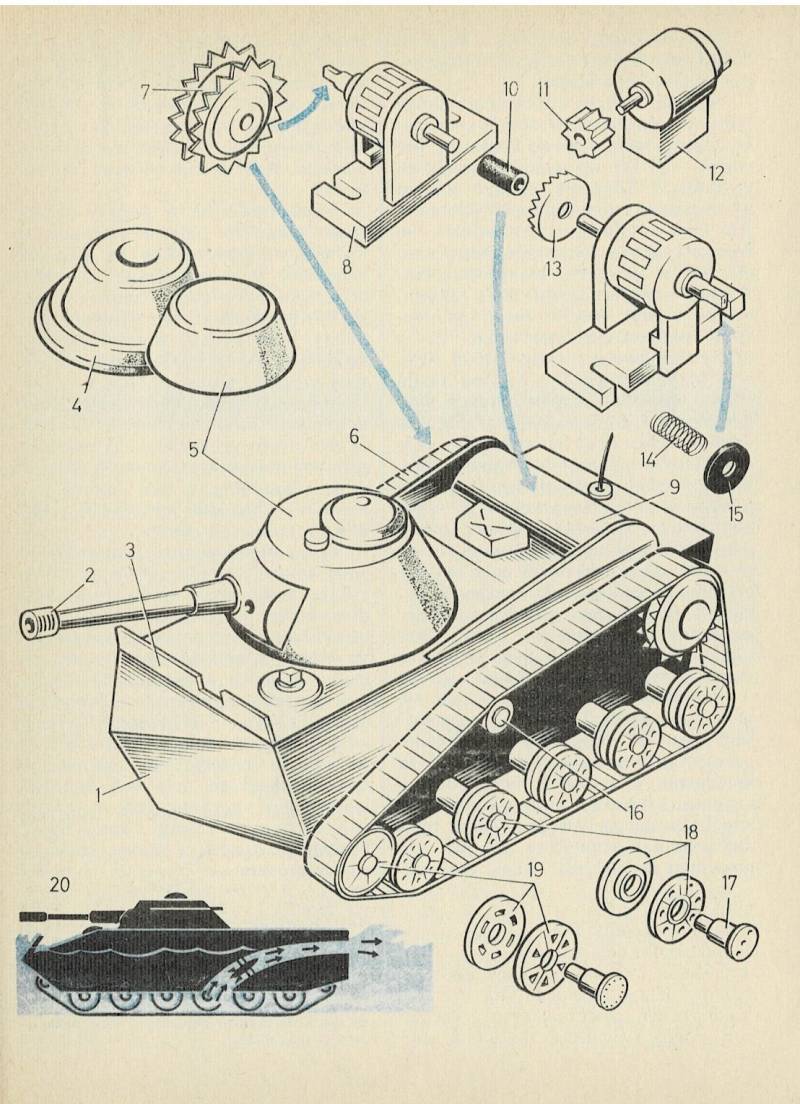 But for this "toy" I even managed to get an inventor's certificate for an industrial design. It seems to be an ordinary amphibious tank, right? But the essence of this innovation is that, in contrast to the PT-76, which had a water-jet propulsion device (fig. Bottom left), its driving wheels were at the top and, when afloat, created a stream of splashes, which was just noted as an attractive play effect. True, on real tanks, the drive wheels are not put in this way, but on the other hand they are located exactly on heavy tractors and mining excavators.
It is clear that I had to talk about the most advanced and interesting technical developments. And, accordingly, make models according to these developments.
And then one day in a toy store I noticed a very interesting all-terrain vehicle on a wheeled chassis with wheels on a triangular frame. When driving on a flat plane, this all-terrain vehicle rode on eight wheels located below. But as soon as he hit the obstacle, for some reason the triangular frames began to scroll. And the permeability of the toy increased sharply.
An article in the "Modelist-Constructor" magazine helped to find out that this unusual propulsion device was invented by our engineer RM Nikiforov from Angarsk. And not only came up with, but also received an author's certificate for it. Experienced vehicles with such a chassis were named "Terrastar" - "Earth Star". A toy all-terrain vehicle on such "triangular wheels" began to be produced in Moscow at the "Orlyonok" plant.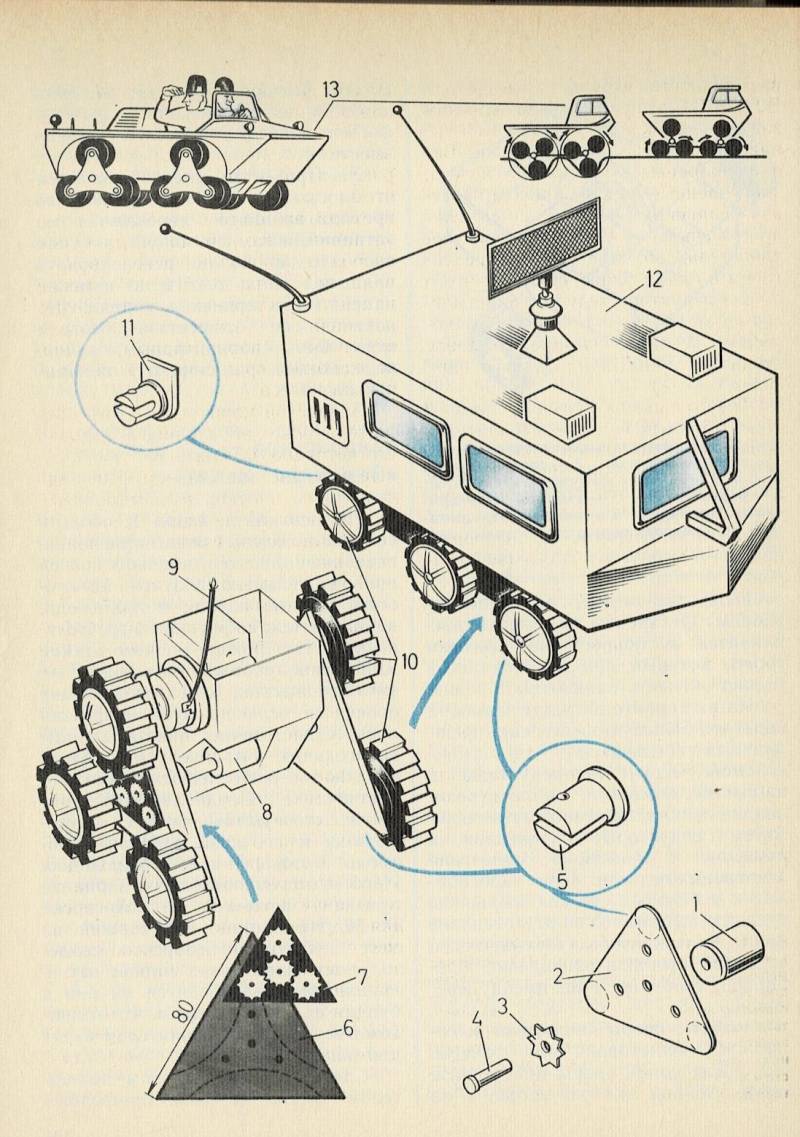 Terrastar all-terrain vehicle model: 1 - wheel frame bushing; 2 - wheel frame; 3 - drive gears; 4 - axis of drive gears; 5 - axle of front wheels; 6 is a diagram of a wheel frame; 7 is a diagram of a gear wheel drive; 8 - gearbox shaft; 9 - electric motor; 10 - wheels; 11 - rear wheel axle; 12 - assembled model; 13 - the scheme of movement of the all-terrain vehicle on soft and hard ground
I didn't offer anything special at that time. And he just showed how you can make such a chassis yourself. And how to fix a broken toy from the Orlyonok factory. And also put a new home-made case on its chassis so that your toy does not look like what everyone else already has.
And how I now regret that in those years I did not have access to information from foreign sources. In particular, from the French. Because then I would have taken as a basis for my next home-made, of course, another project. Namely, the "Delahaye tank" project, known abroad since the 20s of the last century.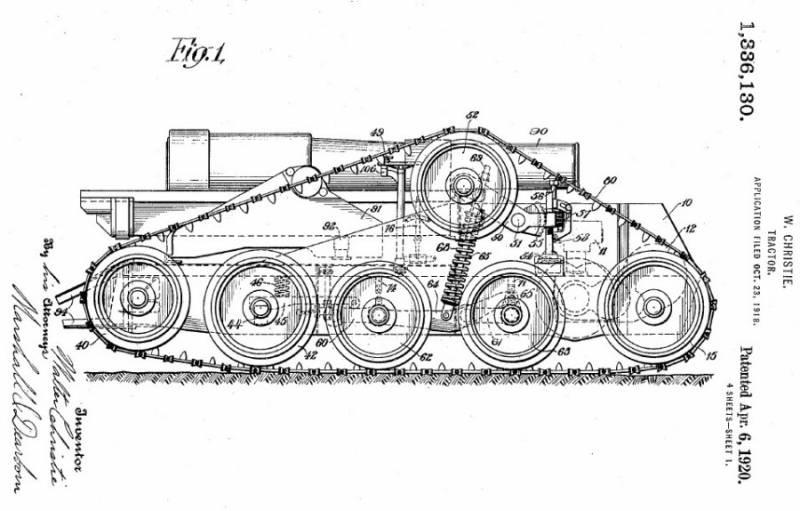 I had no idea about this Walter Christie project either. And what a simply gorgeous toy it could turn out to be.
And it so happened that back in March 1918, two engineers of the company "Delahaye" Louis-Gaston Sabaté and Amedi-Pierre Varlet applied for a patent for a fundamentally new tank.
Tanks, even in 1918, were still relatively new technology. Therefore, it is not surprising that at that time different proposals for their improvement literally appeared one after another. But the design of Sabate and Varle was very different from the tanks that existed at that time during the First World War.
French patent FR504609 dated March 1918, which shows the arrangement of a crawler triangle wheel. As you can see, it differs from the mover of the Orlyonok plant only in the absence of a caterpillar rim.
Their design used Delahye's own track patents, filed in January 1918.
They used a relatively conventional track setup with a large diameter drive sprocket at the front and a similarly sized wheel at the rear, which was also used to tension the track.
Between these two large-diameter wheels were three small wheels, which were road rollers. A less common part of this track system was that above these two large wheels there was a central pivot point for the entire track, allowing it to turn as one piece, and it also had a drive sprocket for the chain, which in turn propelled front sprocket.
This design was more than suitable for military purposes. Since machines equipped with such a propeller would have a higher degree of cross-country ability than those that had conventional tracks from the Holt tractor. Well, the fact that the tracks rotated around this center axis of theirs ensured that they always had the best grip on the ground. This means the ability to overcome the most difficult obstacles.
But the most interesting thing is that back in July 1917, engineer Sabate, without Varle's participation, applied for a patent for a vehicle for moving assault artillery across the battlefield. In fact, it was one of the first designs of a movable bridge, allowing you to cross the obstacles encountered on the battlefield and, above all, ravines.
But then the idea came to the engineers that combining the idea of ​​1917 with the patents of 1918 and the combination of a polygonal wheel and a crawler track could lead to even more impressive results. And so it turned out. Through their efforts, a completely unorthodox triangular caterpillar wheel appeared.
Although the design of this wheel appears to be very complex, it is actually relatively simple.
As in the original patents dated January 1918, the track, which ran around all three drive wheels, was rotated by a shaft located in the center of the frame of these wheels, and through three parasitic gears. A drive sprocket was mounted on the shaft itself, fixed between a "sandwich" of two large triangular plates, on which wheels driven by parasitic gears were attached at the corners.
On a flat surface, the car moved on caterpillar wheels, like an ordinary tank or tractor. But on loose ground (or, having encountered an obstacle), they turned and began to spin as one whole. Such a device made it possible to easily move on uneven and uneven terrain, as well as overcome trenches and vertical walls.
Therefore, the next step of the designers was quite logical: by combining a triangular all-terrain propeller and a movable articulated hull, they were eventually able to offer a tank of a fundamentally new design.
The tank, dubbed the "Armement des chars de guerre", was an articulated two-piece chassis, each section of which was the same shape and size. Moreover, both of them could be quite significantly mixed in relation to each other.

French patent FR504610 March 1918 for a two-section tank with a turret located between the sections. The caterpillars are of the usual type.
Between these sections was a turret with weapons that could rotate 360 ​​degrees and also move in a vertical plane. This allowed her to have an elevation angle of 45 to 60 degrees, with a descent angle of 2 degrees forward and backward. And in this way even fire planes.
The weapon mount was rigid, which was convenient as it saved space inside the turret. Additional armament was located inside two parts of the hull and included two machine guns. Consequently, for the crew of each part of the hull, at least two people are required, including one driver and one gunner. If there are at least 2 more people in the tower, then the crew of the vehicle will have to consist of at least 6 people.

The sectioning of combat vehicles at that time, in general, was, as they say, in a trend. Here, for example, is the project of an articulated armored tank train, already known to us by engineer Boirot - "the creator of the famous" crawler tank ", in which three SA.1 tanks were connected at once, but with two 75-mm guns in the semi-tower and an electronic transmission of the tank type" Saint-Chamond ".
Each section of the hull had to have its own engine and transmission driven by two tracked units. If one of the engines failed, the tank could still move, albeit with limited mobility.
The advantages of the project were obvious. But since the war had already ended by the time the last patents were obtained for him, no one showed much interest in him. Yes, in general, and it was quite difficult.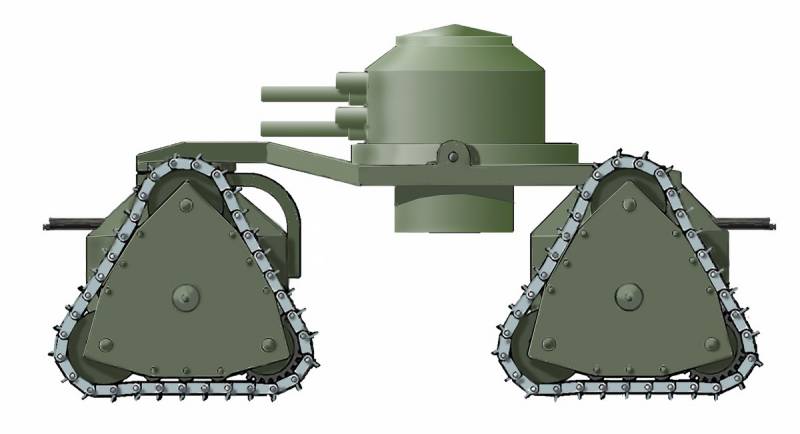 Two-section "tank Delahaye" on four triangular track-wheels. Drawing by a contemporary artist based on a diagram found in the public domain on the Internet.
In any case, it was precisely because of the complexity that this tank was never adopted and was never adopted.
Well, by the 1930s, innovations of this kind had no meaning at all. Since France at that time already had a well-armored and armed Char B1. And with a much more traditional layout.
It's a pity, of course, that I did not know about all this in those years. Otherwise, his model would certainly have done. And he applied for a toy tank with a unique "engineer Nikiforov" chassis. Moreover, it was specially adapted for mass production at the Orlyonok plant.
PS
The author and the site administration would like to express their deep gratitude to A. Sheps for the high-quality and timely execution of the "tanka Delahaye" drawing.