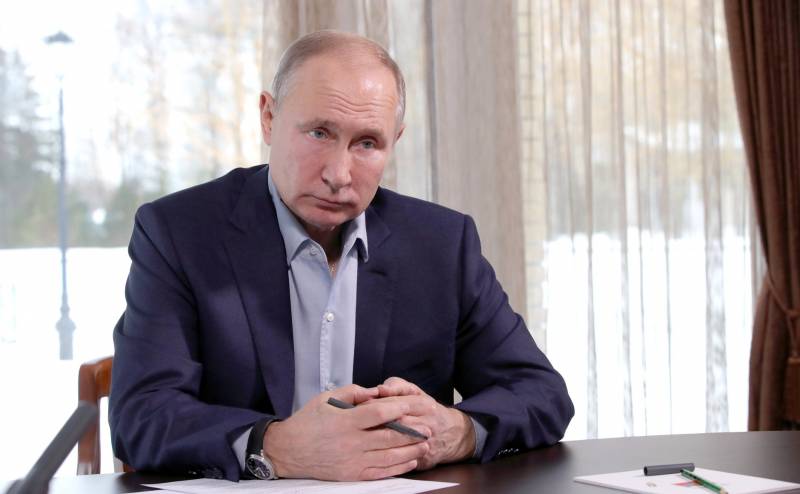 The foreign press is actively discussing the answers of the Russian president to questions from students about the latest events in the country.
Recall that the day before, on Student's Day, Vladimir Putin answered questions, among which there were questions about what the head of state has to do with the "palace" near Gelendzhik, to which Navalny (or, rather, the one who stands behind him) dedicated the whole movie. According to the President of Russia, the "object" in question in this film does not belong and has never belonged either to him or to his family members.
Putin:
Well, at least some documents should have remained, contracts certified by a notary, in the end. But nothing is presented, because it is nothing. I will say with the phrase of a famous character from the classics "Boring, girls ..." If only they came up with something else.
Putin recalled that talk about this "palace near Gelendzhik" has been going on for at least ten years.
Putin:
And now we decided to collect everything in one heap ...
Putin's responses are commented on in the Western press and the blogosphere. Let's imagine a view from the West.
Readers of the Greek edition of Pentapostagma.
Cookies:
This video (about the palace) doesn't say much. Is there anything else besides the video?
Пαπαγάλος:
For ten years they have been trying to prove something, but it does not work out. It turns out, perhaps, fakes. Navalny is unlikely to be able to seriously convince anyone.
Grenadieros:
History
repeats in Russia. Previously, they chased Romanov (Nicholas II), accused him. The accusations were about family ties with the villain Rasputin. And he shouldn't have paid attention to those snakes that bit him. Now they are trying to repeat it with Putin.
Polish observer Marek Budzisch, meanwhile, believes that Navalny "was able to expose Putin." According to him, "something similar to the February revolution" happened in Russia (talking about the 1917 revolution). Apparently, in Poland they continue to dream of a big coup on Russian soil.
In the British press, as always, there is unanimity in relation to the Russian Federation. The authors call for the imposition of sanctions against the president, punishing Navalny's arrest.
The Italian edition IFQ notes that in Navalny's film it is worth paying attention to the statement about "Putin's construction of his palace on the Black Sea coast within 15 years." Italian readers note that Putin "built a bridge to Crimea in 3 years", stadiums for the 2018 FIFA World Cup and facilities for the Sochi Olympics in 5-7 years.
One of the comments:
Does this mean that Putin manages to build huge sports facilities faster than a villa by the sea? Kind of weird…