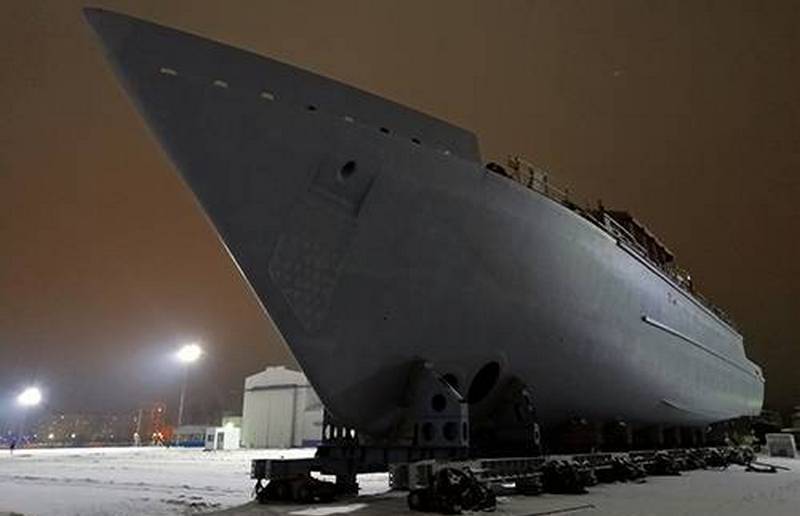 The sixth mine defense ship (minesweeper) "Pyotr Ilyichev" of project 12700 "Alexandrite" has been withdrawn from the shop of the Sredne-Nevsky shipyard. This was reported by the SNSZ press service.
According to the report, the company's specialists completed work on the formation of the hull and part of the ship's superstructure, carried out work on their saturation with systems and mechanisms. All further outfitting work will be carried out outside the workshop.
Now the plant's specialists have to install the second tier of the superstructure, carry out the installation of the tower-mast device, antenna equipment and general ship systems, after which the ship will be launched. According to SNSZ plans, the minesweeper will be launched in February 2021.
Pyotr Ilyichev is the sixth Project 12700 Alexandrite minesweeper, laid down at the Sredne-Nevsky shipyard in July 2018. The transfer of the minesweeper to the customer is scheduled for the summer of 2021; the ship will become part of the Pacific Fleet.
By order of the Commander-in-Chief of the Navy, during the laying down of the ship, the name "Pyotr Ilyichev" was given in honor of the Hero of the Soviet Union, Red Navy sailor of the Pacific Fleet Pyotr Ivanovich Ilyichev, who closed the embrasure of the Japanese bunker on August 18, 1945, during the Kuril operation in the battles for the Shumshu Island.
Project 12700 minesweepers are capable of using the latest hydroacoustic stations located both on the ship itself and on remote-controlled and autonomous underwater vehicles, and have an automated mine action control system. They are also capable of using traditional trawling weapons.