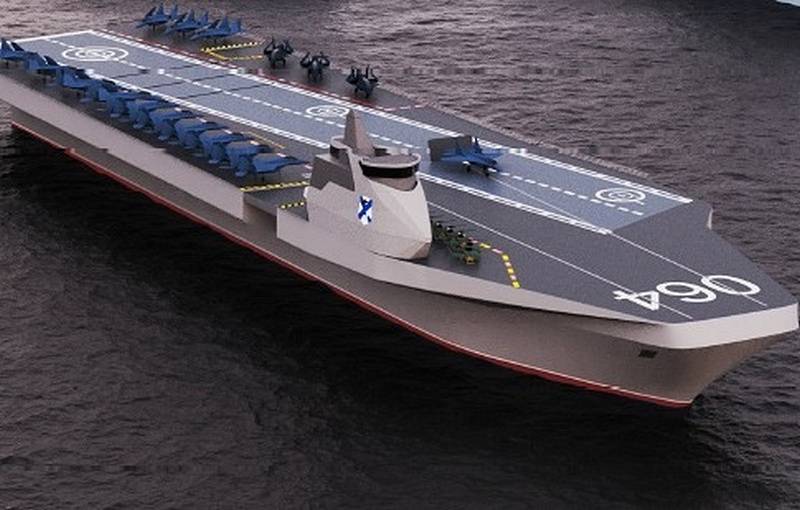 The Russian Navy is looking for a replacement for its only and outdated aircraft carrier, the Admiral Kuznetsov. However, the proposed options for a new aircraft carrier, including a concept from the Nevsky Design Bureau in St. Petersburg, are not very serious. This is the conclusion made by David Ax in an article for the American magazine Forbes.
According to the author, the version of the new aircraft carrier proposed by the Nevsky PKB for the Russian military
fleet
"very interesting," but not serious. "Ex notes that the Russian designers have prepared a very good graphic representation of an aircraft carrier with the superstructure located in the bow of the ship, and not in the middle, as is done" all over the world "(read - the USA). In the picture, the author emphasizes, there is not even an image of a pipe for a supposedly non-nuclear power plant, and the location of the pipes determines the layout of the flight deck.
Thus, he writes, the graphic is not a reflection of serious design thought. But even the absence of a detailed project is irrelevant, since the Kremlin will still not allocate any serious funds for the construction of a new aircraft carrier.
The author quotes the words of the naval analyst Eric Wertheim, who is the author of the reference book "The World's Combat Fleets":
The Russian defense industry has long been famous for its innovative thinking and design work. But she is equally famous for the excessive hype around new projects and systems that are unlikely to ever be implemented and go into service.
The project of a new aircraft carrier from the Nevsky PKB awaits the fate of other aircraft carrier concepts proposed to the Russian fleet, for example, the Manatee with a displacement of 90 thousand tons, Aix writes.
The Russian government has not approved a multi-year and costly program for the design and construction of a new aircraft carrier. Instead, it is spending hundreds of millions of dollars renovating an obsolete 80s-built Admiral Kuznetsov.
The Russian shipbuilding industry has not fully recovered after the collapse of the Soviet Union, so it cannot build a new aircraft carrier, for which there is no limit to the fantasies of Russian artists, the author concludes. If Russia builds a new aircraft carrier, it will only be in the future.