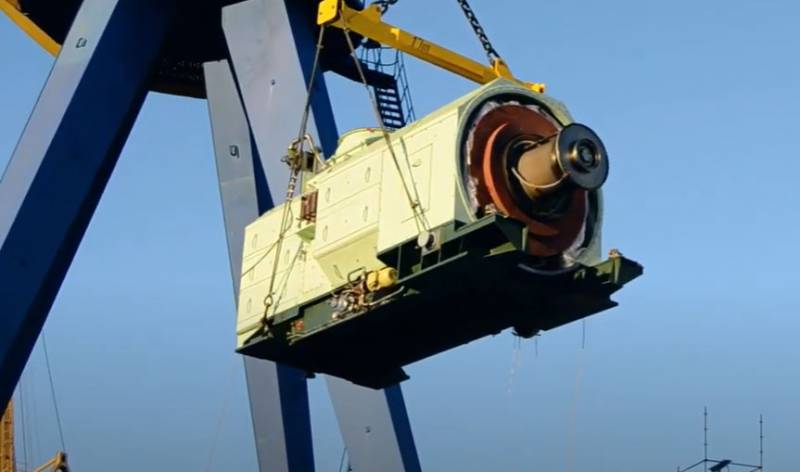 Shot from the video of the Severnaya Verf plant
The information about the completion of the loading process on the frigate "Admiral Golovko" of project 22350 of the domestic gas turbine power plant was confirmed. We are talking about work at the Severnaya Verf enterprise. The channel of the shipbuilding enterprise provided information that, in addition to the first gas turbine engines, gearboxes manufactured by the Russian Federation were loaded into the hold of the aft compartment of the frigate.
The main gas turbine power plant M90FR was created by the specialists of UEC-Saturn. Additional work had to be done to load it onto the ship. In particular, three decks were dismantled in the slipway shop. A special floating crane was used to load the gearboxes. The fact is that the gearboxes are much heavier than the turbines, so the lifting capacity of conventional cranes installed on the factory embankment is not enough for them.
Work has begun on the so-called alignment and installation of the gas turbine engine. This work, as noted, is designed for several months.
The installation of a Russian gas turbine power plant on the third frigate of Project 22350 is an important event. The fact is that the first frigates of this series (and these are "Admiral Gorshkov" and "Admiral Kasatonov") run on gas turbine engines of Ukrainian production. At one time, their deliveries to Russia were carried out by the Zorya-Mashproekt company. Now import substitution has been carried out.
M90FR engines from "Saturn" are afterburners. The cruise power plants are Kolomna 10D46 - diesel engines.
Plot from Severnaya Verf: