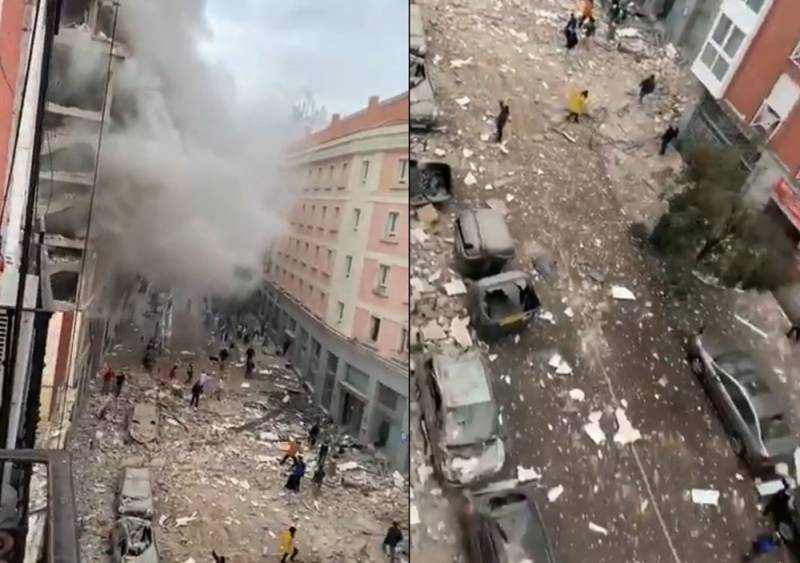 From the Spanish capital, urgent reports come in about a powerful explosion in one of the neighborhoods. According to eyewitnesses, the explosion was of such force that fragments of concrete, fragments of roofing, metal fittings and shards of glass covered several hundred meters of a street in Madrid.
On the footage that is coming from the capital of Spain at this moment, you can see the consequences of the explosion. At the same time, Spanish law enforcement officers have not yet reported what caused the explosion.
According to the latest information, the epicenter of the explosion was the Calle de Toledo quarter. The footage shows damaged buildings, cars, trash cans. The quarter is cordoned off by the police.
In the first video, you can see the building on the left. Apparently, the explosion thundered in it or in the immediate vicinity of it. It was this building that received the most damage.
VIDEO # 2:

Initial unconfirmed reports out of Spain say it was a gas explosion. #Madrid pic.twitter.com/OBrRl0Hghm

- FJ (@Natsecjeff) January 20, 2021
Rescue personnel:
@BomberosMad @SAMUR_PC @policiademadrid are on the street Toledo looking for one # explosión. pic.twitter.com/BuSzasNPJn

- Emergencias Madrid (@EmergenciasMad) January 20, 2021
According to some reports, we are talking about an explosion on the upper floors of a residential apartment building, which is located near the church and the nursing home. Frames from a different angle: