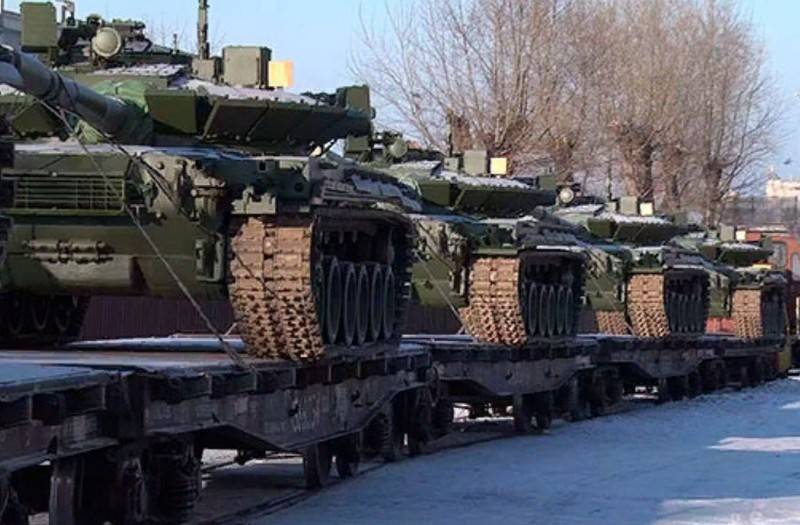 The Russian Ministry of Defense has received another batch of modernized
tanks
T-80BVM. This was reported by the press service of the Uralvagonzavod concern.
According to the report, T-80BVM tanks were produced in Omsk at a transport engineering plant (Omsktransmash) and transferred to the Russian Ministry of Defense as part of the state defense order. The entire batch went to the customer at the end of December. The number of new equipment in the party has not been reported.
As part of the execution of the state defense order (GOZ) in December 2020, the Ministry of Defense of the Russian Federation received a batch of T-80BVM tanks produced by the Omsk Transport Machine Building Plant. The tanks were thoroughly tested before entering service with the Russian army.
- Reported the press service.
At present, Omsktransmash has started to fulfill the state defense order in 2021.
The T-80B tank and its modifications were produced at Omsktransmash JSC from 1979 to 1991 a year. The latest modification was the T-80BV tank, adopted by the Soviet army in the 1985 year. MBT T-80BVM - a new version of the modernization of the tank, developed in Omsk.
The machine, which has undergone a thorough modernization, is equipped with an 125-mm gun, which has the ability to fire guided missiles, a multi-channel sight, a modified gas turbine engine with 1250 horsepower, an arms stabilizer and a driver's observation device. The tank is protected from fire by a complex of modular dynamic protection and an anti-cumulative lattice screen.
In Soviet times, more than 10 thousand T-80 tanks of various modifications were produced.