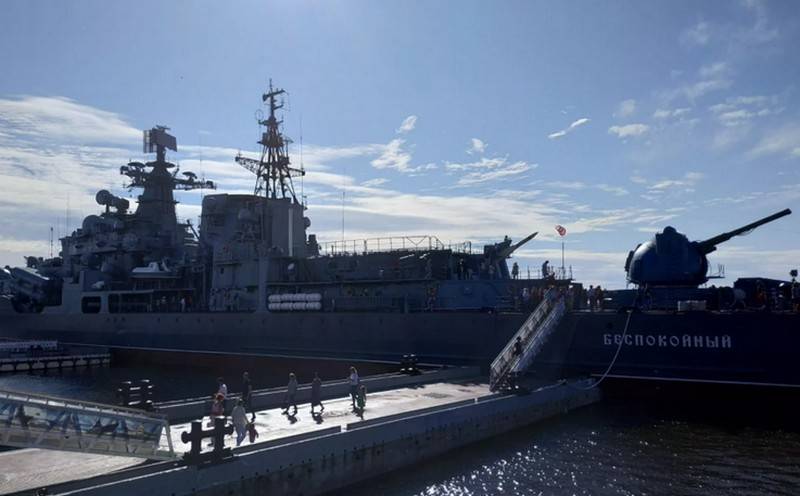 Military Investigation Directorate of the TFR for the Baltic
the fleet
finishes investigating a criminal case against the former commander of the destroyer "Restless", who stole two bronze propellers of the ship.
About this in an interview
Interfax
said the head of the military investigation department of the TFR for the Baltic Fleet Sergei Sharshavykh.
As it was established by the investigation, the commander of the destroyer "Restless", as part of an organized group, together with other servicemen and civilians, committed theft of two bronze propellers of the ship with a total weight of 26 tons. To conceal the fact of theft, similar metal screws were installed on the ship, but cheaper. The damage amounted to 39 million rubles.
An officer in an organized group, along with other military personnel and civilians, stole two bronze propellers with a total weight of 26 tons from the ship. The destroyer at that time was on conversion at the Yantar shipyard
- stated in the TFR.
According to the investigation, the theft took place at the Yantar shipyard in Kaliningrad, where Restless was being prepared to be turned into a museum ship. In 2018, after the repair, the destroyer was transferred to the Navy Museum in Kronstadt.
"Restless" - the 15th destroyer of project 956 "Sarych" was launched in 1990, was part of the Baltic Fleet, in 1996 was the flagship of the fleet. In 2004, during the exit, it lost its speed and was put in for repair. After that he went to sea in 2006 and 2007, after which he was put on the final stop, the engines were removed and put on the same type "Persistent". Later it was decided to turn the destroyer into a museum ship.
This
news
picked up by the American media, not forgetting to note that such thefts are typical for Russia. The Drive titled its publication "The Russian Navy Commander stole two 13-ton bronze propellers from his destroyer." Readers of this publication did not miss the opportunity to comment on the news.
NavyDad
An enterprising fellow. I just replaced what was no longer needed. I bet all of his neighbors in their dachas have beautiful bronze baths
ToadyX
Is there a black market for 13 ton bronze propellers? Were they melted or sold to China?
DavidLoPan
I'm a little surprised that they just didn't exchange it for a trawler and sell El Chapo (head of the Mexican criminal cartel - approx.
LostEngineer
He must be the best pirate I've ever seen
LL6
I bet the shipyard he stole them for turned it over without paying