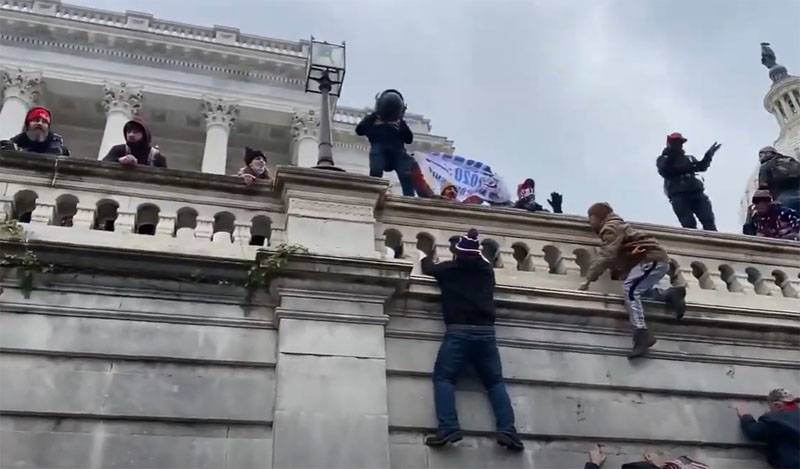 New details about the storming of the Capitol building on January 6 appear in the American media. We will remind that people came to the parliament building in Washington, protesting against fraudulent elections. Then they began to approach the Capitol, which was fenced off with metal barriers, and in some areas this barrier in front of the demonstrators was removed by the police themselves.
New reports on the January 6 events in the US capital say that the Capitol security guards, leading employees and congressmen through underground tunnels to safe areas, urged employees to "close the doors of their offices, but not lock them." In particular, it is indicated that the employees were informed about the "temporary measure" and that very soon they would return to their workplaces, and the protection of those during their absence will be provided.
But, as you know, as a result of the storming of the Capitol building, the protesters found themselves not only in the conference room, but also in the offices of congressmen. The footage of one of the activists sitting in Nancy Pelosi's chair with his feet on the table has spread all over the world.
It has now been announced that documents, as well as laptops and computer hard drives, have disappeared from the offices of several congressmen, including representatives of committees associated with intelligence and other security forces. Many of the missing documents were classified as "secret".
The FBI is carrying out actions that are aimed at studying the recordings from CCTV cameras, as well as analyzing the publications of the protesters themselves on social networks, in order to find out who exactly took out documents of particular importance from the Capitol building.
Against this background, the congressmen, who were taken out through the underground tunnels, say that the practice of this kind of evacuation had not previously been worked out.
California Democratic Party spokesman Pete Aguilar:
We went down to the basement and walked through the tunnels. But confusion arose as to where we were generally being taken. In the end, some, including me, went to the directions of the cafe, but it was closed. True, they still let us in.