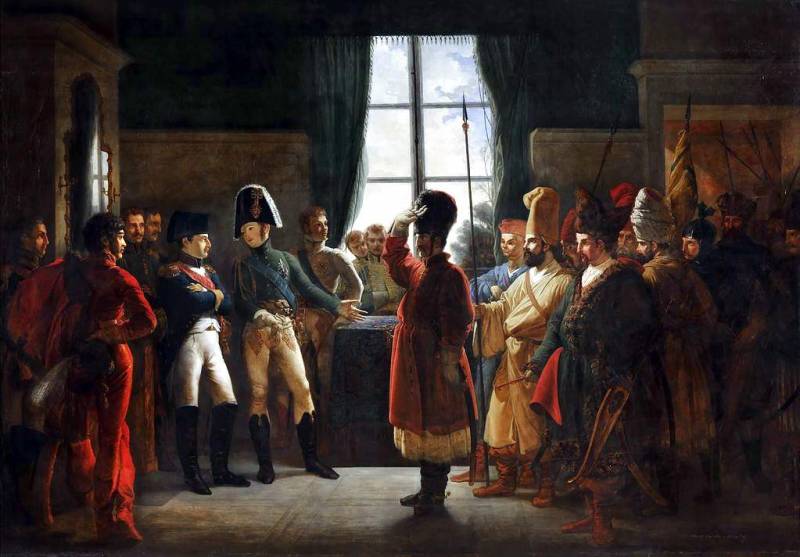 For a long period of time, Alexander I was exhibited (and is still being exhibited) as the "liberator" of Europe from the "yoke" of Bonaparte.
But was Napoleon really a threat to Russia? Why did Russia join the fight against him, although, at first glance, there was no reason for war between France and Russia?
Did Alexander the "Blessed" fight for the interests of others? We will try to answer these questions in this article.
"France can have only one ally - this is Russia"
"France can have only one ally - Russia."
This is what Napoleon said at the Council of State of the Republic on January 2, 1801.
The first consul Bonaparte, and then the French emperor Napoleon I, always looked at Russia as a natural ally in the struggle against England. Paul I, recently betrayed by England and Austria, was not at all opposed to getting closer to France.
It would seem that the dream of a Franco-Russian alliance that Napoleon cherished has finally come true. Between Paul and Bonaparte, not just an alliance was struck, but a sincerely faithful friendship.
They write to each other almost love letters, flatter each other, and plan great projects. Although the plan of the expedition to India was a deliberately failed project, it brought them closer together, instilled in them confidence and hopes for long-term cooperation.
Soon the British captured the island of Malta (the very island because of which Russia joined the next anti-French coalition). Paul, being the Grand Master of the Order of Malta, took this message to heart. He resumed the policy of armed neutrality introduced by Catherine II in 1780.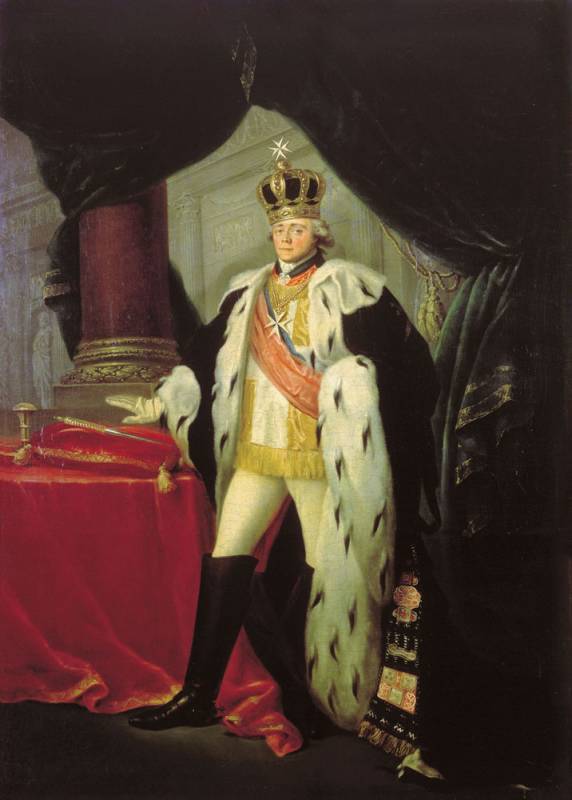 S. Tonchi. Portrait of Paul I in the attire of the Grand Master of the Order of Malta.
Alas, the Franco-Russian union was not destined to pass the test of time. With the financial support of the British during the next palace coup on March 24, 1801, Paul I was killed.
More recently, 3 nivos of the IX year of the Republic (December 24, 1800), the first consul was unsuccessfully assassinated by the royalists, who were also paid for by England. Upon learning of the death of his friend, Bonaparte said bitterly:
"They missed 3 nivos on me, but they hit me in St. Petersburg."
Alexander I Pavlovich ascended the Russian throne.
Alexander VS Napoleon
Since childhood, Alexander has acquired extremely negative qualities.
Alexander's mentor Major Mason wrote:
"Alexander is a man of passive qualities and lacks energy. He lacks the courage and trust to look for a worthy person, and he has to constantly be afraid that someone importunate and cheeky does not seize influence over him.

Suffering too much to other people's promptings, he does not trust his mind and heart enough.

Too early marriage crumpled his energy, and, despite the happy inclinations, he is threatened by a kingdom without glory or the prospect of becoming a prey to the courtiers if years and experience do not give firmness to his noble character. "
Fortunately, years and experience gave him firmness and determination, but in a completely different direction.
In Alexander, in addition to the above-mentioned features, pretense and insincerity prevailed. Most likely, this gave rise to a constant hesitation between Catherine II and Paul I. He had to constantly look around so as not to offend Paul's rough love as a soldier and not to show disobedience to Catherine's velvet-affectionate despotism.
Let us also recall Alexander's terrible envy of other people's successes. He envied all the heroes of the Patriotic War, and Admiral Senyavin supposedly fell into disgrace only because his victories over the French stood out too much against the background of Alexander's defeat at Austerlitz.
And when the young Bonaparte rose from the poor (by the standards of Paris) of the nobles, when the whole of Europe started talking about this Corsican, when he was idolized, put to everyone as an example, Alexander hated him.
There is no other way to explain the subsequent actions of this emperor, because Russia at that time had no reason for a war with France. On the contrary, Napoleon still viewed Russia as an ally and thought to make friends with Alexander the way he made friends with his father.
But Napoleon was deeply mistaken.
Although competent cooperation with France was in Russia's interests, Alexander did not care about them. All his further actions were dictated neither by public opinion, nor by England, but by personal hatred of the "Corsican monster."
On June 17, 1801, Russia restored peaceful relations with England and all previous treaties. Oddly enough, Alexander showed complete carelessness and hastily concluded this convention, agreeing with all the requirements of England. Russian diplomat P.G. Divov wrote:
"Each naming (convention) forever plunged into insignificance all the immortal works of Catherine II."
Alexander sent Arkady Morkov to Paris as ambassador.
The choice of this man, to put it mildly, was not a good one. Morkov was an Anglophile, and under Catherine II was an ardent supporter of Russia's entry into the anti-French coalition. Alexander could not help knowing this. Throughout his embassy, ​​Morkov got on Napoleon's nerves.
In Paris, they wrote about this:
"The Catherine grandee dared to throw angry and harsh words in the face of the first consul and his minister. All Morkov's sympathies are on the side of England.

If the Russian court considers it a duty to keep in London Mr. Vorontsov, who is considered an entirely Englishman, then he should at least order his envoy in Paris to appear a little French. "
Even more surprising is the instruction Alexander himself gave to his ambassador:
"If the First Consul of the French Republic continues to maintain and strengthen his power through the quarrels and unrest that shake Europe ...

If he lets himself be carried away by the flow of the revolution ... the war may continue ...

In this case, my representative in France will only have to observe the actions of the government and entertain their attention until circumstances, more convenient, will not allow me to resort to more effective measures. "
He gave a similar instruction to the ambassador in Berlin Krudener. There we meet the same turns, but in addition to everything else, Alexander calls the presence of French troops in Egypt
"The oppression of the enemy."
Unthinkable! Until recently, France and Russia were in the best and most profitable relations, and very soon the Russian Emperor Alexander wants to quickly move
"Towards more effective measures."
The Russian tsar began these very measures in 1803, starting the formation of a new anti-French coalition.
In July, he wrote a letter to the Prussian king Friedrich Wilhelm with a proposal to conclude an offensive alliance against Napoleon.
Having received an evasive answer, Alexander wrote a threatening letter to the king on October 5, 1803:
"Of course, it is not for me to advise Your Majesty on what decision to make.

However, I do not want to hide from him that, on the one hand, I see the glory, honor and real interest of his crown, on the other, a general catastrophe and your personal one. "
Friedrich-Wilhelm understood that his country at the moment had no reason for a war with France, so he again answered the Russian emperor as evasively as possible.
On October 18, 1803, on behalf of Alexander, Foreign Minister Vorontsov wrote a secret message to Anstätt, Charge d'Affaires in Vienna:
"His Imperial Majesty, trying not to lose sight of the most urgent, trying to save Northern Germany from its oppressive calamities, now wishes with full power of attorney to explain these issues with the German Emperor ...

You are instructed to start discussions with the Austrian Ministry on the present situation in Europe.

We are anxious to know if it shares our concern and what means it believes to be the right one, how to stem the rush of French power. "
The Austrian emperor at first evaded, but then agreed, however, only to a defensive alliance.
In September 1804 Novosiltsev was sent to London with the aim of concluding a military alliance. British Foreign Secretary William Pitt soon realized that the Russian government had some strange mania for a war with France. He took advantage of this and dictated his terms to this union.
Pitt consolidated the question of Malta, which henceforth remained irrevocably in the possession of the British. The minister rejected Russia's offer of freedom to Italy. He rejected and
"The need for the occupation of some parts of the Ottoman Empire by Russia."
Such corrections were unacceptable, but Alexander did not at all think about the interests of his country, he thought exclusively about the overthrow of Napoleon.
On April 11, 1805, an agreement on a military alliance was signed between England and Russia. In this agreement, it was spelled out that Austria would put 250 thousand people against France.
Still not having secured the consent of Austria itself, Alexander for some reason was sure that she would agree to this war, which was senseless for her.
Very soon, the French Emperor Napoleon I declared himself king of Italy. Austria was extremely scrupulous about everything that concerned this Italy. Under the influence of this factor and pressure from Russia, the Austrian emperor agreed to join the new anti-French coalition.
On December 2, 1805, the fate of the coalition was decided at Austerlitz. The genius of Napoleon triumphed again, and the Russian-Austrian troops, despite brave resistance, were defeated.
But the Russian tsar did not despair. Gathering a new coalition, he again rushed into battle with his sworn enemy.
Jena and Auerstedt decided the fate of Prussia, while Friedland was a disaster for Russia. Alexander asked for the world.
Napoleon triumphed when he concluded the long-awaited alliance with Russia on July 7, 1807 in Tilsit. He went to Paris with confidence in the loyalty and friendship of the Russian emperor.
After Tilsit, Alexander wrote to his mother:
"There is no real alliance with France at all: there is only a temporary adherence to the interests of Napoleon. The fight with him did not stop - it only changed its shape. "
To the Prussian king he said:
"Be patient. We will take back everything we lost. He will break his neck. Despite all my demonstrations and external actions, in my heart I am your friend and I hope to prove it to you in practice. "
We know how Friedrich-Wilhelm "appreciated" the support of the Russian monarch. When Napoleon subsequently decided to go to war with Russia, the Prussian king wanted to get the entire Baltic region from her. Upon learning of this, the emperor of the French said with a sneer:
"But what about the oath over Frederick's coffin?"
Before the conclusion of the Peace of Tilsit, the Russian nobility did not understand the wars with Napoleon and considered them meaningless. Now that the Duchy of Warsaw was created, when Russia was annexed to the continental blockade, the nobility began to speak extremely negatively about France, mainly because of the fear of the restoration of the Polish-Lithuanian Commonwealth. Napoleon, all the more, could not understand Alexander's behavior and believed that he had fallen under the bad influence of his close Anglophiles.
Napoleon's attempts to resolve the Polish question were in vain, and his attempts to tie the Romanov and Bonaparte dynasty were also futile. Alexander all the time avoided real rapprochement or set unacceptable conditions.
1812 was Alexander's triumph. He broke his enemy. Despite the requests of Kutuzov and other prominent persons of Russia, which were in the interests of Russia, not to pursue Napoleon outside the borders of our country, Alexander still could not be content with a simple victory over Napoleon, he wanted to overthrow him.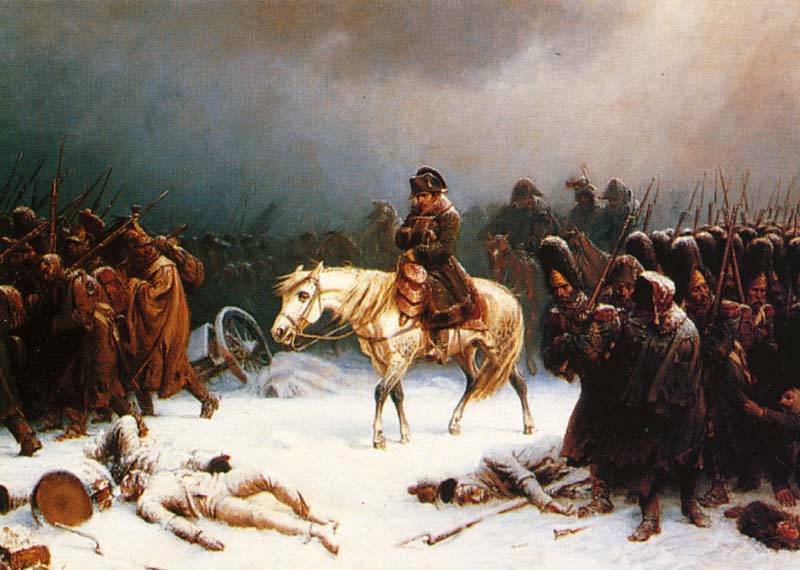 Napoleon's retreat from Moscow. Adolph Norten
While Austria, Prussia, England went under their national banners and openly pursued national interests, Alexander presented himself as the benefactor and liberator of the "Universe".
When it came to choosing a successor to Napoleon, Alexander was ready for a republic or the return of the Bourbons, the main thing was for him to overthrow
"Puss in boots".
The Russian tsar did not have a high opinion of the Bourbons. He considered them weak and doomed to death. Alexander bluntly told Lafayette that he did not expect anything good from the Bourbons, because they were full of old-regime prejudices. However, they were forced upon Alexander, and he did not resist.
In Paris, Alexander's behavior raises even more questions. Campaign participant N.N. Muravyov writes:
"The victors were starved to death and kept as if under arrest in the barracks. The sovereign was partial to the French, and to such an extent that he ordered the Parisian National Guard to take our soldiers under arrest when they were met on the street, which led to many fights.
The war for other people's interests did not even make us loyal allies with the powers for which we served as a means to gain benefits. On January 3, 1815, at the Vienna Congress, a military alliance against Russia was concluded between France, England and Austria.
But when Napoleon fled from Elba, the members of this union again ran to ask for help from Russia.
When Louis XVIII fled Paris, he forgot to take with him that same treaty of January 3. Napoleon immediately sent it to Alexander. Summoning the Austrian Foreign Minister Metternich, the Russian emperor demanded an explanation. Confused, the minister could not think of anything.
Then Alexander said to him:
"Metternich, as long as we are both alive, this subject should never be discussed between us. Now we have other things to do. Napoleon has returned, and therefore our union must be stronger than ever. "
Conclusion
All these facts prove that Alexander fought with France for the interests of England, Austria, Prussia, but not for the interests of his country.
He put hundreds of thousands of our brave men in the grave, purely because of his personal dislike for Napoleon.
For all this in Russian historiography, he was awarded the nickname
"Blessed".