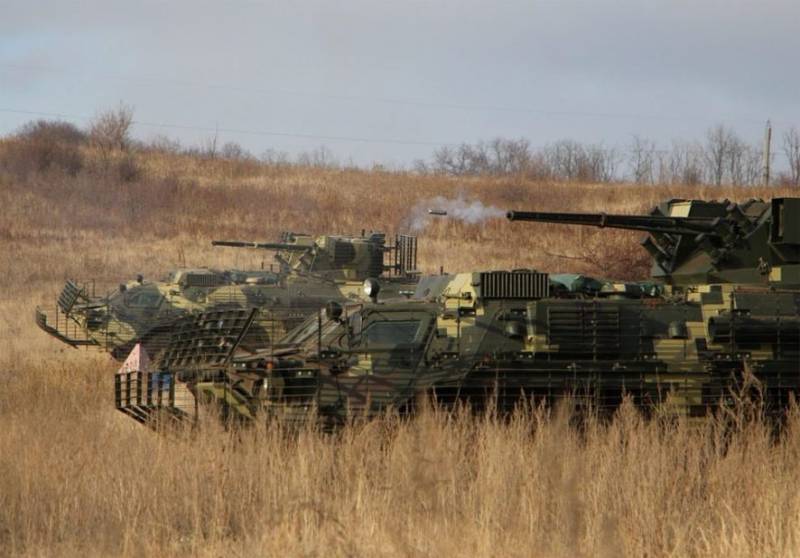 The Ukrainian military department informs about the decision to organize combat training in the Donbass. The message says that the decision concerned a mechanized battalion of one of the brigades of the Armed Forces of Ukraine.
According to the latest information, the firing was carried out by the crews of the BTR-4E. As noted, the weapons of armored personnel carriers were used to engage targets at distances from 400 to 1000 meters.
The deputy battalion commander of the Armed Forces of Ukraine said that "in this way the servicemen honed their skills and demonstrated that they are ready to repulse the enemy at any moment."
It is known that last autumn, the 92nd separate mechanized brigade already conducted exercises using the BTR-4E in the so-called JFO zone. In the course of the exercises, the forcing of a water barrier was carried out as part of a training operation to attack enemy positions. In particular, they practiced actions to capture enemy positions at a dominant height with access to the dam.
It is noteworthy that a few days ago in Kiev there were statements that Russian troops could allegedly make a march from the territory of the Crimean Peninsula to the Kherson region "to capture the dam of the North Crimean Canal." In connection with the training and combat operations "to reach the dam", as well as in connection with attempts to accuse the RF Armed Forces of preparing for the alleged "seizure of the dam" of the channel through which water was supplied to Crimea before Kiev was blocked, it can be assumed that the Ukrainian side is prepare and carry out any provocation in relation to this object with a further attempt to absolve himself of responsibility for what he had done.