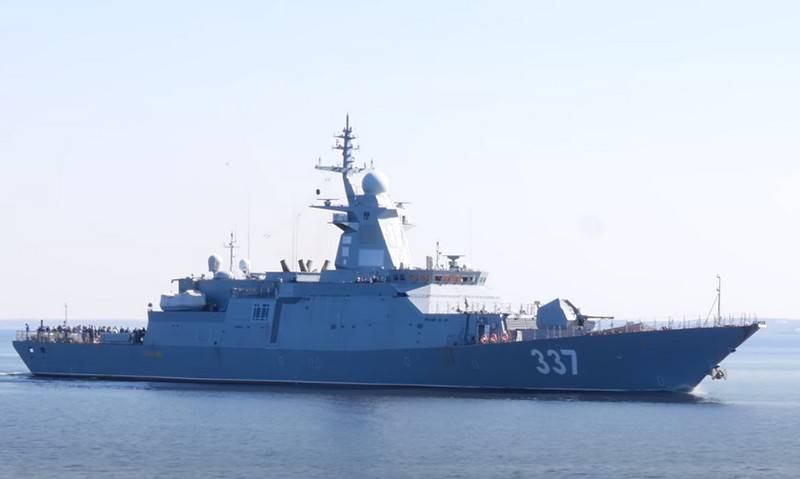 The Pacific Fleet has been replenished with the newest corvette of project 20385. The solemn ceremony of raising the Andreevsky flag on the Gremyashchey took place at the Severnaya Verf shipyard in St. Petersburg.
The naval commander-in-chief Nikolai Evmenov, who was present at the ceremony, said that the corvette would soon go to the place of service in the Pacific Fleet. Six more corvettes of this project will be built for the Pacific Fleet at the Amur shipyard, the contract has already been signed. In the future, all ships will be armed with Zircon hypersonic missiles.
Today is a significant event for the Navy. On the eve of the New Year (transferred) a new ship, completely unique in its technical characteristics. In the near future, the corvette will be redeployed to its place of permanent service in the Pacific Fleet
- said the commander-in-chief, adding that the corvettes of projects 20380 and 20385 will become the main ships of the near sea zone.
Corvette "Thundering" of project 20385 is the lead ship of the series. Laid down in February 2012, launched in June 2017. It is a further development of project 20380. Designed to detect and destroy enemy surface ships or submarines, organize the landing of troops, protect the coastal zone, and escort other ships.
Displacement - 2200 tons, length - 104 m, width - 13 m, speed - up to 27 knots, cruising range - 3500 miles, autonomy - 15 days crew - 99 people.
The armament includes the universal naval rifle complex (UKSK) for the Caliber, Onyx and possibly Zircon, Redut air defense systems, the 100-mm A-190-01 artillery system, two AK-30-mm anti-aircraft artillery systems 630M, as well as anti-submarine complex "Package".