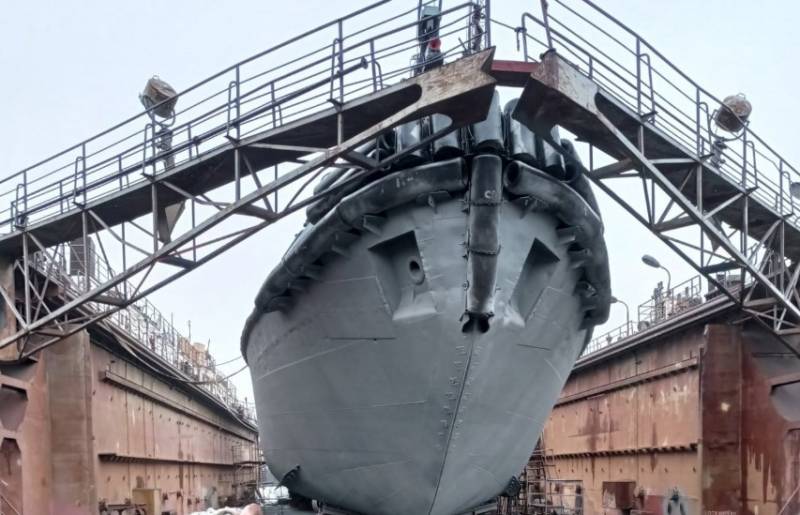 In 2018, three Ukrainian warships (although it is difficult to call it ships - two artillery armored boats and a harbor tug) and their crews were detained by Russian border guards while attempting to violate the border, and released less than a year later. Recently, in Ukraine, the dock repairs of the Yany Kapu tug was completed, which, together with two VSMU boats, participated in an attempt to "break through" through the Kerch Strait.
The work was carried out by a private company that won a tender for the right to repair the tug from competitors, including state enterprises. During the auction, the initial cost of the restoration work was reduced from UAH 10,3 million (about RUB 27 million) to UAH 5 million. (approximately 13 million rubles).
During the restoration work, they cleaned and inspected, replaced the damaged sections of the deck and hull, and then painted everything.
In addition, the main engine system and other equipment were repaired. The restoration of the interior has also been reported.
The information about the completion of the repair of the tug was commented on by the Russian political scientist Vladimir Kornilov.
Most importantly: "the ship was cleaned." Apparently, after the first shot it was necessary to clean a lot there, since it took almost a year and a half to recover.
- He said.
Recall that after the return of the boats and the tug, the violators, Ukraine was suddenly told that "the Russians even stole the toilet bowls from them." Then it turned out that this was a lie, but the officials did not take back their words.