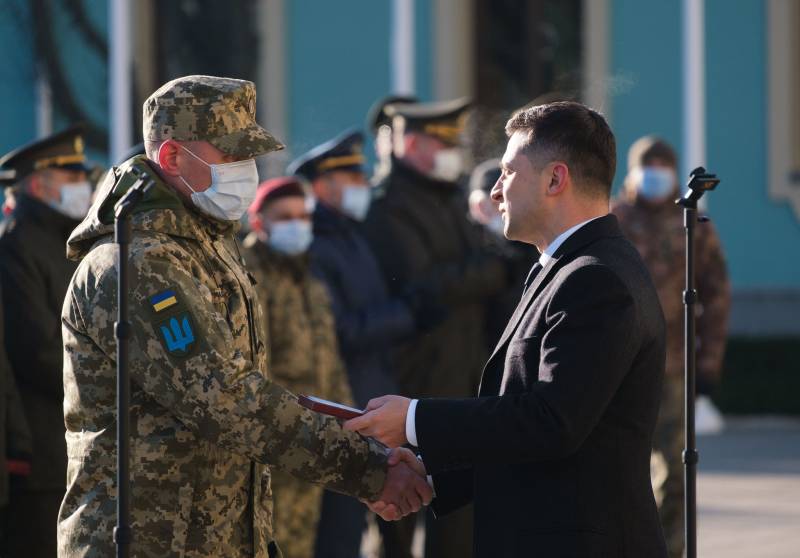 Representatives of the so-called "dobrobats" of Ukraine, many of whom have now found themselves in government circles, share their expectations for the future (2021). In particular, these expectations concern specifically the President of Ukraine Volodymyr Zelensky.
Alyona Sambul, a former participant in the hostilities in the Donbass, who is now a member of the PES (Party of European Solidarity) of Ukraine, spoke about the "expectations" from the military. Let's remind that Petro Poroshenko is the head of this party. In Ukraine, Alyona Sambul is better known as Marusya Zveroboy in the circles of ATO veterans.
According to Ms Sambul, many doctors and teachers are waiting for Zelensky to be jailed, "and veterans, volunteers and active military personnel are waiting for him (as she calls the current president of Ukraine) to blow up on a stretcher in his office."
According to Alena Sambul, the Ukrainian military could help Zelensky's office with the appearance of such a banner in a separate office, "so that he could meet with this banner there."
In fact, we are talking about new and direct threats to the head of the Ukrainian state. Moreover, the threats come from the candidate for the People's Deputy of the Verkhovna Rada of Ukraine from the mentioned party.
In Ukraine itself, they believe that the statement that the military is expecting a "meeting of Zelensky with a banner in his office" is a kind of response to the words of the President of Ukraine in an interview. Volodymyr Zelenskyy said that many people in Ukraine are waiting for Poroshenko to be jailed. Recall that at one time (as a candidate for the presidency) Zelensky promised to bring Poroshenko to criminal responsibility. Then this topic practically disappeared. But Zelensky decided to remember this a few days ago. But he never took any action after his words, as usual ...
For your information:
Alena Sambul has already threatened President Zelensky. A few months ago, she, together with the People's Deputy of the Verkhovna Rada S. Fedyna, recorded a video in which they said that "they will do with the Zelensky family what was done with the royal family."