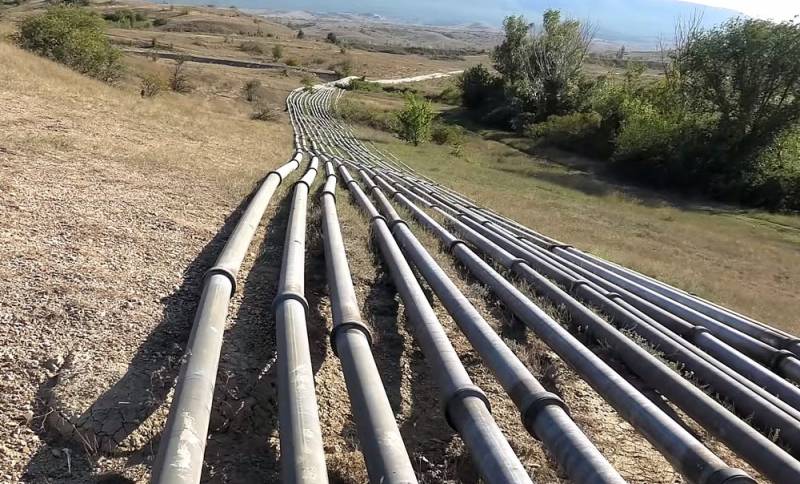 The Ministry of Defense has completed work on the construction of a water conduit to supply water to Sevastopol. The capacity of the new water conduit is 15 thousand cubic meters of water per day. This was reported by the press service of the military department.
The tests of the linear part and complex tests of the object were carried out, the corresponding documents were drawn up. The facility is transferred to the operation of the Sevastopol water utility
- said in a statement.
It took the military builders 68 days to build a new water conduit. During this time, 10 thousand meters of pipes were laid connecting the Kadykovskoye reservoir and the Chernaya River. A powerful floating fully automated pumping station has been installed, which will raise water to a height of 105 meters and send it into the river.
A unique floating pontoon water pumping station was used, made to order with the use of domestic high-pressure pumps. The station's capacity is more than 600 cubic meters per hour, which allows pumping 15 thousand cubic meters of water per day
- declared in the Ministry of Defense.
Putting this pipeline into operation will help Sevastopol to hold out until spring without water supply restrictions. By March 2021, the Ministry of Defense plans to commission a water intake on the Belbek River, which will allow to supply up to 50 thousand cubic meters of fresh water per day. The construction readiness of the facility today is 50%.
As previously reported, the construction of a fresh water supply system for Sevastopol is being carried out on behalf of Russian President Vladimir Putin.