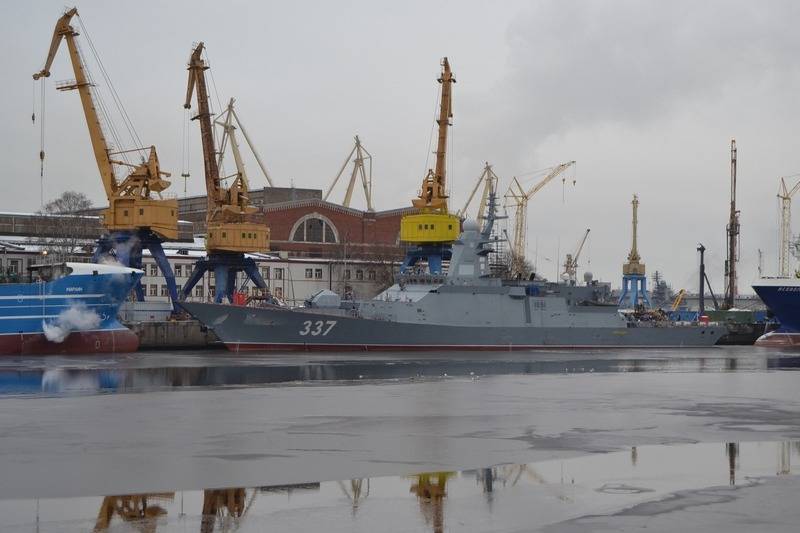 St. Petersburg shipyard "Severnaya Verf" has begun preparation of the Project 20385 "Gremyashchiy" corvette for transfer to the Naval
fleet
... The press service of the enterprise reports.
An audit has begun on the "Gremyashchiy" corvette, which has returned to Severnaya Verf, during which the power plant, the main mechanisms of the corvette, its weapon systems and special equipment will be checked. GCC specialists will also perform the final painting of the ship. The preparation of the corvette for the transfer should end before December 25, after which the ceremony of raising the St. Andrew's flag will take place by the end of the year.
On December 14, the Ministry of Defense announced the end of state tests of the "Thundering" corvette. The ship returned to Severnaya Verf to prepare for transfer to the fleet.
As previously reported by the Ministry of Defense, the "Thundering" corvette will become part of the Pacific Fleet.
Corvette "Thundering" Project 20385 is the lead ship of the series. Laid down in February 2012, launched in June 2017. Construction was delayed due to the non-delivery of German MTU power plants. The corvette was being completed with Russian diesel units 1DDA-12000 of the Kolomna plant.
The ship is a further development of project 20380. Designed to detect and destroy surface enemy ships or submarines, organize landing, guard the coastal zone, escort other ships.
Displacement - 2200 tons, length - 104 m, width - 13 m, speed - up to 27 knots, cruising range - 3500 miles, autonomy - 15 days crew - 99 people.
The armament includes the universal naval rifle complex (UKSK) for the Caliber, Onyx and possibly Zircon, Redut air defense systems, the 100-mm A-190-01 artillery system, two AK-30-mm anti-aircraft artillery systems 630M, as well as anti-submarine complex "Package".