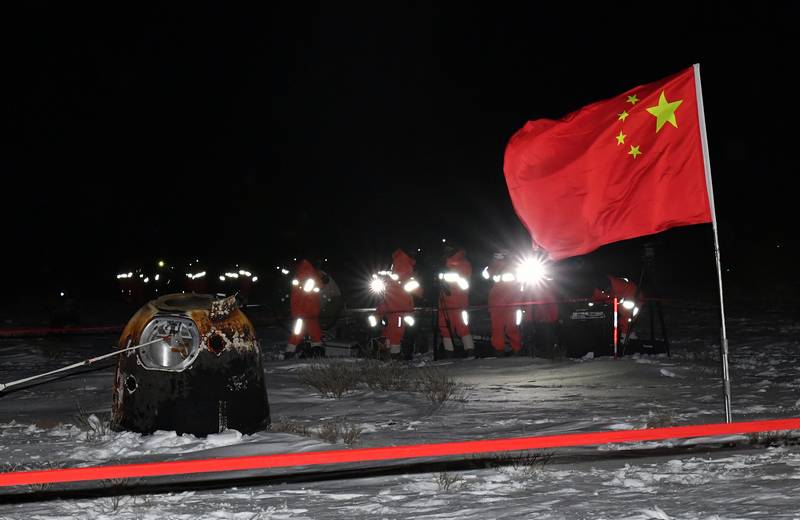 China became the third in the world after the United States and the USSR who managed to deliver lunar soil to Earth. According to the State Space Administration of the People's Republic of China, the Chang'e-5 probe capsule with lunar soil samples has successfully landed in the specified area.
The Chinese device "Chang'e-5" delivered the lunar soil to Earth, the device made a landing in the area of ​​Khoshun Sytszywan in the autonomous region of Inner Mongolia. The 300-kilogram capsule landed on December 16, delivering about 2 kilograms of soil from the Earth's natural satellite. Once transported to a safe location, the capsule will be opened.
The completed lunar mission was assessed by the President of the People's Republic of China Xi Jinping, calling it a huge achievement. He stressed that it was the first time that Beijing had completed the task of delivering samples from the moon.
This huge achievement of the new government system marks a big step forward for China's astronautics.
- the Chinese media quoted the words of the PRC chairman.
China launched the Chang'e-5 reentry vehicle on the morning of November 24. The heavy launch vehicle Changzheng-5 (Long March 5) was launched from the Wenchang cosmodrome on Hainan Island. On December 1, the device landed on the lunar surface, where it collected samples of lunar soil for two days. The takeoff module with lunar soil, which took off from the surface of the Moon on December 3, on December 6, docked with the service module in orbit. After docking, the capsule with lunar soil was automatically reloaded into the reentry module, and the takeoff part of the Chang'e-5 spacecraft, together with the docking adapter, separated from the service module. On December 12, the service module with the capsule launched towards Earth and dropped the capsule at a distance of 5 thousand kilometers from the planet, which landed safely in China.