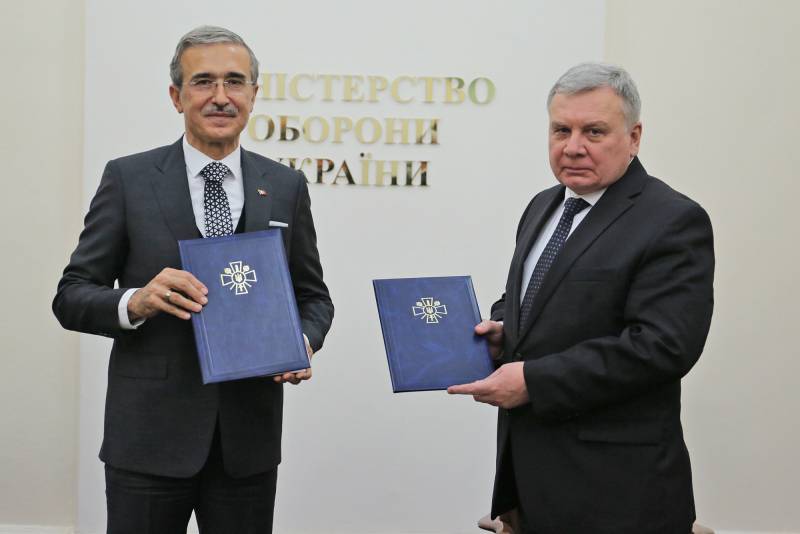 The Ministry of Defense of Ukraine signed an agreement on deepening military-technical cooperation with Turkey. The signing was carried out with representatives of the delegation of the Turkish Directorate of Defense Industry, which (the delegation) visited Kiev on a visit.
The head of the military department of Ukraine Andriy Taran thanked the head of the aforementioned directorate Ismail Demir for "assistance in the development of the defense potential of Ukraine."
The agreement between Kiev and Ankara provides for the transfer of certain technologies of the military-industrial format, as well as the production of corvettes and attack drones. According to Mr. Taran, thanks to cooperation with Turkey, Ukraine "will radically strengthen the combat capabilities of its naval forces in the Azov-Black Sea region."
Andrey Taran:
Our cooperation with our Turkish colleagues is strategic. These are the first in
stories
Ministry of Defense of Ukraine foreign economic transactions for military goods.
Earlier it was reported that in addition to corvettes and UAVs, Ukraine and Turkey will be engaged in the joint production of all types of turbine engines. When the agreement was signed, there was no talk about it (at least in an open format).
Earlier in the European press, commenting on the deepening of contacts between Kiev and Ankara in military and military-technical plans, they noted that Ukraine is trying to enlist support from Turkey against the background of a decrease in the level of support from the EU. At the same time, Kiev clearly keeps the Karabakh scenario in mind, considering the possibility of its implementation in the Donbas. The European press warns Ukraine against attempts to implement such a scenario, pointing out that otherwise Ukraine may finally lose its statehood.