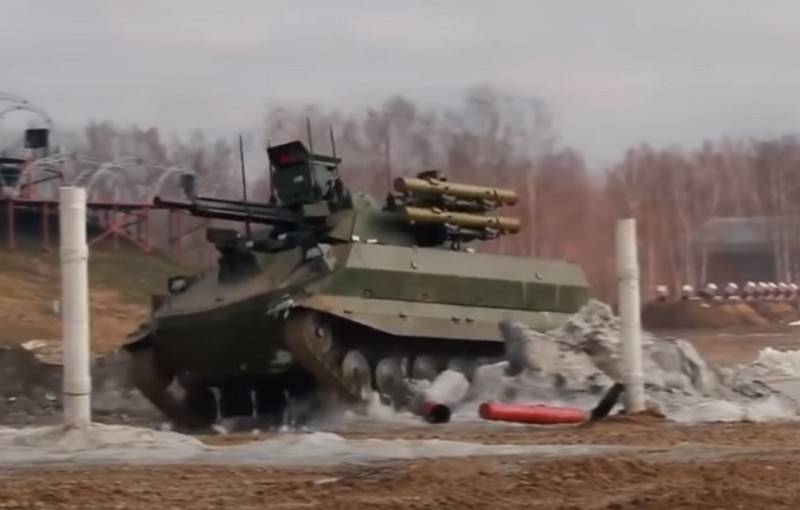 State tests of the Russian robotic complex (RTK) Uran-9 will be completed in 2020. This was announced by the Commander-in-Chief of the Ground Forces, General of the Army Oleg Salyukov, in an interview with the Krasnaya Zvezda newspaper.
According to the Commander-in-Chief of the Ground Forces, at present, the development of a number of robotic platforms of various classes is continuing for use in the units of the Ground Forces, including the "Shturm" and "Companion" complexes of the heavy and medium classes. At the same time, state tests of the Uran-9 complex should be completed by the end of 2020.
This year, the state tests of the Uran-9 combat RTK are being completed. At the same time, in order to form high-tech units of the Ground Forces, work continues on the creation of ground-based RTKs of heavy and middle class
- added Salyukov.
The Uran-9 complex was adopted by the Russian army in 2016, however, during the experimental combat operation of the complex, deficiencies in control, mobility, firepower, reconnaissance and observation functions were discovered. There was a low reliability of the undercarriage, unstable operation of the 30-mm gun, untimely triggering of the launch circuits, as well as the failure of the thermal imaging channel of the optical sighting station. In addition, the military expressed complaints about the inability of the robot to fire on the move.
In the spring of last year, the Ministry of Defense announced the modernization of the complex and the elimination of deficiencies. The modified car was sent for testing.
The Uran-9 complex includes two tracked combat vehicles with remote control, a control point and transport for their transportation. The basic armament of combat vehicles consists of an automatic 30-mm cannon 2A72 and a coaxial 7,62-mm machine gun, anti-tank guided missiles "Attack" and a jet flamethrower "Shmel". Depending on the tasks performed, the complex can be additionally armed with MANPADS.