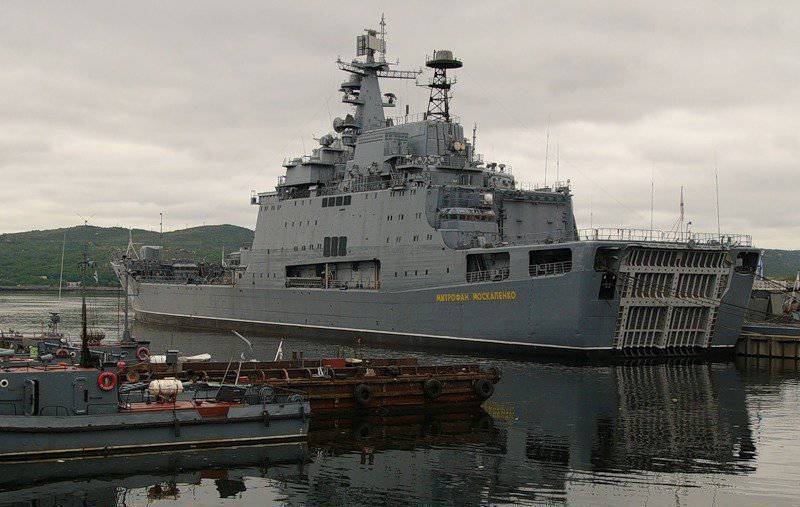 A fire broke out on board the Project 1174 Mitrofan Moskalenko large landing craft located on the territory of the Polyarny shipyard. According to the regional Ministry of Emergency Situations, the fire broke out in the hold of the ship.
The BDK is located at the fifth berth of the 10th shipyard in the city of Polyarny. The message about the fire was received at 11:55 am at the TsUKS GU EMERCOM of Russia in the Murmansk region. Specialized fire and rescue units and the military were involved in eliminating the fire.
In Polyarny (ZATO Aleksandrovsk) a hold is burning on an area of ​​20 sq. meters, four people were evacuated. Seven pieces of equipment are in operation, 25 people are involved in extinguishing
- said in a statement.
Note that the BDK Severny
fleet
"Mitrofan Moskalenko" of project 1174 "Rhino" in the spring of 2019 was sent for recycling, the ship went from Severomorsk to Murmansk in tow.
The BDK was laid down in 1984 and entered the fleet in 1990. In fact, this is a helicopter landing ship - dock. With a displacement of 14 thousand tons, the ship could take on board up to 50
tanks
PT-76, 80 armored personnel carriers or infantry fighting vehicles, as well as up to 120 trucks. Equipment could be loaded in any combination. The ship calmly accommodated up to 500 landing personnel. The BDKs of this project are the only ones who could carry up to 4 helicopters on the flight deck.
In 2002, the BDK was withdrawn from the fleet and was in the reserve of the Kola Flotilla of the Northern Fleet. In 2014, after France's refusal to transfer the Mistral helicopter carriers to the Navy, the question of restoring the large landing craft was considered, but later it was decided to dispose of it, sending it in tow to Polyarny on May 8, 2019.