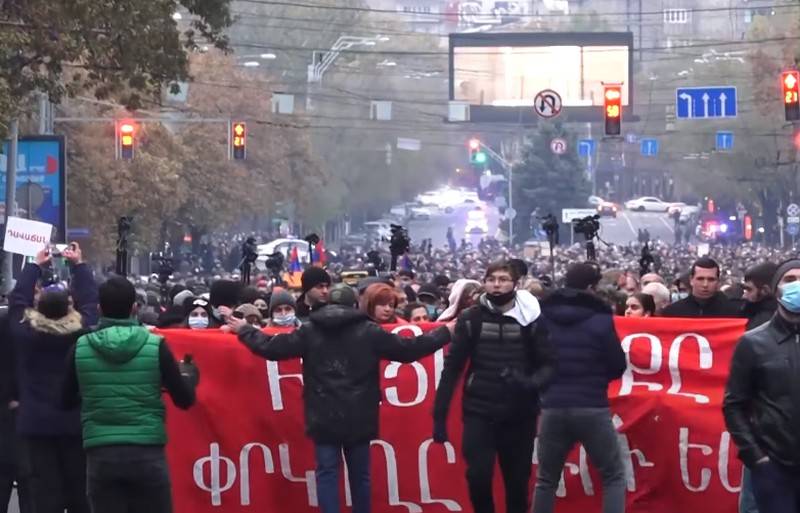 Massive actions of disobedience began in Armenia, the opposition calls on the people to take to the streets. The reason for this was the expiration of the ultimatum demanding Nikol Pashinyan's resignation.
As we can see, Pashinyan did not resign. Consequently, from this moment until 17:00 (16:00 Moscow time), the citizens of Armenia have the legitimate right to peaceful actions of civil disobedience.
- declared in opposition.
Ishkhan Saghatelyan, a member of the Dashnaktsutyun party, addressed the people with a televised address, in which he asked the protesters to act within the law, not to succumb to provocations, and the law enforcement agencies to ensure the right of the residents of Armenia to peaceful actions.
Nichol, you will leave anyway. Leave without shocks, at least now take care of our people, state and statehood, do not undermine the internal life of our country. Your departure is vital for our people and state
- he added.
Protest actions began in the capital, as well as in other large cities of Armenia. In Yerevan, protesters blocked the city center, numerous traffic jams formed, and the metro was blocked. Security officials began arresting protesters.
On December 5, 17 opposition parties demanded that Armenian Prime Minister Nikol Pashinyan and his team resign by noon on December 8. If the demands are not met, the opposition threatened to start peaceful actions of disobedience throughout Armenia.
The day before, the head of the church, the Catholicos of All Armenians Garegin II, addressed Pashinyan with a request to resign.