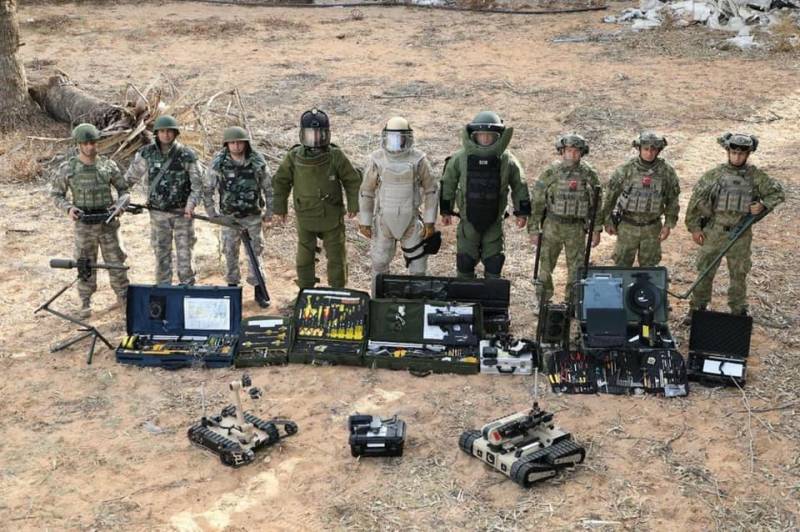 The Turkish Ministry of Defense is distributing a statement that negotiations with representatives of the military department of the Russian Federation on the creation of a Joint Center in Karabakh have been completed. A corresponding agreement on the military presence has been signed. It should be recalled that earlier the President of Turkey and the Foreign Minister of this state have repeatedly stated that the Turkish military will appear in the region and that it will be a question of "an equal Russian-Turkish mission."
The reports of the Turkish military department say that activities have already begun within the framework of the Joint Center in Karabakh.
Turkish Defense Minister Hulusi Akar said that preliminary agreements on the creation of such a center were reached with Sergei Shoigu on November 11 - the next day after the start of the ceasefire.
Russian officials have long said that the presence of the Turkish military is not provided for by the trilateral agreement (Armenia-Azerbaijan-Russia). In response, the Turks announced a new agreement.
The Russian side does not comment on Turkish messages at the moment.
At the same time, a statement appeared on the official page of the Turkish Ministry of Defense that the detachments of Turkish sappers have already arrived in Azerbaijan and have begun to assist the Azerbaijani military in demining the territories that have come under Baku control. The press service of the Turkish military department once again emphasizes that we are talking about the regions "under Armenian occupation." It is indicated that the Joint Center has already begun its work.
The number of Turkish military personnel who will be in Karabakh is not reported at the moment, as well as where exactly the headquarters of the Joint Center will be located.
Against this backdrop, the President of Azerbaijan made a proposal to create a corridor between the Nakhichevan Autonomous Republic and the rest of Azerbaijan. Recall that such a clause was originally present in the trilateral agreement.